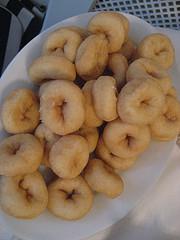 Doughnuts
Originally uploaded by zimpenfish
Dear Agony Aunt

I have been in a loveless marriage for the last 10 years and had finally made an appointment with a solicitor in order to start divorce proceedings. I weigh 20 stones and have read this week that divorcing will mean I gain even more pounds. What should I do; I can't continue to live with my husband but also can't risk damaging my health by adding to my obesity?

Janet

Dear Janet

Despite what you have read in the newspapers, the study which was undertaken by Ohio University actually found that whilst marital transition causes women to gain weight following marriage, it is men who are more likely to add to their girth on divorce. In contrast most women actually lose weight dealing with the trauma of separation. Therefore you should go for it girl, get to that appointment and shed your fat!

Yours truly,

Agony Aunt

Dear Agony Aunt

I am a forty something male, recently separated and piling on the stones in the run up to my divorce. How do I cure this? Should I ask my wife to come back?

Roland

Dear Roly Poly

Definitely not. Just buy yourself a recipe book, cancel the takeaways and get yourself down to the gym. Your good wife left you for a reason and now you have to learn how to look after yourself properly and without recourse to convenience foods laden with calories.

Kind regards

Agony Aunt

PS. To all my readers out there – anyone for doughnuts?