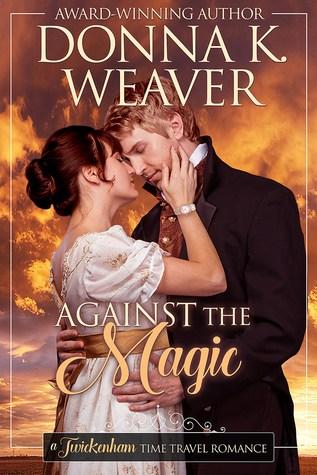 Reese Hamilton has big plans to help make the world a better place and a new job lined up to help her do it. Before starting work, she heads to England for a Regency immersive experience. She doesn't expect her best friend to invite her heart-destroying brother to join them. Two years hasn't been long enough for Reese to forget him. Then fae magic rips them back to 1850. It's a time when women have few rights. It's also a time when a determined woman could make a difference, with the right man at her side. Reese finds she will have to choose between two men and two times. Jem Taylor messed up big when he walked away from Reese to pursue his dream job. He hasn't been able to forget her and jumps at his sister's invitation. Suddenly hurtled into Victorian England, he has the chance to woo Reese again. But to do it, he'll have to fight the magic that brought her to 1850 and an Earl with the means to keep her there.
I didn't know about Against The Magic at first. I couldn't get the melding of Regency and Victorian eras with the modern era and fae magic time travel...didn't quite work for my left brain.
Which is the only part of her brain she has nowadays...
Wow. You're so rude to me. I'm so offended you'll probably need to give me a prize if we're to even have a chance of continuing on.

I bought you lunch. Like 20 minutes ago. Diet coke and everything.
O.K. Guess we're fine. Anyway, at a certain point I reminded myself that my right brain rules and I could suspend disbelief and just enjoy Against The Magic.
I didn't have that issue at all. I guess my brain is really good at suspending reality...not sure what that says about me. But I had a hard time with Reese and her inability to "keep her tongue between her teeth". I'm such a sci-fi/fantasy nerd and it's important in most time travel books to be extremely careful about what you say as to not affect the timeline. Not the case here. It's o.k., though. I got over it and became utterly enthralled in Reese and Jem's story pretty darn quick.
To quote Aunt Nellie, "Time is a fuzzball." Which means time absorbs all your aberrant speech and behavior and fixes things the way they are supposed to be. Therefore you needn't have worried about Reese's outbursts. Besides, when have you EVER kept your "tongue between your teeth," my dear? Also, it's Reese's refreshingly non-Victorian behavior that causes her to become interesting to the Earl and beloved by his people.
I suppose you're right. In any case, Against The Magic was a fresh twist on the Regency/Victorian Romance genre. I love it when people come up with something new! I was concerned that Reese wouldn't choose the fate I wanted for her, but it all worked out nicely in the end. I'd love to see another book featuring these same characters - I want to know what Reese and Jem's friends Cora, Kaitlyn and Cyrus were up to during their time in the Victorian Era! I smell a romance or two brewing there, also, and I MUST KNOW what happens!
This time-travel romance is different from others in that a whole group of people travel together, and some people in the past time period (the fairy people) not only know what's going on but are orchestrating events so that they follow the magic. As far as another book, the way Against The Magic ends tells me there is more to come. So we will most probably find out what happens to not only Reese's contemporaries, but other people we have become attached to in the Victorian Era as well. I, for one, can't wait!
Make that two of us. I hate waiting. I want all the sequels and all the TV episodes right now. No waiting. Ever. But I don't think I'm going to get what I want, so...guess I'll try to be patient. I really enjoyed Against The Magic and I'm excited to see what comes next. Even if I have to wait for it.
Click to buy Against The Magic by Donna K. Weaver