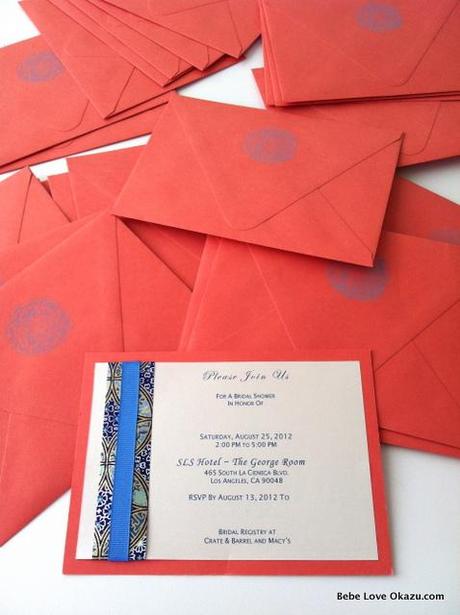 A few Saturday's ago I had the privilege of celebrating my good friend's bridal shower at the SLS Hotel in Beverly Hills. As one of her bridesmaids, I can't express in words how excited I was about celebrating my friend's upcoming wedding nuptials. I happily handmade her bridal shower invites using her wedding colors (photo above). I'll share with you our wonderful afternoon tea in just a moment, but first I wanted to share with you my friendship with J.
I met my good friend J in college, through Pepe, one of my childhood WLA besties. Both Pepe and J were looking to move to an off-campus home our sophomore year and the rest, as they say, is history. I have really great memories from my college days, the time we spent hanging out at our town home, shopping, parties, making weird dinners in our little kitchen, acing multiple Japanese classes, and of course, the times I needed a good friend and confidante.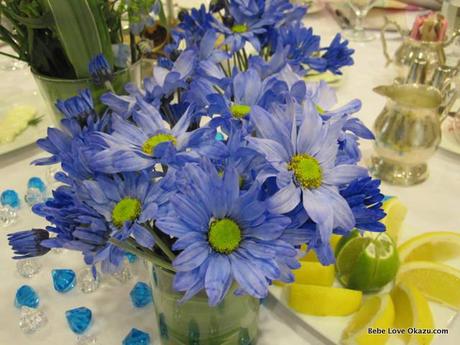 I don't want to date myself, but let's just say it's been a long time since our college days, and our friendship continues to grow. I must thank my friend, J, because I am not always the best at keeping in touch but after we both graduated, she wrote me a letter and since then, we always kept in touch… through good ol' fashion snail mail.
Although most of my friends know that, despite the fact that I don't see them often, they are no less dear to my heart, J always seemed to know when I needed a friend in her because I would receive a little card or a note in the mail. Over the years, we continued to keep in touch via letters (despite email and the fact that we both lived in Los Angeles at the time – it is a wide county, after all) and at a minimum, we got together once a year to catch-up, enjoy dinner, or take an occasional road trip. Since moving, it's been harder for me to get together with my dear friend, but thank goodness for iPhones and iMessages because now I get to keep in touch with J all the time!
Getting back to the fabulous bridal shower, a few of the bridesmaids did a lot of leg work (thank you!) and found this great little space at the SLS Hotel in Beverly Hills and we celebrated with a very nice afternoon tea.
I'll start with the sweets first. :) We were presented with a nice 3-tier tower of sweets: scones, cookies, brownies, chocolates, jelly candies and truffles.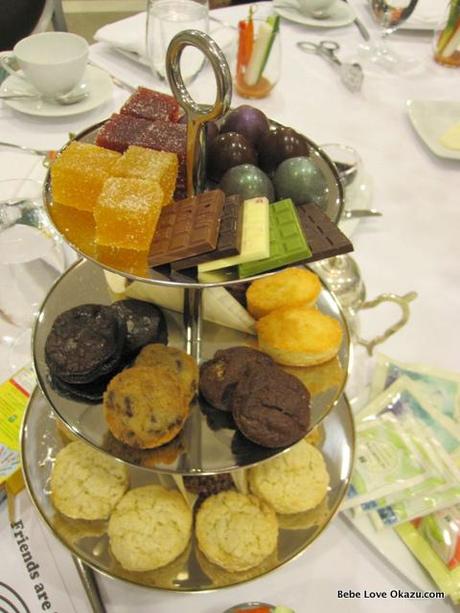 The highlight of the 3-tier sweet tower was the chocolate pop rocks. Yes, that's right, chocolate covered pop rocks. Remember pop rocks from your childhood?!? Well, I haven't had pop rocks in more years than I want to count, but these swanky choco pop rocks brought back great memories, and at the same time made me feel  all grown-up and well, swanky!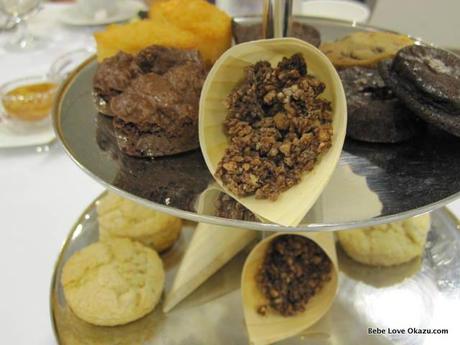 Although I was tempted to dive right into the sweets first, I was able to maintain some form of self-control and started with fresh crudités served with a tangy, savory miso dip. In case you are wondering, YES, it was difficult to double dip the veggie spears as they became shorter with each bite. Thank goodness for our little bamboo spear (yes, a fork would have also sufficed). And NO, I did not use proper etiquette by double-dipping, but we were among friends, and hey, we were all comfortable trying to get every last drop of that delicious dip.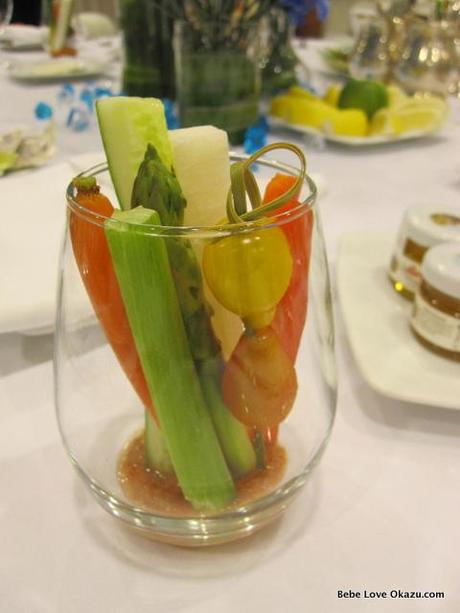 Next, I carefully examined our beautiful platter of savory little snacks (clockwise starting from top right): tarragon chicken salad sandwich, caviar steamed bun with creme fraiche, smoked salmon with caper cream cheese, and crab sandwich with aioli and chives. I must say, my favorite was was the crab sandwich but that caviar steamed bun was oh-so-melt-in-your-mouth amazing!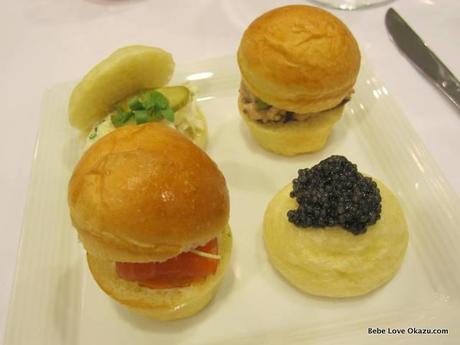 While I can't take any credit for the selection of our absolutely yummilicious shower favors, I was very happy to make handmade gift tags to adorn the pretty white boxes from Bottega Louie.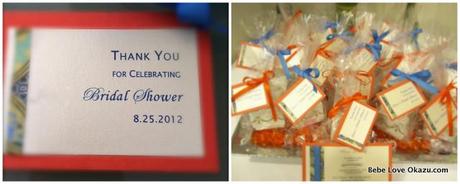 Oh, I was so excited to open my pretty little white box….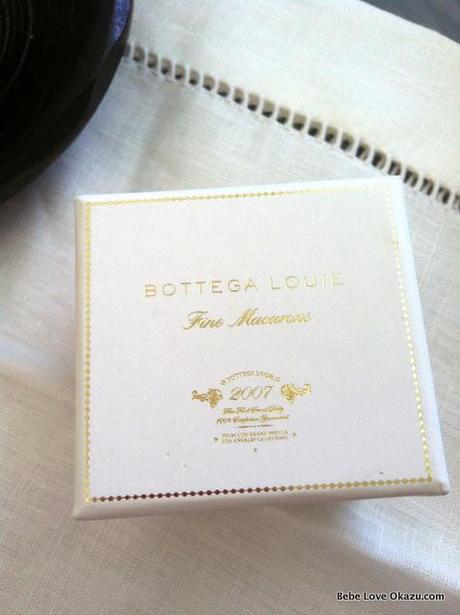 I truly wanted these lovely macaroons to last f-o-r-e-v-e-r, but alas, they were gone within three minutes.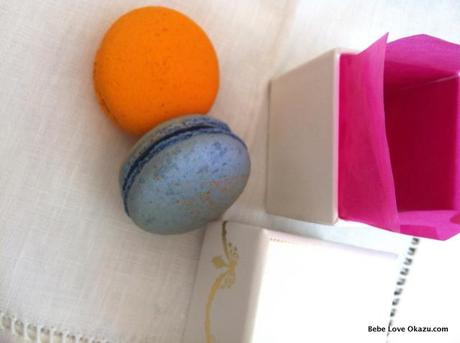 I had a wonderful time celebrating my dear friend's bridal shower and I'm so happy that she did too. I am SO honored to be a part of her wedding celebration and I can't wait for her special day!