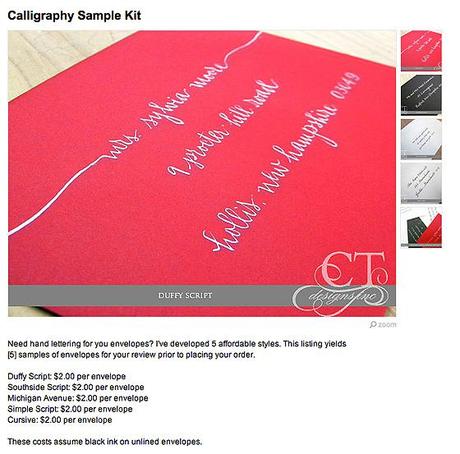 Please click on image to review more information
I've finally come up with a line of more affordable calligraphy styles, now selling on Etsy.
Our normal offerings are more ornate, but these styles are simpler for me to render and are only $2.00 per envelope!
I'm proud to introduce the following styles:
Duffy Script  - Nice and laid back, perfect for a whimsical or quirky invitation
Southside Script - inspired by the south side of Chicago, this script has a an urban, chic feel
Michigan Avenue - Clean, simple elegance... That's what the Mag Mile is to this Chicago native
Simple Script - Neat handwriting with a just enough of an edge
Cursive - Another handwritten eye-catching font
This listing yields physical samples of all five styles.  I hope one of these styles corresponds to your invite!
Check out the listing have a great week and I'll be back blogging on Wednesday! --ct