Fernando Aguirre is a survivor of the hyperinflationary destruction of Argentina's economy in 2001, who managed to get himself and his family out and now lives in Spain.
The author of Surviving the Economic Collapse and Bugging Out and Relocating, Aguirre has dedicated his professional life to educating the public (his has a blog, Surviving in Argentina) about his experiences and to caution other countries, seeing many parallels between the ruinous path that led to Argentina's decline and that of Venezuela and most countries in the West, including the U.S.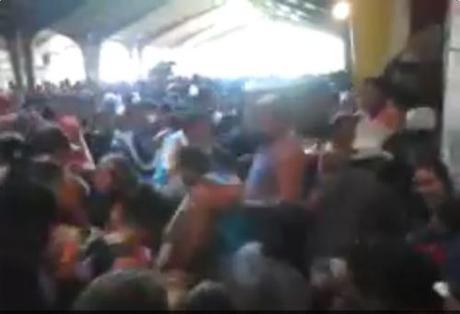 Desperation in Venezuela: 5,000 Venezuelans loot supermarket
Recently, Aguirre spoke to Chris Martenson of PeakProsperity and gave his survivor's perspective on the current meltdown of Venezuela, as well as the situation in Brazil. Here are his thoughts and advice, beginning with his response to being asked what the similarities are between Venezuela and what he had experienced in Argentina:
"The greatest points to keep in mind is overwhelming corruption. People get lost on what exactly went wrong in Argentina, in Venezuela, or what's happening right now in Brazil. What they all have in common is that the people in charge had no real interest in doing things right; they really didn't care about destroying the country. They just cared about filling their pockets as much as possible.

Think of Venezuela this way: you have a country where water is more expensive than gasoline. What sense does that make? I mean, you had Hugo Chavez walking down the street pointing with his finger saying "Nationalize this. Nationalize that". And when he was saying "nationalize", he was saying "Steal this". He didn't have any great plans or political grandeur going on in his mind. He just wanted to steal as much as he could.
See "Socialist Hugo Chavez died with a family fortune worth $2 billion."
I know for a fact that

they're slaughtering one another in the streets right now in Venezuela.

For at least three years it's been a case of out-of-control crime and corruption over there. It's not getting better any time soon unless something changes on a deeper level.

For the average 'middle class' person in Venezuela — educated and still holding on to a good job — he needs two years of wages to buy a single plane ticket . . . he's stuck there. The problem is that he waited too long to leave. That's something important that I write about often: You have to know when to leave. You needed to leave Venezuela at least three or four years ago; now you're getting to the point where you're stuck there. The official exchange rate between the USD and Bolivar is 1 to 10, but unofficially which is the real one you experience,  is more like 1 to 1,000. So they basically are starving you to death through a completely devaluated currency which is what you're getting paid in.

Basically need to find ways of leaving the country by any means possible. What I would do if I was in Venezuela right now is I would leave on foot. I would leave any way I could, because it's not safe. I know people that have killed people surviving Venezuela, I actually know guys that had to do that to live. You can't even find some land and grow your own food. You cannot do that when you have the government stealing it from you. It's a no win situation.
Here's the entire interview:
"You have to know when to leave."
More than a year ago, in January 2015, Michael Snyder of End of the American Dream wrote that "a lot of ultra-rich people are quietly" buying survival properties, deep underground bunkers, and farms and airstrips in far away places like New Zealand." Snyder quoted what Robert Johnson, president of the Institute of New Economic Thinking and a former hedge fund director, told a packed audience at the World Economic Forum in Davos, Switzerland: "I know hedge fund managers all over the world who are buying airstrips and farms in places like New Zealand because they think they need a getaway."
Johnson's comment was echoed by Stewart Wallis, executive director of the New Economics Foundation, who told CNBC Africa: "Getaway cars the airstrips in New Zealand and all that sort of thing, so basically a way to get off.  If they can get off, onto another planet, some of them would."
Snyder asks: "So why are all of these wealthy people so alarmed?"
His answer:
Well, the truth is that they can see what is happening.

They can see that millions of people are falling out of the middle class.  They can see that society is breaking down in thousands of different ways.  They can see that anger and frustration are rising to unprecedented levels.  And they can see that things are likely to boil over once the next major economic crisis strikes.
See also:
Apocalyptic Venezuela: 5,000 loot supermarket; president declares state-of-emergency

This is Venezuela: Mob burns a man alive over $5

Socialist Venezuela into the abyss: people are killing pets for food
~Eowyn