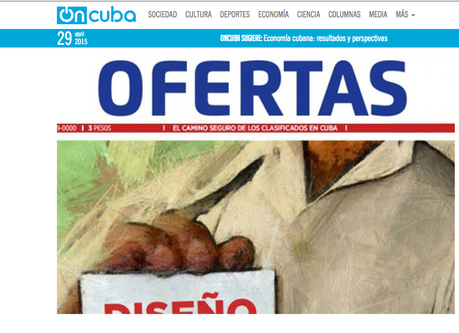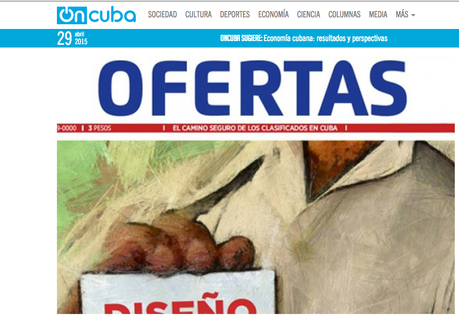 Classified ads come to Cuba, for the first time in 50 years, as new magazine OFERTAS announces its launch in the lisland.
The winds of change are running at hurrricane speed  through the island of Cuba, or are they?
In our Wednesday blog we discussed how everything Cuban seems to be chic ever since December 17 and President Obama's surprise announcement that he was pursuing establishing diplomatic relations with the island, after a 50 plus year thaw.
While the dialog is its infancy, and much needs to be discussed and negotiated (never easy to establish dialog with the Castro Brothers—some things never change), it is obvious that change is in the air.
Now the announcement of this new magazine Ofertas, a monthly that will start circulating through the island, beginning with a 60,000 print run, and selling for 3 pesos. The digital version will be available here: http://oncubamagazine.com/economia-negocios/ofertas-cu-el-camino-seguro-de-los-clasificados-en-cuba/www.ofertas.cu
While the goal of such a magazine may appear quite normal to most, it is a first for Cuba.  I am intrigued by the phrase directly under the logo of Ofertas that reads: The sure road to classifieds in Cuba.
The official statement about the new publication reads like this:
"Ofertas will try to cover a basic communication function, focused on the internal market, which for now more than 20 years has been open.
'Those in charge of this project will be the editors of Agencia Cubana de Noticias (AIN), and they report that the magazine will have 16 pages, 8 of which will be devoted to advertising, with the rest for journalistic texts and graphics."

Another intriguing step in the opening up of Cuba. Capitalism is a tourist in Cuba. But, will it stay?
TheMarioBlog post # 1739
Please enable JavaScript to view the
comments powered by Disqus.
comments powered by

Disqus