This is the weekend edition of TheMarioBlog and will be updated as needed. The next blog post is Monday, August 5.
TAKEAWAY: New research shows that it pays to get advertisers to promote their products across all platforms of the media quartet. PLUS: the globalization of the verb to google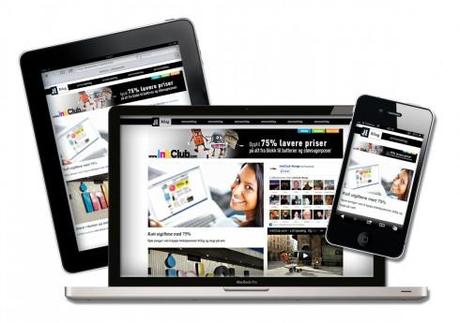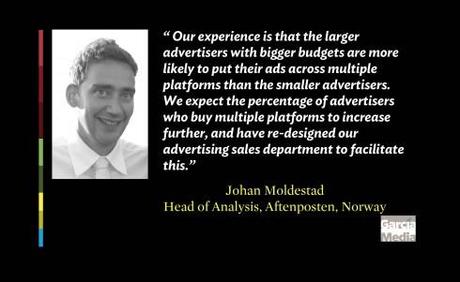 It makes sense that a modern newspaper organization presents information through the four platforms of the media quartet.
It obviously also makes sense for advertisers to embrace the multi media quartet, according to research from the Norwegian media company publishers of Aftenposten.
In the words of Johan Moldestad, head of analysis at Aftenposten:
We see that advertisers put their ads across the various platforms to an increasing extent, and our recent research on advertising effectiveness shows that this makes sense, as advertising in both print and online proves to be much more effective than print alone
The results show the positive aspects of carrying the message across platform. According to Johan, here are some findings:
Advertising recall is boosted by 35%
The link between the message and the advertiser (i.e. knowledge of advertiser) is 36% higher
Ad engagement is 51% higher
Intention to take action is boosted by 85%
I am happy to report these findings. More advertisers need to hear this news that it pays to advertise across the various platforms. In my experience, this is still not the norm when it comes to how advertisers buy space today. 
Many of my clients tell me that it is a tough thing to sell "advertising packages" across all the platforms.  It depends on the market, but, for example in places like Latin America and India, there seems to be the perception that print advertising carries the power and even the prestige, but that digital advertising will not provide a good return on the investment.
This, I imagine, will start to change when content itself moves more evenly across the media quartet, something which is long overdue.
"Our experience is that the larger advertisers with bigger budgets are more likely to put their ads across multiple platforms than the smaller advertisers. We expect the percentage of advertisers who buy multiple platforms to increase further, and have re-designed our advertising sales department to facilitate this," Johan wrote me in an email.
With so many media companies in need of revenue, I just wonder why both content and advertising that adapt to the media quartet are not being implemented quicker.
This Aftenposten research—and their adopted model—should give the idea a kick in the right direction.
Of related interest:
How the digital age has reshaped the ad game
http://www.usatoday.com/story/money/business/2013/07/29/omnicom-publicis-digital/2597351/
Highlight:
Technological advances have changed everything from where consumers watch TV to how they buy holiday gifts. In turn, ad agencies have revamped their hiring practices, commercial buying models and even their mind-sets on whether other firms in their field should be considered friends, rivals or a mixture of the two.
Google: now a verb in any language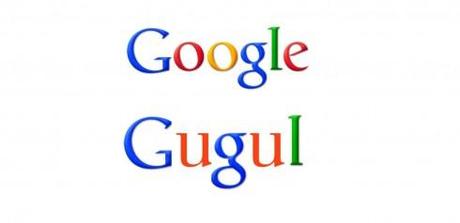 It's amazing how words filter into our vocabulary and even assume the rank of "verbs". Such is the case with Google.
We google. You google. We all google, or we have googled or we will google (with a lowercase g, I assume).
I was in a social gathering last week in New York City when someone told me to "google him to get to see his portfolio". 
Two weeks ago in Berlin, a young journalist revealed that she had "spent the whole morning googling for an article".  We all understood, of course.  Researching would have been the word of choice in my days!
I have now even heard the verb conjugated in Spanish. While in Panama this week, a speaker at one of our workshops referred to "GUGULEAR", which at first did not register with me. Not that I am a purist of my mother tongue who refuses to use Anglicized references. It just simply took me a minute to assimilate that in Spanish "nosotros guguleamos" means that "we google" information.
Wonder how the Real Academia de la Lengua (Royal Academy of the Spanish language) will tackle that one when it next revises and adds accepted new words.
We will google it to find out.
TheMarioBlog post # 1306