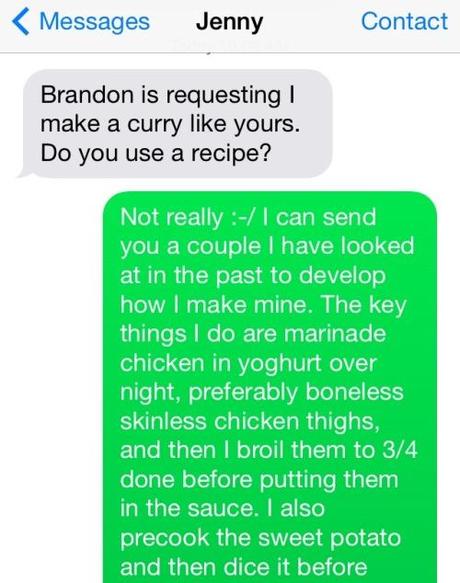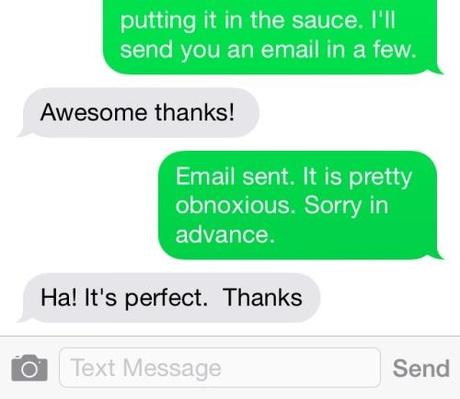 Adventures in being an obnoxious food nerd.
Here's the email that followed just in case you too want to know all about how I make curry. (Just like the curry I made for my mom's birthday dinner this week and my friends J & B want to re-create)
My curry is probably most similar to this recipe: Chicken Tikka Masala from The Kitchn
I've also looked at these recipes for reference:
Indian Chicken Korma from Wander Lust KitchenChicken Curry in a Hurry from Real SimpleCheap Creamy Chicken Curry from Food 52
I typically use boneless skinless chicken thighs marinaded overnight in yoghurt. The curry you two had the other night was boneless skinless chicken breast and not as moist because of that. (Mejier was out of b/s chicken thighs so I was stuck.)
I also used coconut milk not cream. I had run out of fish sauce earlier in the week and didn't have any on hand, but I typically use a bit. It is really helpful for salt and flavor. Canned diced tomatoes are key.
I use sweet potato as a veggie but precooked whole in the microwave then diced prior to adding it to the sauce. You can also use carrot, white potato, even peas. But sweet potato is best.
(C-Hopp hates peas so skip them)I'm totally sold and precooking the chicken under the broiler like the Kitchn recipe suggests instead of cooking the meat in the sauce the whole time. The chicken tastes way better.
I always use shallot and regular onion. Shallot is just more delicious. I also like a bit of cinnamon in my curry. I have no idea if this is traditional, but I love it.
I'm sure by this point you are sorry Brandon asked you to make him curry and sorry that you solicited this very obnoxious advice from me.
This encounter could be a lesson to all: don't ask me for cooking advice, recipes, etc., unless you're prepared for everything that appeared in this post. You've been warned.
P.S. Happy birthday Mom!