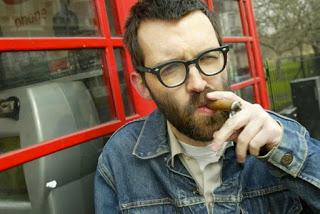 Providing a much brighter mood than that of their 1998 album Electro Shock Blues, this brilliant festive selection from the Eels was a Bside from the same period, and also featured on a compilation called 'It's A Cool Cool Christmas', which I purchased from HMV in Bath one winter's night back in 2000. Released on Jeepster Records and backed by XFM (now Radio X), all of the proceeds from sales of It's a Cool, Cool Christmas went to The Big Issue.
It's an assortment of originals and reworkings of Christmas classics recorded by an all-star line up including Jeepster's own Belle and Sebastian, plus Calexico, Teenage Fanclub, Eels, The Dandy Warhols, Snow Patrol, The Flaming Lips, Saint Etienne, Low and Grandaddy.
'Everything's Gonna Be Cool This Christmas' stands out for its upbeat approach, Mark 'E' Everett announcing the arrival of the middle eight with the immortal line, "Baby Jesus: born to rock".