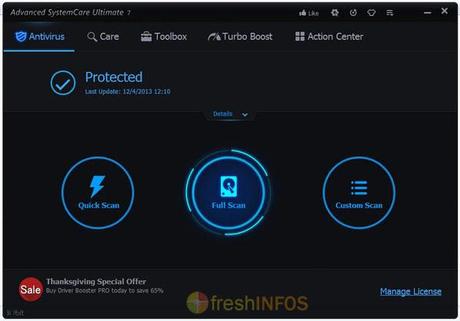 IObit has released the latest version of its' renowned PC system optimization and maintenance software, Advanced SystemCare Ultimate 7  with a ton of great new features and improvements. I have been using  Advanced SystemCare for over 2 years to maintain my old PC. As a fan of the software, I was eager to test out the latest version as soon as it was released, and I wasn't disappointed.
Advanced SystemCare Ultimate 7 is the anti-virus version of the Advanced SystemCare software, which comes with integrated Bitdefender anti-virus engine to provide security for your PC while improving its' performance. The antivirus protection doesn't give you as much feature as standalone antivirus softwares, but  it provides enough protection to stay safe from ordinary malwares, virus attacks and browse the Internet safely. Thanks to this anti-virus support, Advanced SystemCare Ultimate 7 becomes the true all-in-one software package for Windows PCs. Even though, the antivirus is not the reason why I use Advanced SystemCare.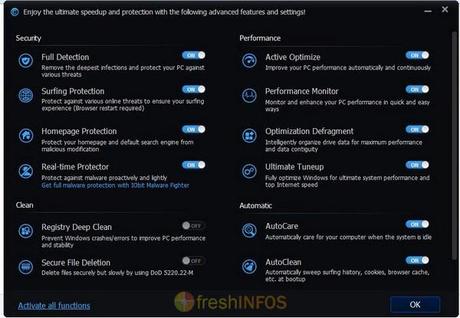 You may not realize this, but while you use your computer everyday, a lot of junk files get stored all over the operating system and hard drive, which eventually slow down your PC. This is why it's essential to clean up your computer at least once a week. And there's no better software to perform a full system clean-up than Advanced SystemCare.  I actually run a full scan and fix on my laptop once every 3 days to keep it in top condition.
Read Also: Five Computer Viruses That You Should Be Aware Of

I was surprised to see so many new tools on Advanced SystemCare Ultimate 7, such as drive booster, IObit uninstaller, Homepage and web surfing protection and also a tool to clean mobile devices. This made cleaning Windows computer much better. And yes, all the other tools from previous releases are available with this ultimate edition as well.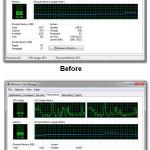 Click to enlarge
Just as always, Advanced SystemCare Ultimate 7 keeps its' promise to improve system performance better than ever. I noticed a great improvement in the Turbo Booster (one of my favorite options) when I run it after a busy day. It considerably improved my laptop's performance by clearing out over 100MB's of unnecessary RAM usage and CPU usage (see screenshot). It helped a lot when I was running games at high resolutions.
In conclusion, all I have to say is that the improved Advanced SystemCare Ultimate 7 works impressively on improving system performance and is a software that will save you some money in return that goes out to buying different softwares for anti-virus and system maintenance.
You can now download and try the 30-day trial of Advanced SystemCare Ultimate 7 before you spend $20 on a year of smooth PC performance.

(All the images, trademarks, logo's shown on this post are the property of their respective owners)
Follow @nrjperera - Roshan Jerad Perera