ADELANTO – The city's director of Public Utilities was given a warm send-off at Wednesday's City Council meeting, receiving recognition for his role in helping to transfer management of Adelanto's water operations to PERC Water, a private company.
PERC takes over the city's water operations on Monday, and John Sponsler, Public Utilities director for Adelanto, will join the company's water management team to help run the municipality's water system.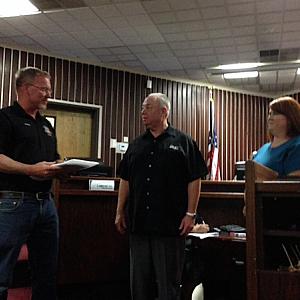 From left, City of Adelanto Director of Public Utilities John Sponsler, City Manager Jim Hart, and Mayor Cari Thomas
"John will be leaving his employment with the city and going to work for PERC, which is good for us from the standpoint that he continues to stay with the city to provide the water direction that needs to be done," City Manager Jim Hart said in a presentation that recognized Sponsler's work for the city.
Sponsler said Hart had interviewed him in 2006, explaining that, "it's been about seven years, and I've always thought of the city as one of the best places I have ever had to work for."
Hart told the public that Sponsler was involved in the analysis and other work relating to the transition of the city's water operations to PERC – while knowing that his own job was to be impacted.
"He actually worked very hard with us to help make this happen," Hart said. "John has been a great support, a great soldier, during a very difficult process for him that ultimately resulted in him going to work for somebody else."
Adelanto approved a contract with PERC Water on Sept. 25 that would outsource the city's water system operations to the private company, which currently operates the city's wastewater facility.
The city outsourced the management of its water system to reduce costs, which would run the city about $850,000 a year, according to a report. The city will be paying PERC about $694,000 to run its water system, saving the city about $150,000 a year.
The process began about a year ago when the City Council asked that he look into contracting out city services to lower costs, Hart said in an earlier interview.
According to a staff report by Hart, since the Adelanto Public Utilities Authority had experience with PERC Water as its Wastewater Treatment Plant operator, "staff used most of the contractual components of that contract to develop the water operations contract."
In September, the company anticipated retaining eight of the city's nine water operation employees on the basis of passing the PERC Water background. According to Hart, one city employee had chosen to retire – while those who qualify to work for PERC would be offered pay that is at least equal to their current compensation.
Known for designing, constructing and operating water recycling facilities nationwide, PERC is a water infrastructure company based in Costa Mesa.