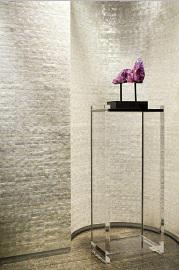 When designing an interior, deciding on wall decor is often a matter of choosing a paint color or perhaps a wallpaper and then picking out items to hang around the room.  Sometimes wall design can get fairly intricate with patterns or even elaborate murals, but homeowners also have the option of branching out past two-dimensional design with the increasingly wide variety of textured wall coverings available.
I am currently working with a client who adores texture on her walls.  We are in the process of redesigning several rooms in her home, most notably her expansive foyer.  As the room that gives the first impression to guests in her home, we want to make sure the foyer is a particularly remarkable space when we're finished with it.  Our first step will be removing the thirty-year-old troweled plaster from the walls; its heavy texture reminds me of meringue on a lemon pie.
We've been sourcing some gorgeous wall textures to use in the foyer as well as a powder room, which we will be presenting to our client at our next meeting.  We've found a nice variety from both Maya Romanoff and Phillip Jeffries.  From Maya Romanoff, we've picked out the Mother of Pearl, Bedazzled Geode in Metallic Taupe, and Remember Paris in Silver Birch.  From Phillip Jeffries we particularly like the Granite Stone in Platino.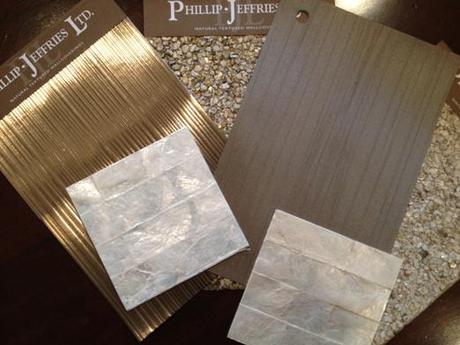 As you can see from these samples, we are leaning heavily toward neutral tones for the walls.  While bolder colors are certainly an option, textured walls make a dramatic statement in any room on their own merits.  Combining the texture with saturated hues runs the risk of becoming overwhelming, but neutrals can lend an understated elegance to the striking element of texture.
How do you feel about textured walls?  Feel free to share your opinions with us in the comments!  Regardless of whether you love them or shy from them, I would love to help you design a unique space that reflects your own personal tastes.  Contact us at Interior Makeovers Inc. by calling 310-788-0990 or emailing [email protected].