Even in today's economic climate people have maintained their taste for luxury in spite of their budgetary limitations.  There always seems to be a little wiggle room when it comes to indulging – and adding a touch of luxury to any space doesn't need to cost a fortune.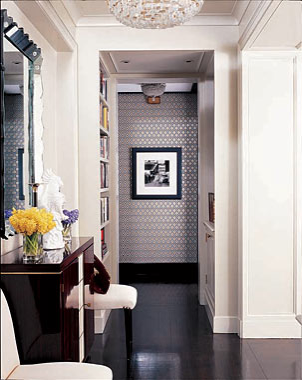 Photo via Elle Decor
For an instant infusion of luxury introduce a wall or two of exquisite wallcoverings.  From the most magnificent laser-cut patterns, flocked textures, subtle grasses, silks and metallics – the products available are endless – and a little goes a long way.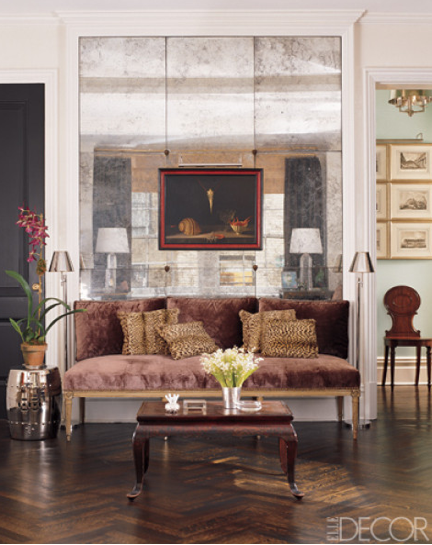 Photo via Elle Decor
Add mirrors into your design scheme.  I'm not just referring to wall hung mirrors – although they're great – but introducing strategically placed mirrored surfaces into any room of your home.  Reflective surfaces brighten a space and create that extra layer of sparkle, texture and luxury.  A mirrored chest in the foyer or master bedroom, glass or mirrored tiled backsplash in the kitchen, or antique mirror tiles inset mirrored sections framed by paneling and molding to add glamour and sophistication in your living room.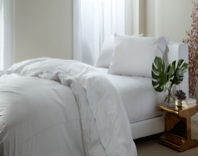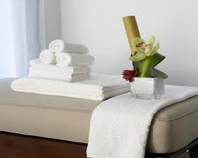 Frette Linens and Towels
Luxurious towels and bed linens are the ultimate in indulgence. They instantly transform your bathroom to an oasis, and your master bedroom into a sanctuary.  Invest in the best you can afford.  Get the feeling and look of richness by cocooning in some Egyptian cotton towels for the bath and Belgian linens for your bed.  The longer the loop the softer and more absorbent the towel and the higher the thread count the more sumptuous the bedding.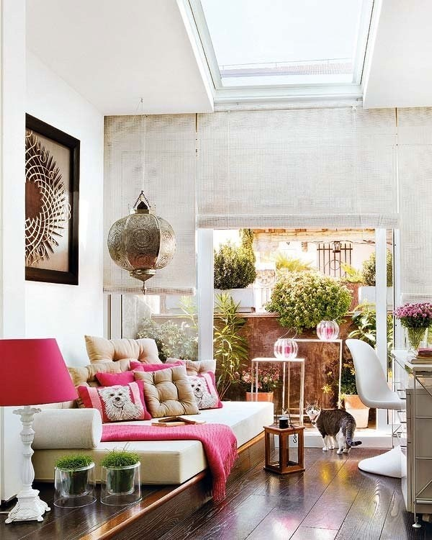 Photo via Freshome
Metallic fabrics, fixtures, wallpapers and accessories in silver bronze and gold layered with neutral fabrics are very beautiful and indulgent in formal living room and bedroom spaces.  Whether your home is traditional contemporary or eclectic, metallics add sparkle, shine and splendor to any room.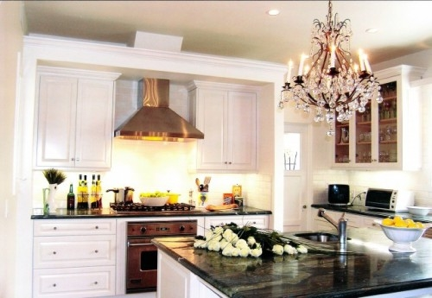 Photo via Lori Gilder   Interior Makeovers Inc.
For instant sophistication, elegance and a guaranteed wow factor, install a spectacular crystal chandelier into your foyer, living room, dining room or bedroom.  Lighting is a key design element of a space – both practically and aesthetically.  They dress up a casual space and fit in seamlessly within traditional environments.  So for a splash of luxury and a great deal visit the antique markets and architectural salvage yards to find these one of a kind gems.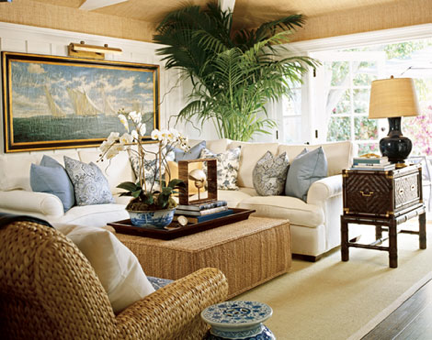 Photo via Barclay Butera
Splurge just a little by investing in some of your favorite fabrics and trims to create those sumptuous accent pillows to sprinkle throughout your living spaces.  Use contrasting fabrics on the reverse sides for greater flexibility and just flip them when the seasons change.
What have you done to make your home feel luxurious?
Stay Inspired!