Mobile ads are the worst. No matter if you're trying to play a game or a trying to watch a video, these giant mobile ads always pops out of nowhere and take up the entire screen. Now, this Adblock browser won't block all those ads, but at least it will stop ads from appearing while you're browsing the web.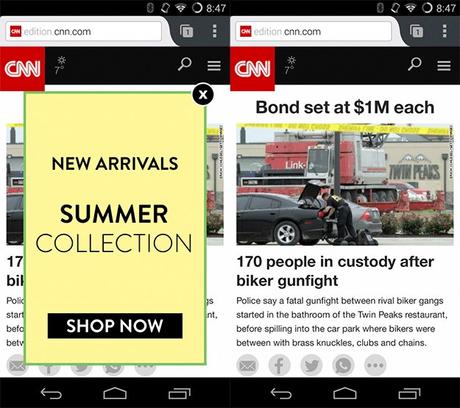 (Before and After Adblock Browser)
Main features of the app includes -:
Automatic adblocking – This is the first browser of its kind to offer users ad blocking as an integrated, out-of-the-box feature. As more people use ad blockers, the need is shifting toward mobile; automatic ad blocking at the browser level is the first step in this evolution.
Fast, efficient browsing – Ads cause pages to load slower and can consume 23 percent of your battery. Loading ads also costs data, so if you're blocking them on your browser it saves you on your data plan.
Safer browsing – Lots of nasty stuff like malware can hide behind ads. Blocking annoying ads reduces your risk of infection, and Adblock Plus has been recommended by Stanford University, UC Santa Barbara and the Electronic Frontier Foundation.
Total control – Annoying ads are always blocked, but users can encourage better ads by allowing nonintrusive ads to display. Users can change this setting at any time by simply tapping the Menu icon > Settings > Acceptable Ads.
Adblock Browser for Android will also block websites from tracking you, block malware domains, banners, pop-ups and video ads.
Read Also: Hello – Facebook's new Caller ID App Shows You Who's Calling
You can join the Adblock Plus Google+ community to download the app and become a Beta tester.
[  Source: Adblock Plus]
(All images, trademarks shown on this post are the property of their respective owners)
Follow @nrjperera – Roshan Jerad Perera