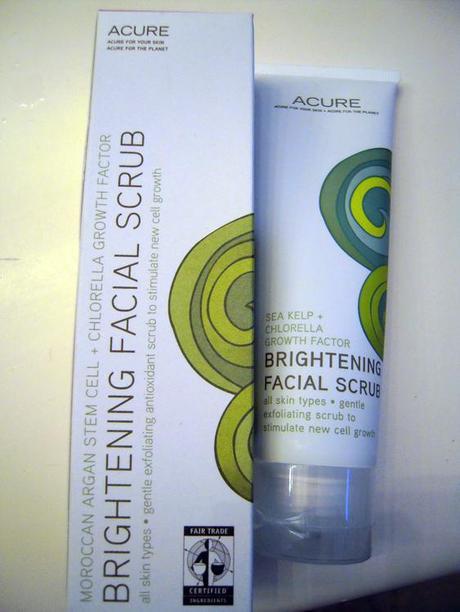 Acure Organics Brightening Facial Scrub Sea Kelp + Chlorella Growth Factor – Review
Acure Organics is a fantastic company and one of my favorites. Acure Organics is a full line of Body Care and Skin Care products made from all-natural, fair trade certified, and organic ingredients. All products are free of parabens, sulfates, phthalates, synthetic fragrances, petrochemicals, and animal by-products.
We like to believe that we create the purest, natural and organic plant-based skincare products. Simplicity is the key to our formulas. In keeping each ingredient as close to its natural state as possible, we feel that our products deliver visible, more potent results. Each decision we make is based upon our three guiding principles: Acure for your skin, Acure for the planet, and Acure for a cure.
Ever since trying the too-gentle-for-my-taste 100% Pure Pineapple Facial Scrub, I've been on a lookout for a good natural face scrub with more abrasion and scrubbiness. Sure, I could make my own, but I'm getting pretty busy now, and can't really afford to spend time making a fresh batch of scrub each time I need a treatment.
At Healthy Beauty Social, Melissa recommended the Acure Organics Brightening Facial Scrub, since it had ground walnut shells, green clay, lemon peel and sea kelp. I read tons of reviews on how the green color was fun to see during application, and that it was one of the best facial scrubs they've ever tried. Intrigued, I was convinced and got a tube at Soap Hope. Fabulous store, and buying there also donates to various social causes!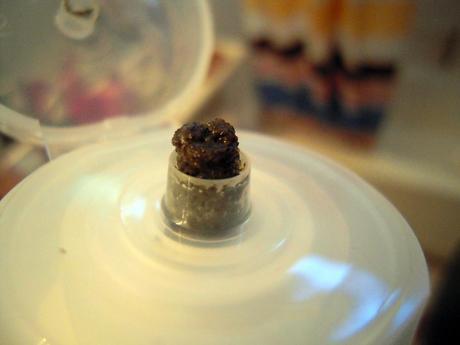 So, last night, I got to try it and convinced my husband to give it a try too. I was shocked – it's PERFECT!! This scrub has the right amount of grains and abrasiveness, and reminded me of those old apricot scrubs I liked back in high school (but don't use anymore for obvious reasons). The unique blend of berries and essential oils give it a very lovely, fresh, marine inspired scent, and the green color is definitely amusing. The Chlorella Growth Factor isn't just a buzz word – it works to stimulate new cell growth and Acure implements it in a bunch of their products.
I wet my face and applied a tiny amount to my fingertips, and started rubbing it gently on my face. You don't have to rub hard – a gentler touch will do, since it's definitely abrasive enough to work on its own. A little does go a long way with this, so this tube should last a while even if you do use it 3 times a week (their suggestions). I used it on my face and neck, though I recommend using it on your decolletage as well.
After rinsing, I saw the difference immediately. My skin is velvety soft, and my complexion is significantly brighter and was seriously glowing. It still is today, and after just one scrub session! My husband was impressed, so he tried it too – and his face was also glowing and super soft! My pores looked clear, some pesky blackheads seemed to vanish. I seriously couldn't stop looking and touching my face, and muttering "what the hell.." I couldn't stop touching my husband's face, either. :) This is a fantastic natural facial scrub. All the ingredients are pure and clean, and it's just incredible. Acure Organics scores again with yet another fantastic product! Pair it with their facial cleanser, toner, day cream or daily moisturizer as well!
This has impressed me so much that it's now a permanent part of my growing Holy Grail of natural beauty products. :)
Ingredients: Organic Curoxidant™ Blend (Organic Acai Berry, Organic Blackberry, Organic Rosehips, Organic Elderberry, Organic Nettle Leaf, Organic Cranberry, Organic Goji Berry, Organic Raspberry, Organic Pomegranate, Organic Blueberry, Organic Calendula officinalis, Organic Chamomile, Fair Trade Certified™ Organic Yerba Mate, Organic Aloe Vera Leaf Juice, Emulsifying Wax NF (Vegetable), Fair Trade Certified™ Organic Cocoa Seed Butter, Organic Safflower Seed Oil, Organic Coconut Oil, Glyceryl Stearate (vegetable derived),  Lauryl Glucoside (vegetable derived), Decyl Glucoside (sugar soap), Fair Trade Certified™ Organic Olive Oil, Organic Chlorella pyrenoidosa (Chlorella Growth Factor), Glucono Delta Lactone (fermented sugar), Potassium Sorbate (food grade preservative), Organic Evening Primrose Oil, Essential oils of Sage, Lavandin, Lemongrass, Spearmint.
USDA Certified Organic?:  Not officially, but uses many certified organic ingredients
Average Price: $13.99 for 4 oz
Additional Notes: Many ingredients are also Fair Trade, but still comes in an affordable price! Pair it with their other products for the best results.
Buy at: Acure Organics or Soap Hope
Rating:





I bought this product with my own money, and did not get paid by the company to do this review.