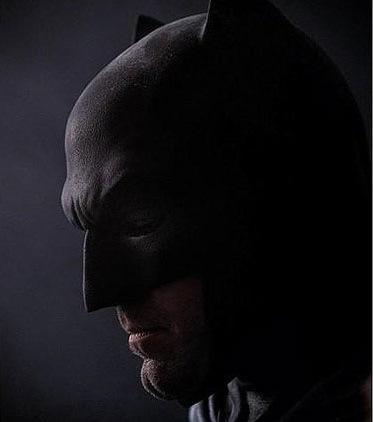 First view of Affleck as the new Batman, sure to be a flop
Yesterday, actor Ben Affleck tweeted that "I do not like Republicans."
This is conservative blogger KLSouth's response: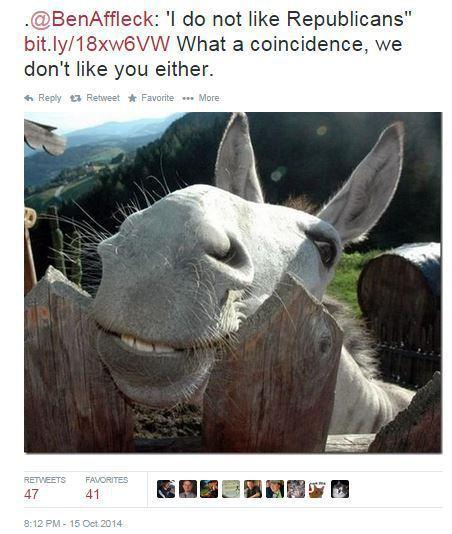 Today, Affleck's tweet has disappeared from his Twitter account.
That means not only is Affleck intolerant, he's also a coward.
Two Fridays ago on Bill Mayer's show, Affleck ferociously defended Islam.
As recounted by the New York Daily News, Mayer was calling on liberals to defend liberal (i.e., freedom-loving) principles. He said, "Freedom of speech, freedom to practice any religion you want without fear of violence, freedom to leave a religion, equality for women, equality for minorities, including homosexuals, these are liberal principles that liberals applaud for. But then when you say in the Muslim world this is what's lacking, then they get upset."
Smugly claiming that he understands "the officially codified doctrine of Islam," Affleck insists that radical Islamists are NOT the majority of Muslim views, and calls "gross, racist, and disgusting" any conception of Islam that is otherwise.
Hey, genius Affleck!
There is no "officially codified doctrine of Islam" because Muslims are bitterly divided between Sunnis and Shïtes. And because every 2-cent Muslim "teacher" can declare himself an imam.
Then there's what the Quran says: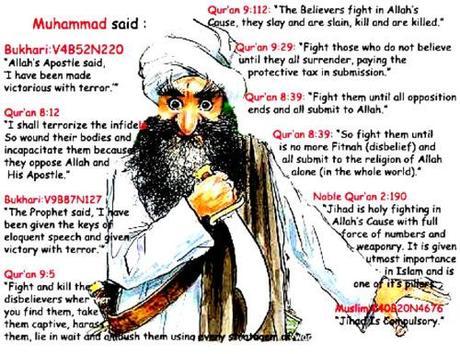 Affleck is out promoting his new flick, Gone Girl.
Make sure you stay away.
H/t Rebel Mouse
~Eowyn