Need swimsuits to outlast your favorite sports? For rigorous endeavors like diving, paddle boarding, surfing, and beach volleyball, women are turning to athleisure looks. They're even making style statements beyond the water's edge in trendy visions rivaling yoga and sports attire.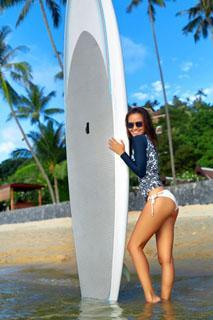 Millennials who fuse casual clothes with everything from active to tailored garments are spearheading this apparel evolution. It's blurring the traditional lines separating ready-to-wear, activewear, and swimwear. The exciting results are driving original shapes and fabrics while expanding acceptable bathing suit and cover-up destinations.
Discover which functional yet fashionable cuts and materials offer secure fits during energetic fun.
Athleisure Styles
Obviously, swimsuits must perform on sand and in water. But like fitness gear, they now also need to be functional in indoor gyms, on outdoor trails, and other gathering places. So current designs are helping women on the move avoid accidental overexposures and discomfort from bunched-up padding and chaffing. Consider these pointers when choosing sporty pieces from today's rapidly growing active swimwear category:
Tops: Pick upper halves with adjustable straps so you can customize a tight, secure fit while maintaining neck and shoulder comfort. If you prefer bikinis, look for sports-bra construction with built-in cups and support. Skip styles with straps that can slip down onto your arms. Racerback or crisscrossed straps between shoulder blades keep tops in place.
Tankinis provide midriff coverage and prevent heavy waves and spirited lunges from forcing skimpy bikini tops to pop up above your breasts. Pass up halters that tie around your neck since they might come undone and float or blow away. To maximize comfort, avoid decorative hardware and knots that could cause irritation during repetitive movements. Surfers may prefer rash-guard tops with or without sleeves.
Bottoms: High-waisted briefs echo popular retro styling from the 1950s and '60s. Contemporary surfer shapes revive memories of classically curvaceous beach bunnies. Raised up to your navel, they have better chances of staying put during overexertion than tiny triangles. For a more modern appeal, choose boy shorts or swim skirts. Even bikini bottoms can be budge proof when springy fabric or elastic trim fits snuggly.
One-piece swimsuits: For the most boisterous play, try more modest styles with sewn-in straps or strapless bandeaus. Forget the embarrassment of losing separate pieces while enjoying enthusiastic adventures.
Cover-ups: Shirts, jackets, dresses, shorts, and pants can conceal matching but too-revealing swimsuits in many public locations.
Trending Textiles
Current looks mix practical utility and fashionable comfort with personal taste for an organic feel. Search for these textile elements: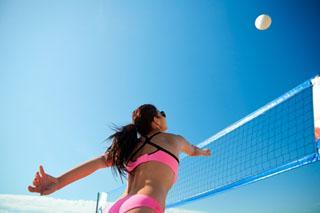 Fabrics and extras:
Durable and flexible material possibilities encompass Spandex, elastic, Neoprene, mesh, rash guards, piqué (a soft basket weave), ribbed fabrics, and zippers. Stretchy high-performance fibers that snap back into place with sturdy elasticity have the recovery power to ensure snug fits from upper back straps to bottom waistbands and leg openings.
Bi-directional stretchiness offers easy movement, long-term fit retention, and comfort to survive the ongoing pressures of intense workouts. Figure-embracing materials providing firm compression and control generate massaging and slimming effects along with refreshing coolness — even in motion.
Colors and patterns: Clashing shades, solids, color blocking, inserts, contrasting trim, bold geometric shapes, and flashy mixed prints connect nostalgic retro and daring futuristic looks. Popular dyes range from cotton-candy pastels and snow-cone hues to water-inspired blues and fresh-picked greens with black and navy as dark neutrals. Swim tops and bottoms that feature different textures, tones, and/or patterns resemble athleisure wear. This trend is ideal if you need to buy mismatched sizes, allowing you to combine coordinating or contrasting separates.
Multifunctional looks: Consumers are gravitating toward pieces they can use in various ways. Layering versatile bikinis under tank tops and dresses is helping those beach favorites gain momentum on land as fashion hybrids. Functional separates like high-neck halter-tops, rash guards, and even surf leggings have ladies appearing stylish while exercising and picking up groceries.
Shopping Online
Women's growing focus on fitness, mind/body strength, overall well-being, and healthy lifestyles is shifting swimwear from a seasonal industry to a year-round phenomenon. So donning beachwear when working out, running errands, and socializing publically is reaching universal acceptance. Check out Swimsuits Direct's active swimwear for styles and fabrics that match the selection tips above. Order two- and one-piece bathing suits along with cover-ups ranging from shirts, jackets, hoodies, and dresses to pants of different lengths. Then dare to wear them proudly almost anywhere!