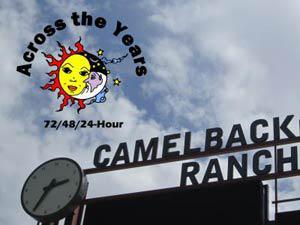 The Across The Years 72,48 & 24 Hour Race 2011 made what appears to be have been a smooth transition from Nardini Manor to Camelbak Ranch in Phoenix Arizona with a large field in the latest edition of this event that finished New Years day 2012.
Winners include Anna Piskorska who was 1st American female at the 24 Hour World Championship in Brive, France 2010, with 133.23 miles. Winning the ATY 24 hour race overall by a clear margin.
Tom Jackson took the top spot in the 48 hour holding off last years 48 hour winner Davy Crocket who has written a race report on his blog (link below) and Karen Bonnet was first lady in that event.
The 72 hour event draws friends back year after year and the top ten features some enduring characters including previous winner John Geesler and Ray Krolewicz – another multiday specialist. First time at the race for Joe Fejes saw an impressive performance to take the win (link below) with 280 miles and a great performance by Charlotte Vasarhelyi with 226 miles for first lady and third place overall.
24 Hour
Place Name Miles
1 Anna Piskorska 122.8266
2 Stacey Costa 115.478
3 Charles Hammer 108.1294
4 Paul Kramer 104.98
5 Debbie Leftwich 103.9302
6 Marla Hernandez 102.8804
7 Diana Rush 102.8804
8 Danny Speros 101.8306
9 Richard McKnight 101.8306
10 Alan Barnes 101.8306
48 Hour
Place Name Miles
1 Tom Jackson 187.9142
2 Davy Crockett 174.2668
3 Kermit Cuff 162.719
4 Luis Miral 150.1214
5 Karsten Solheim 150.1214
6 Karen Bonnett 148.0218
7 Matthew Watts 144.8724
8 Jamie Huneycutt 137.5238
9 Miles Krier 135.4242
10 Robin Saenz 135.4242
72 Hour
Place Name Miles
1 Joe Fejes 280.2966
2 Ed Ettinghausen 233.0556
3 Charlotte Vasarhelyi 226.7568
4 John Geesler 218.3584
5 Martina Hausmann 214.1592
6 Carrie Sauter 212.0596
7 Craig Slagel 209.96
8 Vikena Yutz 204.711
9 Ray Krolewicz 203.6612
10 Mark Hellenthal 202.6114

Race Reports and Links
Joe Fejes: ATY 72 Hour Race Report 2011/12
Juli Aistars – Across The Years 2011 Race Report
Across The Years photos on new website
Across The Years old website