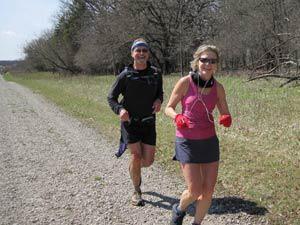 Juli & Val Aistars Photo by Kelly Gaines
Across The Years 2011 
Posted on the Ultralist:
Date: Mon, 2 Jan 2012 14:04:20 -0600
From: Juli Aistars
Subject: The Ins and Outs of ATY at Camelback Ranch
I didn't know Robert and Linda, but somehow it seems strange to be writing about all the fun we had at ATY when this tragedy has struck just this past Friday. I am sorry for all those who lost their dear friends or family in Robert and Linda. It is another reminder that we don't know what is in store for us. Say "I love you" to those treasured people in your life, spend time with those you love, open your heart, be yourself, chase down your dreams, reach for your goals, today, now…
The Ins and Outs of ATY 24/48/72 Hour at Camelback Ranch, AZ:
Where else can you see an 81 year old cover 105 miles and meet the first person to finish the Barkley Marathons fun run? I think I won the lottery!
Well, now you don't need to win the lottery to join the fun.
If you haven't met Dan Baglione or tasted his baklava (correct pronounciation required), you haven't experienced the best life has to offer. He was the one with who wore his tighty whities and then lime green running pants

Hard-headed and stubborn — two of Dan's qualities and two that are needed to accomplish big things. Congratulations Dan!
Traveling to AZ for ATY has become an annual sojourn for me and Val. Val ran the first day 24 hour with a goal of at least 50 miles and I had the goal of running 200 miles in 72 hours with no stress, no extreme discomfort or pain. Both goals accomplished. Goals and reasons are two different things. The real reason we go to ATY is because it is a superbly organized run, done with care, consideration and love and it is a happy gathering of many of the nicest and most interesting people including runners, crew, family and volunteers alike. Love flows at ATY. In that way, it reminds me of the Self T 6 and 10 day. From the top runner to the ones with more modest goals, you are treated like you are important, you matter. Isn't this what life is all about? Substitute stamp-collecting for ultrarunning — why wouldn't you connect best with the people who have the same passions, similar dreams and goals, those who understand you like no one else can?
I finally was able to get to the results on the webcast. I won't rehash who did what since it is up for all to see. Some of the results were different from what I expected. In the 24 hour races, there were some runners who were amazing to watch but put up a lower total than I would have thought, like Marla and Katherine. I never saw these two walk, but they must have spent time off the track. There is a lot that the results don't tell, like many of the runners who stopped early for one reason or another or who had extended time off. Tracy Thomas, past champion and 72 hour record holder, ran 70 miles in 24. We all know what Tracy is capable of — she had the goal of getting her 1000 mile jacket and since she had been sick, decided that is all she would do. Pam Reed was looking for an age group record –
she may have decided to stop early when she saw she was not on track to reach her goal. In the 72 hour, Ed was off the course for many hours, thinking he had a stress fracture, and then was able to run again. He still took 2nd place. Charlotte had major stomach problems and other issues, but still won the women's race. Carrie Sauter, probably the most talented runner among the women in the 72 hour, reached 200 miles just after midnight on Day 3, but then spent time off the track because she was exhausted, coming back hours later to put up a few more miles. These are just a few examples of all that goes on that the results don't show.
There is so much to say about the race from just my own perspective. There are many perspectives and the more we hear from the better, but those who know me know that what I enjoy most is getting to know people and finding out about them. I did plenty of this and enjoyed it immensely. I know I will miss people and stories, but you don't have all day

. I was thrilled to see Carrie Sauter back. She ran the 72 hour in 2007 and she is amazing. I knew she could win. Her husband, Craig, was there to crew again. Carrie is genuine, kind, beautiful, and a talented runner. As Craig Slagel said, she is not OCD like the rest of us, otherwise she would have put up even more miles. The Georgia runners invited Craig and Carrie to dinner the night before. The Georgia runners, Willy, Joe Fejes, Kena Yutz and Jameelah (who got there a day late and still put up 153) are the nicest people you ever want to meet. I am not sure why they left Christian at home

. Willy did not have much experience at distance and put in 200 miles. He and Joe were a joy to watch and often had time for a comment or two as they flew by. Jameelah, with her colorful outfits, cute little figure, and extreme talent, is a future winner of the 72 hour. She just has to show up on time

. Kena, who I have gotten to know over the last few years at races, is a class act. She appreciates and cares about others. She runs with grace and finesse. As most of you know, Joe is hearing-impaired, a handicap that we share and have talked about. Joe's hearing loss is worse than mine, but he doesn't complain. Even when he was having trouble with his stomach, he just states the facts, no feeling sorry for himself. Joe is encouraging to others and nice, nice, nice. He reminds me of Joe Ninke. Martina, who runs
with stealth and determination, needs no introduction to those who have been at ATY. As Carrie said, a huge part of the spirit of ATY would be missing without Martina. She is fiercely competitive. At one point, we were talking and she pointed out that I would have to work hard to make up the 5 mile lead she had on me. I responded, "I am only planning to reach 200 miles, and the winner of the women's race is not going to be me or you this time." She was much friendlier to me after that

. At that point, Charlotte was the favored winner. Charlotte, from near Toronto, and a good friend of Sharon Zelinski and John Turner (running at Peanut Island 24), is a very talented runner with determination plus. Charlotte came in with a goal of breaking the Canadian record of 248. Behind every great performance is a goal — a goal that is extremely important to that person. From my perspective, this is what drove Charlotte, even when she knew she wouldn't make it. She had major stomach issues more than once and took more time off the track then she had planned. She is talented and driven — the magic combination. As she told me, winning was not her goal, though it is a nice benefit if it happens while you are trying to reach your personal goal.
Others I was thrilled to meet and spend time with are: "Frozen Ed" Furtaw — wow, was I thrilled and fascinated by this man; Aviva, Donna Kanoza, Carolyn Fort, Patricia Devita (77 years young and wore skull & crossbones gaters), Naresh B (met before at Lynnor's house but long ago), young and talented James Bonnet and many others. Those who were great to see again include all of the extraordinary Coury family (Pati is running and I got to meet the lovely Amelia!), Rodger Wrublik, Harold Sieglaff (a cornerstone at ATY), Debby Hammond, the great Ray K who adds levity, fun and his legendary singing, Craig Slagel who is entertaining always, Debbie Goodwin, Jean-Jacques, Karsten, Don Winkley, Karen Bonnet, Nattu Natraj, Carl Hunt, Burke Painter (who makes the lovely awards for ATY), Jim and Sue Norwood who grace any venue with their mere presence and so many more.
Another thing of note was the camaraderie of the crew/families. In particular, Charlotte's husband and crew whose name I don't know, Val, Craig Sauter, and Perry who crewed for Kena formed a tight bond. Charlotte's husband was newer to this crewing thing apparently and the other "boys" gave him advice on how to help Charlotte, though they may have socialized a little too much

. I am sure there are many more stories like, including Cyndie who ran the 48 hour and had the unwavering support of her daughter who stayed up all night watching over Mom. She was in her 20s and how many 20 somethings would forgo New Year's celebrations with their friends to help Mom? Also, an example among many of good sportsmanship: Carrie came into the start finish and did not see Kena's name come up on the board as she passed over the mat. She told Perry who discovered that Kena had been running 2 miles without her chip. Dave gave her credit for the laps.
Speaking of Dave, a man you can't help but love, what an excellent job he does! We have heard his praises sung from the highest mountain, but it must be said again: Dave ROCKS! Steve Finklestein (who takes on the nightshift timing) also ROCKS! They had another young lady helping with timing but I didn't officially meet her. The volunteers were all great, but Pati Coury takes the cake for overseeing everything and working her a** off, or what is left of it now that she has found running

. I loved the "remote station" volunteers, including the teenagers. They had the greatest Christmas decorations. Those little things mean a lot when you are tired.
They also had dates, the kind you eat. How often do you get dates at races?

Oh, and the new venue was fantastic! Loved the 1.05 mile loop through scenic paths, a little asphalt, mostly limestone/gravel which will give you great blisters in racing flats after many miles. I would recommend lightweight trail shoes for this event and frequent sock changes. I didn't use gaiters because I like to take off my shoes as often as possible and massage my sore feet if I can't talk Val into it. There were a few baseball practices going on, but no one was hit by bats though balls were in abundance, just not the kind you hit with a bat

.
Thanks to the Courys for another epic event which will live in the annals of ultrarunning history! Congratulations to all who participated, to all who reached their goals, to all who made new friends or spent time with old ones! Thanks to everyone from the list who sent messages — you can't know what this means to a tired runner.
Happy New Year and a fun running year in 2012 to everyone!
Juli
Across The years 72,48 & 24 Hour Race 2012 Results
Joe Fejes: ATY 72 Hour Race Report 2011/12