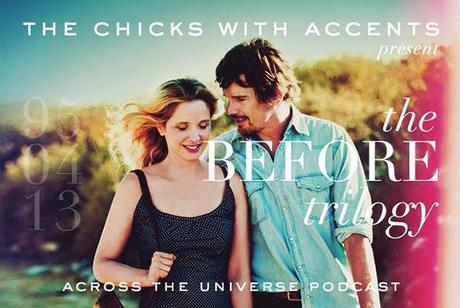 One couple, three movies, that I saw in two days. The first movie was released the year I was born, the second the year I fell in love with Bollywood movies (which in some way led to this blog and my general movie obsession), and the trailer of the third movie was first thing I watched of the Before Trilogy. 
But this is not about me or number magic, this is about The Chicks With Accents rambling about Jesse and Céline in the latest episode of the Across the Universe Podcast. Open your minds and walk with us down the roads to Vienna, through Paris and finally Greece. Or if you haven't seen the Before Trilogy yet, listen to us discussing the latest Netflix show Orange is the New Black, one of the few movies with Adrien Brody in the lead; Detachment, and the one movie to catch up on this summer; Anchorman: The Legend of Ron Burgundy. And then watch the Before Trilogy.
Composition: 00:35 - Chick Chatter02:46 - Trailer03:09 - Interesting Movie of the Fortnight18:46 - The chicks discuss the Before Trilogy1:06:25 - Plugs and Goodbyes
Music:Nina Simone - Just In TimeJulie Delpy - Let Me Sing You a WaltzCilla Black - Across the Universe


Please give us your feedback on our facebook page, write us an email at [email protected] or follow us and write a review on iTunes or Podomatic.
Bye bye, au revoir, later.