Written by Robert Arndt, Vice President of Lean Supply Chain Solutions
Ryder's fourth Lean Guiding Principle is Short Lead Time. It involves filling customer orders as promptly as possible.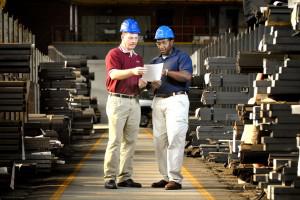 Lead time is the period that elapses from the moment a customer places an order until that customer receives the goods. The shorter that period, the leaner the supply chain. When lead time is short, companies don't tie up cash in safety stock or build extra days into production or distribution cycles. They rely on a steady flow of inventory to arrive exactly when it's needed, and they can plan their business processes accordingly.
A lean organization reduces lead time by streamlining its work as much as possible. Four elements help to make this possible:
Simple process flows: making sure that each process contains as few steps as possible.
Small lots: breaking big jobs into smaller units to help employees to work more efficiently and get orders out the door faster.
Level loading: planning the pace of each day's work to meet customer demand, and then clearly conveying those expectations to employees.
The pull system: storing, picking and transporting just enough inventory to fulfill actual customer orders and then replacing inventory that has been consumed.
Implementing the principle of short lead time accomplishes a great deal more than simply creating a speedy operation. It ensures that a facility can respond to increases in customer demand without needing to ramp up resources. Short lead time helps a distribution center use its staff, its space and its inventory as efficiently as possible. By helping the facility eliminate waste and giving customers exactly what they require, short lead time makes the job easier and ultimately strengthens that company's bottom line.
How are you shortening lead time in your operation?
Learn more about Short Lead Time and Ryder's other Lean Guiding Principles.
Watch out for the next post in the Lean Series, which will speak to Continuous Improvement.