Written by Robert Arndt, Vice President of Lean Supply Chain Solutions
Ryder's third Lean Guiding Principle is Standardization. It means documenting best practices and making sure that they are followed. 
The principle of supply chain standardization maintains that in a lean facility, all work follows established, well-tested procedures. Management provides unambiguous instructions for performing every task. It creates schedules and physical facilities that help work flow smoothly. Finally, it creates mechanisms to track whether work is proceeding according to plan. All these strategies help to ensure that employees have the instructions and tools they need to meet customer expectations.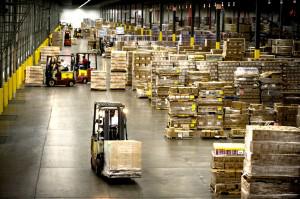 Supply chain standardization allows you to easily calculate how much time and how many resources you need to complete your work. It also provides the foundation for continuous improvement.
In a lean distribution center, standardization involves five elements:
Visual management: the use of signs, symbols, color codes and other visual tools to keep people informed about how to do their work, how work is progressing, where tools are located and other conditions important to the task at hand.
Layered audits: audits performed while work is in progress to ensure that employees perform their work according to the established standard.
Management by customer demand: tailoring resources and setting a steady pace to produce exactly what customers need each day.
Standard work: a written description of the only acceptable way to perform a particular task.
Workplace organization: a standard method for organizing the materials and tools in a work space to ensure that work proceeds as efficiently as possible.
What standard processes have you established in your lean supply chain operations?
Learn more about supply chain Standardization and Ryder's other Lean Guiding Principles.
Watch out for the next post in the Lean Series, which will speak to Short Lead Time.