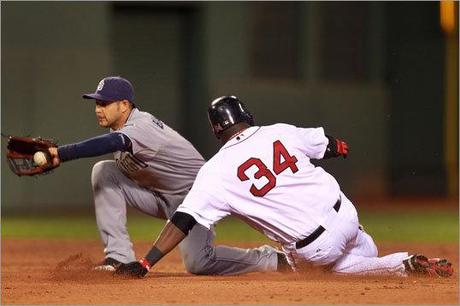 It was one of those nights.
Alfredo Aceves, subbing for the ill Josh Beckett, couldn't find home plate and gifted the San Diego Padres two runs in the second inning. He did something you rarely see: he walked five men in a row. And thoughts of the movie "Major League" creeped into my head when he issued 12 straights balls in a row. ("How could they lay off pitches that good?")
The Red Sox left 11 men on base and let upteen opportunities to score runs disappear.
Positive note: David Ortiz stole his first base in three years (pictured), as he caught the Friars napping in the fifth inning.
It was just the fourth Red Sox loss in seventeen games. With New York's rainout in Cincinnati, the Sox AL East lead is one game.
John Lackey stands between the Padres winning this series, as he takes the mound this afternoon.