Reminder: Pharmboy is available to chat with Members, comments are found below each post.
Seasonality stock rotation is nothing new to investors, and we at PSW have mainly stayed on the sideline in many biotech stocks for the past few months, knowing that late spring and early summer is not a time to start buying.  Come July and August, though, it is time to consider accumulating scientifically sound companies for potential rewards later. 
Figure 1. IBB 5 year weekly chart.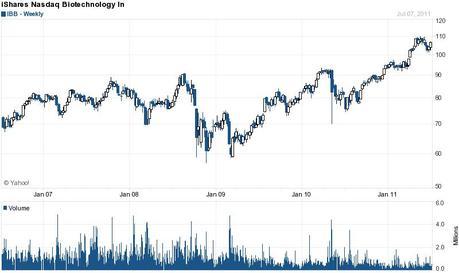 A few weeks ago, INCY and YMI were in a write-up and we jumped on the pullback in YMI's stock price in member chat.  While it is early for YMI, I still like their chances and one can buy in on the stock and selling the Jan12 $2.5 calls and puts for $1.40.  INCY has a similar product that is further along, and the stock has had an impressive run up.  Many think they could be a takeover by LLY, and it is not out of the realm of possibility.  LLY has a horrible pipeline, and they need revenue…badly.  Time will tell if a deal is done. 
One of LLY's biggest revenue generators is in the treatment of diabetes.  The next pick is more of a speculative bet on a new mechanism of action for this very large medical need, and one that LLY could also take advantage of in the future.
Diabetes is a group of metabolic diseases in which a person has high blood sugar, either because the body does not produce enough insulin, or because cells do not respond to the insulin that is produced. This high blood sugar produces the classical symptoms of polyuria (frequent urination), polydipsia (increased thirst) and polyphagia (increased hunger). 
There are three main types of diabetes:
Type 1 diabetes: results from the body's failure to produce insulin, and presently requires the person to inject insulin. (Also referred to as insulin-dependent diabetes mellitus, IDDM for short, and juvenile diabetes.)
Type 2 diabetes: results from insulin resistance, a condition in which cells fail to use insulin properly, sometimes combined with an absolute insulin deficiency. (Formerly referred to as non-insulin-dependent diabetes mellitus, NIDDM for short, and adult-onset diabetes.)
Gestational diabetes: is when pregnant women, who have never had diabetes before, have a high blood glucose level during pregnancy. It may precede development of type 2 DM.
Treatment of diabetes is either insulin itself (for Type 1) or for Type 2, a combination of exercise, diet and drugs (biguanides, sulfonylureas, DPP-IV inhibitors) and/or peptides (Byetta, etc.).  A novel mechanism has emerged and those are the sodium-dependent glucose co-transporters (SGLTs).  These transporters are a family of glucose transporters found in the intestinal mucosa of the small intestine (SGLT1) and the proximal tubule of the nephron (SGLT2 in PCT and SGLT1 in PST). They contribute to renal glucose reabsorption.  By inhibiting these transporters, the body excretes it and thus lowers glucose levels.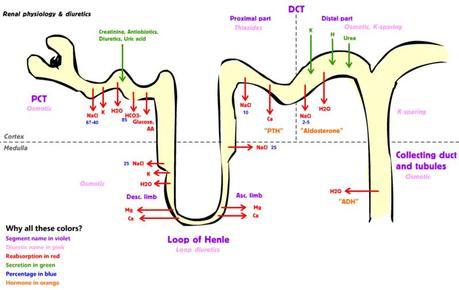 One company that is in Phase 2 is Lexicon (LXRX).  In January 2010, data from a Phase 2a trial were reported. There was a significant reduction in fasting plasma glucose in both LX-4211 groups relative to placebo, with reductions of 53.4, 65.9 and 15.1 mg/dl in the 150- and 350-mg LX-4211 groups and placebo, respectively, at week 4. The mean percentage hemoglobin A1c significantly decreased by 1.15 and 1.25 in the 150- and 300-mg LX-4211 groups, respectively, and only 0.49 with placebo. Patients in both treatment groups reported weight loss and also had a decrease in blood pressure and triglycerides levels compared to placebo.  Data are due out towards the end of the year (some were released June 27), so I like buying an initial 1/4 entry on the stock now, and possibly buying more on any dips.  There are NO options on LXRX.
Other plays to consider:
One of our picks has data coming out in Q3 for post-menopausal hot flashes – Depomed (DEPO).  DEPO already has  Gabapentin GR (Gralise) approved and on the market for pain in postherpetic neuralgia (PHN).  For hot flashes, DEPO conducted an earlier study called Breeze 2 (Oct '08).  Patients were randomized and received either placebo or one of two Gabapentin GR doses: 1200 mg dosed once daily, or a total dose of 1800 mg (600 mg in the a.m. and 1200 mg in the p.m.). The primary efficacy endpoints for these studies were: 1) reductions in the mean frequency of moderate-to-severe hot flashes, 2) the average severity of hot flashes, both measured after 4 and 12 weeks of stable treatment. In Apr '09, enrollment in the trial was complete and in Oct '09, combined top-line data from the study were released. All four primary endpoints were met at 4 weeks and one at 12 weeks in the 1800-mg group. In the 1200 mg group, three primary endpoints were met at 4 weeks. Frequency of hot flashes was significantly reduced in both studies but severity was only significantly reduced in one trial. At 12 weeks, only one primary endpoint was met in the 1200 mg group.  I still like DEPO and will be adding to my position.  For an initial entry, I like the Dec11 $7/9 BCS for 95c, selling the $7 Ps for 90c.  That is a net entry of 5c on the $2 spread.
BioSante Pharmaceuticals (BPAX) has been mentioned here on several occasions, but there has never been a formal write up on them.  Later this year, though, their top-line data are due out on one of their flagship products, LibiGel, which is under investigation in female patients with sexual dysfunction (FSD).  Data are due in Oct/Nov '11. Phase 2 data looked impressive, but Phase 3 data are where the final data will make or break this treatment.  The Dec11 $2.5/5 BCS for 70c or better coupled with selling the $2.5 Ps for 70c or better makes for a free $2.5 spread.  I would buy back the puts sometime in October to minimize any losses should the data come back negative.  This is a speculative bet and should be treated as such.  I think the data will be very 'telling' and I think that they hit their top line data…approval, that is another question!
Protalix BioTherapeutics Inc. (PLX) $6.31 – EMEA (European) Approval of Taliglucerase Alfa due possibly in late 2011 based on 10-month timeline following validation. Note, no definitive dates for EMEA approval. I am not sure of any of the EMEA timelines, but this is my best guess at this as well as others in the area.  I think they get it, whenever that time arrives!  I like the stock in this area, selling the Aug11 $7.5 calls and puts for net $1.60.  I think the company moves up into this area by then. 
I still like SGEN, IMGN and CRIS.  These three along with PLX and DEPO make up a large portion of my portfolio in the biotechs, and I am considering CLSN again after their selling of stock (capital) for $3.16.
This entry was posted on Monday, July 4th, 2011 at 5:56 pm and is filed under Appears on main page, Uncategorized. You can leave a response, or trackback from your own site.
Do you know someone who would benefit from this information? We can send your friend a strictly confidential, one-time email telling them about this information. Your privacy and your friend's privacy is your business... no spam! Click here and tell a friend!