The creation of this category in 2001 was felt to be overdue, recognition that animation was largely ignored by the Academy, with the notable exception of Beauty and the Beast becoming the first animated movie to get a Best Picture nomination. Here are this years crop of nominee's.
Brave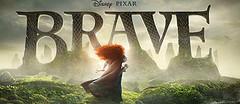 Brave Movie (Photo credit: Michelle O'Connell)
The first of an exceptionally strong Disney trio, this highland fling features the vocal talents of B
illy Connelly, Julie Walters and Emma Thompson. A typically high quality Disney Pixar movie, it is meaningful about women's rights while remaining hilariously funny, its not quite How To Train Your Dragon, but none the less its thoroughly enjoyable.
ParaNorman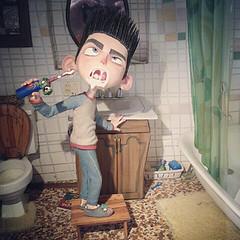 Day 9: Little Norman (Photo credit: tsmall)
Its very rare that animation deals with death, without having Tim Burton at the helm, and this movie does it well, able to stay away from the dark places the subject matter usually leads. A strong anti-bullying message, and a low key vocal cast give this movie a good feel about it, The first stop-motion picture to use 3D, a deserved nomination to reward the work that went in.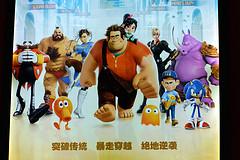 Wreck-It Ralph Movie Theater poster Chinese version (Photo credit: dcmaster)
Wreck-It-Ralph

Shot two for Disney is a very clever movie, an Arcade game theme opened up all kinds of references and appearances from game Characters, the meeting of video-game villains was excellent, and great nostalgia trip for those young enough to remember. Sarah Silverman brings the funny, as she always does, and this movies fun just carries you away with it.
The Pirates! Band Of Misfits

A nice British nominee, superb British vocal talent on show Lenny Henry, Hugh Grant and David Tennant are all standouts. Its a good movie, but i think the British nature of the humor might not have translated that well in other countries, the modest box office is possibly not a suggestion of a lack in quality in this case but maybe that it just wasn't as well known as the mega-studio monsters its in this category with.
Frankenweennie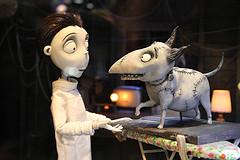 Frankenweenie touring exhibit (Photo credit: insidethemagic)
This is Tim Burton through and through, similar in style to The Nightmare Before
Christmas
but with more gusto. The movi
e is less about the darkness and more about the story telling, granted its not Burton's greatest work, but it still has his usual charm, but with an added extra energy. This maybe a critics favorite, and god knows Burton does deserve one of these at some point.
This is a difficult on, possibly the strongest field we have ever seen in this category, and definitely the most evenly matched. As with any Oscar night there are the odd category that really is wide open and this it, Frankenweenie is the movie that really deserves to win, and Tim Burton has earned the win, but with a field this open, I think any of the Disney three could walk away with it.