This month's ABZs Networking Crawl was all the way out west at the Delray Marketplace. I hate that it's such a long drive because I really do like it over there. There's Frank's Theatre with IMAX movies and a bowling alley, a bunch of great restaurants, and a few little shops and boutiques. I need an excuse to make the half hour trip, and ABZs was it! 
We started out the crawl at Terra Fiamma, one of the contenders in this year's Meatball Madness competition. They served us three different flatbreads, all of which were devoured within seconds of the plates hitting the table. The Pomodoro Flatbread was piled with fresh tomatoes and mozzarella, the Formaggi Flatbread was drenched in four kinds of cheeses, garlic and crispy rosemary, and the Truffle Flatbread was a decadent mix of mushrooms, mozzarella and truffle oil — that was my favorite. Truffle oil, as trendy as it is, really does make my tastebuds sing in the most beautiful ways. They also served the meatballs they entered into the competition — the Buffalo Chicken Meatballs and the Veal Marsala Meatballs. I heard rave reviews about the veal, but the buffalo chicken seemed to be a little too spicy for most palettes.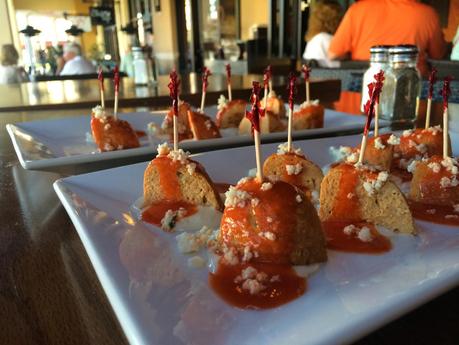 Next up was TAP Global Beer Collection, a craft-beer lover's dream. This place reminded me of a log cabin, with wooden tables and chairs and a very rustic environment. Their beer list is massive, but for our event, they only offered about 5 or 6 beers (and a few wines) for a special price. I was boring and settled for a cider I've had before, Woodchuck Pear. For $3, I was fine with my choice. What I really enjoyed was the appetizer they served us — their house smoked fish dip and pita chips. TAP has a small menu of appetizers, but the kicker is that you can order food from most of the surrounding restaurants and have it delivered to you right there. Pretty awesome idea...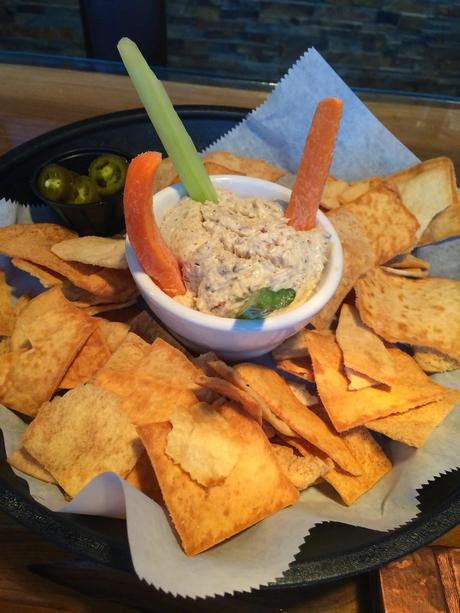 After TAP, we went over to Cabo Flats. I have been wanting to try this place since I love Mexican food, but I wasn't completely impressed. You guys know how I judge Mexican restaurants on their chips and guacamole, and I just wasn't sold. The guac was just okay, and the chips were nowhere near as good at the ones I've had at Rocco's or El Camino. BUT the other appetizers they served were good. I have to give them a thumbs up on their Macho Nachos, a huge mound of chips loaded with beans, pico de gallo, jalapeños, guacamole and a blend of cheeses. I was happy to see it was a vegetarian nacho dish — that rarely ever happens! They also served a Margherita Flatbread that I thoroughly enjoyed, until I happened across a jalapeño that was waaaaay spicy. I couldn't feel my lips for a good five minutes. No joke. Good thing I had a free margarita to ease the pain...
As always, I met more new friends and made some great connections with other local foodies. I have no idea when I'll go back out to Delray Marketplace, but I'm glad I got to check out these restaurants with a fun group of people!