Abu Dhabi, the capital and largest of the United Arab Emirates, is a wonderful introduction to Arab culture. With their national carrier Etihad flying from Australia to Abu Dhabi and on to England and Europe, it makes an excellent stopover or family holiday destination. Book a stopover with Creative Holidays and allow two or three days to take in all the sites. Here are a few highlights. 
 Furious Fun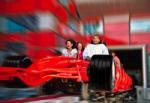 Formula Rossa Roller Coaster
Blast out on the world's fastest roller coaster at Ferrari World where you go from zero to 240km/h in five seconds, replicating the acceleration of an F1 racecar. (It will be the quickest facelift you ever get – pity gravity takes over again afterwards!)
The thought of an indoor theme park seemed a bit strange, until I experienced Abu Dhabi's draining heat – when it made perfect sense. But you still get the wind in your face on the roller coasters as they shoot out from the building into the sunshine. 
There's something for every age group, from tiny tots to big kids, including a junior driving school and state-of-the-art racing simulators. Don't miss the journey into the  heart of a V12 engine – a hilariously funny, if rowdy, flume ride.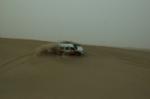 Dune Bashing in Abu Dhabi
Dune Bashing
Unlike Dubai, where hundreds of people hit the dunes each night, our party consisted of only two vehicles. I never thought skidding sideways down a dune, perilously close to tipping over, could be so much fun. Our party of girls alternately screams with fear and squeals with laughter as showers of sand cascade over the windscreen. A camel ride and dinner in the desert round out a fantastic evening.
Bird Watching
Learn about the fascinating history of falconry at the Abu Dhabi Falcon Hospital where you can get up close and personal with these majestic birds. Witness one having its beak and claws trimmed under anesthetic or listen to it crunch through a piece of quail, bones and all. While one sits regally on my arm its hard to believe it's capable of killing a gazelle.
Architecture
Abu Dhabi's development, which feels less brash and more planned than Dubai's, is no less spectacular and will appeal to anyone with the slightest interest in architecture. Check out Emirates Palace Hotel, where gold is de riguer, including in champagne and coffee. There's even an ATM which dispenses gold.
You'll feel dwarfed by the monumental Sheikh Zayed Grand Mosque, with its 80 domes, built to promote understanding and tolerance between cultures. Just don't forget your sunglasses.

Hyatt Capital Gate Hotel leans more than the tower in Pisa
For a more futuristic look there's the disc-shaped HQ of Aldar Real Estate company and the new Hyatt Capital Gate Hotel which leans 18 degrees. To see what's coming in the future head to Manarat al Saadiyat which showcases the designs of upcoming buildings on Saadiyat Island including National, Louvre and Guggenheim museums.
For more see Visit Abu Dhabi.