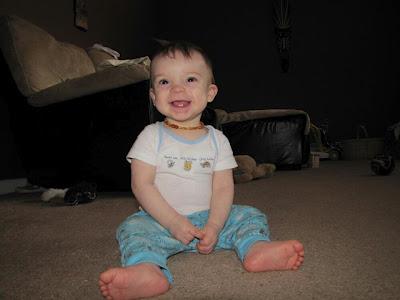 Baby F started teething when he was a few months old but did not actually cut his first tooth until 6 months old. He was chewing on things and crying and I could see his little tooth trying to break through the skin. I mentioned his teething to our family Doctor and he told me because of his age and size not to give him anything for it. (Baby F is tiny, he is now 9 months old 16 pounds 5 oz) I had tried teething rings and frozen face cloths and neither seemed to be giving Baby F any relief. 
I contacted our Midwives and she suggested Camilia that I could buy at our local natural food market. She also mentioned a lot of Mothers swear by Amber Teething Necklaces...I was confused so I asked "Is that something I wear for him to chew on?" LOL I had no idea I had never heard of a Amber Teething Necklace...I had never seen a baby wearing one either. She explained to me that it is a necklace specially made for the baby to wear and the Amber releases natural pain relief and it eases the pain of teething.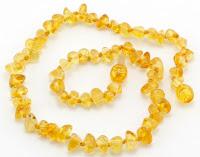 I did some research on line and found that many parents were using Amber Teething Necklaces and it helped a lot of babies. So I figured it was worth a try. I went to Babes In Arms and purchased Baby F an Amber Teething Necklace for around $20 Amber Teething Necklaces should be made with a knot tied between each bead so that if the necklace is broken the beads do not go everywhere and pose a choking hazard. You should be careful when purchasing a teething necklace, make sure that it is from a reputable seller...I have heard that some being sold on E-Bay are not real Amber but rather plastic replicas.
At first I had concerns about Baby F wearing the necklace and I would remove it and put it on his ankle under a sock at bedtime, but I have gotten over my fears and he wears the necklace 24/7 now even at bath time. He doesn't even realize he is wearing the necklace because he has been wearing it since he was a few months old...he doesn't try to pull on it and it fits snug enough that it stays in place on his neck and he can not slip it over his chin to chew on it. We bed share so I do not worry about the necklace getting caught on something in the crib and choking him.
DOES IT WORK? Maybe...Baby F still has teething pain sometimes but I believe it is far less pain than he would have if he was not wearing the necklace. There was a few time when I removed it for bathing and forgot to put it back on and he seemed to be more fussy than normal and then I would realize I forgot to put his necklace back on. WAS IT WORTH THE MONEY? Yes! I am glad I spent the $20 because It seems to help his teething pain and it is really cute.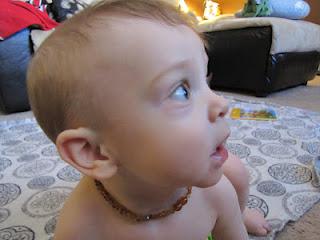 HOW DOES IT WORK? Wearing Baltic amber close to the skin is a traditional European remedy for baby teething. A natural analgesic, amber will help calm a baby without resorting to drugs. Used for centuries in Europe, amber's natural anti-inflammatory and pain relieving properties are perfect to soothe teething babies. Amber is fossilized resin, which warms against the skin, releasing it's therapeutic properties safely and naturally.


Health Canada has recently issued a warning regarding the use of Amber Teething Necklaces. 

http://www.hc-sc.gc.ca/cps-spc/child-enfant/equip/necklaces-colliers-eng.php "Young children can be seriously injured by necklaces marketed and sold with the intention of preventing or reducing teething pain. Pieces can detach from the necklaces, leading to potential choking hazards, and there is a risk of strangulation. Parents and caregivers should avoid using these necklaces."
...I would not use an Amber Teething Necklace for Baby F if I thought It was dangerous! Health Canada also states "Health Canada has not received any reported injuries resulting from the use of these products." I wont get into what I think of Health Canada's warning...I just hope they don't decide to ban this product. 
I decided to post early this week...I previously decided to only post on Tues & Fridays but since it's Easter weekend I will be busy with my tiny fam. Happy Easter Everyone :) 
-Earth Sea Mama