Liberals and feminists (overlapping categories) insist that women should have the "right" to kill the unborn because it's the woman's right to do with her body as she pleases and no male "patriarchy" rules over her. Blah, blah, blah.
So it is sobering to read the following shocking statistics from an article by Dwight Kehoe, "Birth of a Feminist," August 6, 2014, in TPath.org.
~Eowyn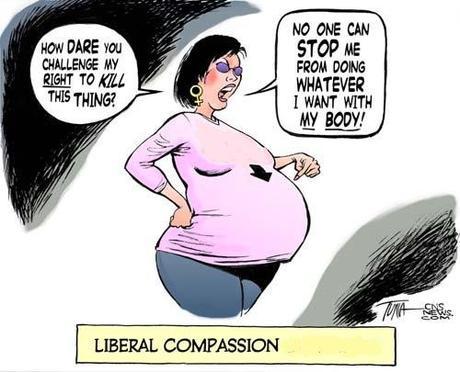 Research, data and facts compiled by TPATH:
Some interesting research, polling and interviews, all of which cast a dark shadow on the prospect that abortion rights equate to women, not having men tell them what they can or must do with their bodies.
Remember, the vast majority of abortions, and don't forget even early abortions, are very serious medical operations.  They are dangerous and intrusive and as you can see below, on most occasions not the choice of the woman.
Some facts that may disturb the feminist:
72% of unwed abortions for women 17 or younger are done by order of the girl's father, a male.

21% of those abortions are encouraged by the teen's boyfriend not ready to settle down or take responsibility for a child.

Less than 5% of those teenage abortions were decided on without the girl being coerced into it.
More than half of teenage girls say they would rather have had the child than abort it.
Not including medical issues related to pregnancies,

66% of the time it's the husband who makes the decision to abort and pressures the wife to do so.

An astounding 50% of married or partnered women say they would not have aborted their child if it had not been demanded or encouraged by their husbands or boyfriends.
Here are some more male dominated facts:
91% of doctors who provide abortions on a regular basis where abortions encompass 40% or more of the procedures they perform, are men.
99% of doctors who provide abortions where 85% of their work is abortions, are men.
Except for some categories of some very specialized surgeons, abortionists and abortion clinics are the most highly paid and profitable.
Malpractice insurance is much lower for abortion doctors than the average doctor coverage.  This may be because only one of the two on the operating table needs to survive.
More male/female abortion facts and the true war on women:
Every week in America more than 4,000 children are aborted.

 Records show that the sex of the aborted child is recorded.  On average,

females are ejected from the womb almost 62% of the time.

 Extending these numbers out,

over 31 million little girls

have met a male abortionist and his suction hose, prior to taking a first breath.
American families planning for just one child have practiced "gender selection" abortions until tests show a male child has been conceived.

In China

, where the ruling Communist Party, made up of nearly all men, have instituted the "one child" law. As a result,

98% of all first time abortions are performed to rid the uterus of a female child.

Some researchers coming back from China have reported that almost every school appeared to be "boys only".  When he asked where the girls only schools were, he was informed there were none nor were there boys only schools.  It just looked that way because there are no little girls.
For all those Feminists, born of the past or those who are about to take that path, supposedly in support of women who would refuse to allow a male to decide what they can or cannot do with their bodies, they may want to rethink whether it's the male abortionist or the one who chooses life, who is the most invasive.