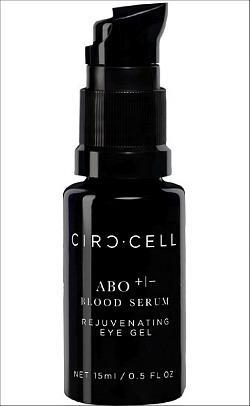 Okay, any anti-aging skincare product with the name "blood" in it is undoubtedly going to raise a few eyebrows and imaginations (anti-aging True Blood style, anyone?). And with Halloween right around the corner, it seemed all too fitting to test drive Circ-Cell's ABO +|- Blood Serum. The verdict? I was completely blown away by the killer results. Here's the skin-changing scoop, beauties:
Beauty 411: For those taken aback by the name, allow me to clarify: Circ-Cell ABO +|- Blood Serum, of course, doesn't really contain blood. This innovative eye gel is modeled after scientists' attempts to create synthetic blood, which is vital for delivering oxygen and key nutrients to the skin. The final product is a results-intensive serum that dramatically reduces the appearance of wrinkles, puffiness and under-eye circles in a big and noticeable way. (Dramatically noticeable results from a single drop of eye gel? My crows' feet have never been happier…and smoother.)
Beauty bottom line: A pea-sized amount will transform your peepers from fatigue-city to refreshed-ville. And while the price tag isn't cheap ($118 for 15 ml), it will likely be one of the most amazing eye serum's you'll ever try. One itty, bitty drop magically covers the entire orbital area, leaving the skin around the eyes visibly firmer, brighter, and radiant. And clearly, I'm not the only fan, as this popular serum is out of stock at the moment.
To snag this killer eye gel or to learn more about Circ-Cell, head on over to their website and look for the store locator tool.
Eat your heart out, Alex Skarsgard…
Crows' Feet, Cupcakes, and Cellulite does not accept compensation for reviews. Samples may have been provided. Opinions are 100% the author's own.