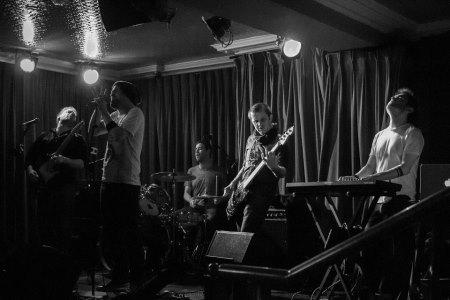 Able Archer, an alternative rock band from Dublin, go for passionate songs from the Pearl Jam variety. being Irish they can't escape the influence of U2, but that doesn'get in the way of their love for grunge with a hint danceable New Wave. Their debut EP Bullets has written arena rock written all over it.
When rock anthems are your thing this quintet delivers just that - singer Emmett McCaughey has enough power to reach the upper reaches when they graduate to the big halls. Considering that they recorded the EP on a shoestring budget, the sound is pretty damn good, with the kind of separation and dynamics that Metallica has been looking for since St. Anger.
Able Archer:
Emmet McCaughey: lead vocals
NeilBuckley: keyboards
Rob McDonnell: guitar
Diarmuid Breathnach: bass
Seán O'Connor: percussion

Bullets is a self-released EP. Buy it from iTunes.
Tracks:
Superhuman
Bullets
Patches
The Great Henry Watt
Live dates:
04/25 The Grand Social, Dublin
05/19 The Grand Social, Dublin
» ablearcher.eu