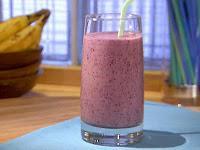 Fast food
While the drive-thru lane may seem like a tempting morning solution, a typical egg, cheese and bacon biscuit has nearly 500 calories – and 31 grams of fat. To cut the calories and the cost, pack a simple to-go breakfast from home. If you do end up in a drive-thru lane, how about a yogurt parfait or small hamburger (one of your best bets for maximum protein and iron with minimal calories)?
Grapefruit
This juicy citrus fruit used to the most popular breakfast fruit – and it is still a refreshing choice. The banana has replaced it, since it's difficult to eat a grapefruit in a car! For dashboard dining, dried fruit is another delicious option – try dried apricots, cranberries, mangoes, pears, pineapple, or raisins.
Hunger
The scientific evidence is overwhelming: hungry kids cannot learn. For better grades and better behavior, kids need a balanced breakfast. Check with your child's school to see if they offer breakfast – and the teacher to see if he /she allows healthful snacks in class. Many do, because they see the difference in children's behavior! For more on school breakfast, visit the Beyond Breakfast blog from the School Nutrition Association.
Iron
Low iron levels (the most common childhood nutrient deficiency in the US) can lead to many problems, including low energy levels and poor school performance. Fortified breakfast cereals are one of the tastiest ways to make certain that your whole family is getting enough iron.
Juice Smoothie
A glass of juice is better than no breakfast, but not by much. You get calories and a few phytonutrients (like antioxidants) – but nothing to 'stick to your ribs.' Turn your juice into a smoothie by adding a container of yogurt and some fresh or frozen fruit. You'll feel better – and the office candy bowl will be much less tempting!
For a super simple, simply delicious Create-A-Smoothie recipe, visit Western Dairy Association's page.