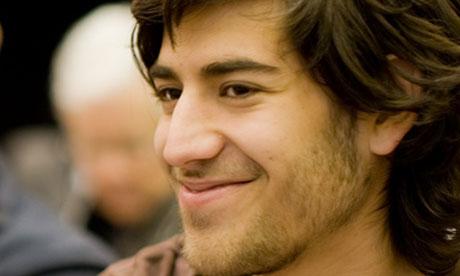 I been hearing about the suicide of Aaron Swartz and how there have been multiple reports on why he committed suicide. Was a sentence of 6 months to 35 years in prison be to much for this talented young man who has fan support. He was a hacker and activist and I understand that but still a life was lost. I found this LA Times article regarding that the government apparently killed him. This made me put some thought on the subject.
When Aaron Swartz sneaked into the forbidden service closet, to setup a PC on the network switch to bypass the MIT IT team's bans and then used it to deprive services to MIT shutting down JSTOR access and JSTOR  to upload 4.8 million articles online to financial detriment of the company for personal gain,publicity and social capital. That would all put this things as felonies. And Aaron Swartz himself was independently wealthy before Reddit's sale, then it only increased his wealth when he received a nice sized kickback. Aaron Swartz has repeatedly discussed doing exactly what he did to release millions of documents of information online, which would harm JSTOR's ability to operate. When Aaron Swartz also uses extralegal means by going into a forbidden networking area and places unauthorized equipment onto the infrastructure there to skip toe the multiple bans that JSTOR and MIT had placed on him. Sentencing guidelines for an offense like Aaron Swartz committed would max out at in about 7 years. He was offered six months and no fines in a plea deal. Up to 35 years is not even in the picture for the case, but journalists see this as "maximum sentence!" and leap on top of that. The estimated value of the already download files before MIT called in the appropriate authorities (around $1.5 million) came from JSTOR's estimate which is a whole lot in my eyes and for the reason for going after him.
Now why would Aaron Swartz do what he did? He had plenty of social and political gain to profit from the downloading of these materials, not including the income he would make on speaking gigs about the events. Since this story is still ongoing, there will be more information to come.
http://www.latimes.com/news/nation/nationnow/la-na-nn-aaron-swartz-funeral-eulogy-father-20130115,0,648108.story