I don't know about you, but I have gotten myself into a bit of a 'makeup rut'. I have about 5000 palettes (exaggeration jusy FYI..) but always end up going back to the same eye makeup time and time again. I'd found myself becoming too afraid to try out color so I gave myself a mental kick up the ass (No chance of me being able to physically do that LOL!) and decided to create a Yellow makeup look for Blogtober.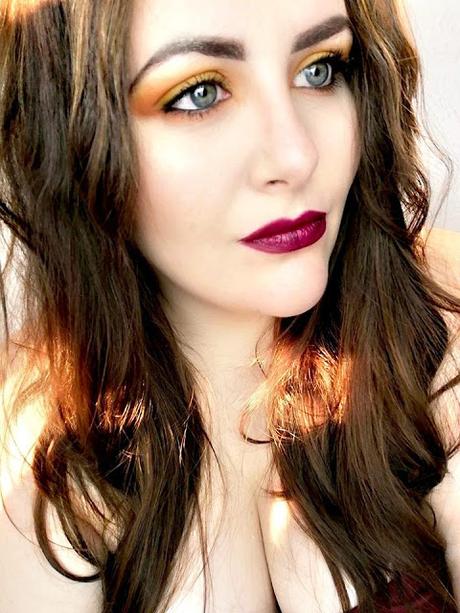 I used the
NYX Ultimate Shadow Palette in 'Brights
' and used the two yellows and orange shades. I blended the lighter of the yellow shades all over the lid and above the crease, before working the darker of the two yellow shades into the crease and using a fluffy brush to work the color together. I then worked some of the orange shades into the crease and on the undereye area.
It's actually a really simple look to create and I didn't even need to add a winged liner. The colours made my eyes pop enough and a few coats of Mascara (Too Faced Better Than Sex Mascara), teamed with a bit of black khol liner in both the upper & lower lash line really filled in any spaces and made my lashes look fuller without using false lashes.
In terms of skin, I kept this really simple. I used my
It Cosmetics CC+ Oil Free Matte foundation
and used a damp sponge to apply it (my favorite sponge to use is the
Miracle Complexion sponge by Real Techniques
). I added some cream blush - I used the Superdrug B. Lip & Cheek Tint in shade 'Say My Name'.
To finish off, I added some highlight (I love Mac Lightscapade) and added some lipstick (
Mac Rebel
).
The entire look took about 20 minutes from start to finish and I must say it's encouraged me to start using more color in my makeup! Life isn't monochrome!
I hope you liked my yellow makeup look! Let me know if you'd like to see more different looks from me!
H x
*This post contains affiliate links but does not affect your browsing experience.