{by} Sasha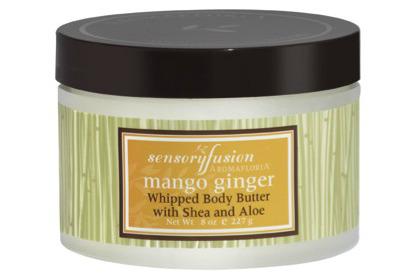 I love stumbling upon a beauty goodie that makes you say ahhhhh. And let's face it…in an overly saturated sea of beauty goods, it's no easy task finding those just-as-good-as-the-spa products. Well, here's one that falls under the worthy umbrella, ladies. AromafloriA's Mango Ginger Whipped Body Butter is pure and utter ahhhh. I like my body cream like my Greek yogurt: thick and creamy. This body butter contains Shea and Aloe (which makes for velvet skin) and is everything a supreme cream should be. And if it's ultra moisturizing qualities aren't enough, it also minimizes stretch marks (a multi-tasking moisturizer…love it). But wait…it keeps getting better. AromafloriA's products are "green" right down to the packaging, which means their products are eco-friendly, all natural, and preservative-free. And these days anytime I can find a product that's both worthy and has ingredients I can pronounce, I'm sold.
This body butter will leave you in a state of pure bliss…the just-left-the-spa kind of bliss (but without the hefty price tag). And if you really want to create an authentic at-home, pamper-yourself-and-then-some spa treatment, pair this body cream with their sugar scrub. My DIY spa day looks something like this:
Manicure
Glass of vino
Pedicure
Glass of vino
Bubble bath
Body scrub
Whipped body butter
Glass of vino
Now that's my perfect idea of a worthy DIY spa day. What's yours?