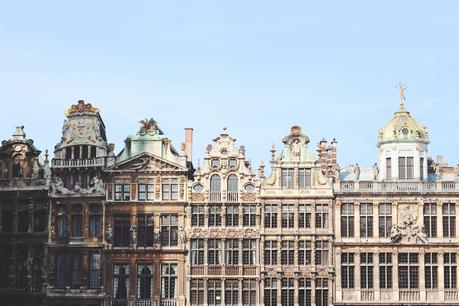 The street runs straight into the sunset – a thin, silver-red alley with grey-skinned men and women in bright scarves, and chubby children. "Damn." I say to myself and turn in the opposite direction. Sunset, of course, with my luck. You see, there should be a flea market taking place here, there would have if I had found the place earlier. I was told the market started at sunrise and ended at around 2 PM. Now it's 5, or several minutes before 5. I missed it.
I had spent four hours in this beautiful city and I had already been lost twice. Brussels. Not exactly the place where you think a good flea market can be found, right? Well, there was also a Christmas market --- a terribly cozy place, crowded with people munching hot dogs the size of a large man's hand.
But I am getting ahead of myself.
Night one. A market and a square.
You see the cathedral. The tiny streets. The cafés packed with people and the women on the street, with their unbelievably pale skin and big, fluffy hats. Old couples with soft smiles. Kids with puppies in coats.
Then suddenly behind the cathedral, an infinity of wooden huts appears. Somewhere in the middle, there is an ice rink and a Ferris wheel, crowned with electrical diamonds.
If we should be entirely objective - the food was delicious but very greasy and heavy, and also somewhat overpriced. From the Ferris wheel, these shortcomings seemed small, and the air was not saturated with the breath of others. In fact, I doubt anyone even breathed up here - the view was brilliant and there was only a tiny door separating us from a 50 meter fall. I tried not to get too close.
Not further than a few steps from us, we saw the main square drowned in sound and light. It was sensual overload once we got down there – the clamor, the glitter, the music.
In a strange turn of events, I found myself strolling down one of the side streets. Not a block from the market there was barely a soul. It was one of the eeriest feelings – being so close to other humans, yet so alone among the old gray buildings.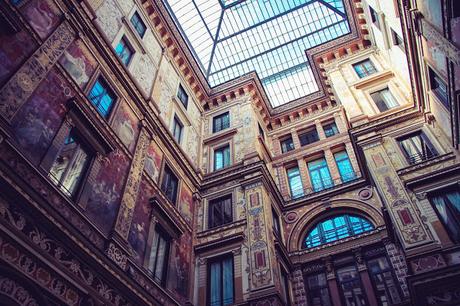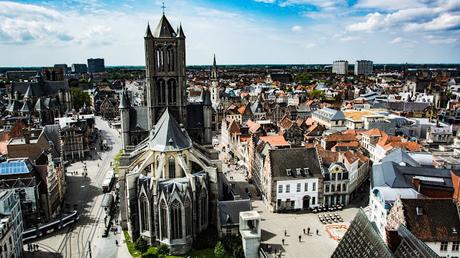 The following day; Some actual wandering
I really wanted to find the flea market. Instead, I wandered around a huge avenue, looked at the Royal Palace from different angles and sneaked into the Palace of Justice - an unreasonably large building with so much marble, silence and secret corners. Got distracted on the way and missed the destination. Quite my style.
As it turned out, after I descended into the maze of streets beneath the Courthouse, I had passed really close to the flea market a few times without ever setting foot there. The cobble-covered alleys do that to you – they seduce you, they have you wandering, they distract you from wherever you were going.
Two cathedrals and a cup of hot chocolate
I started my next day off with the cathedral. I love cathedrals, they have always been my weakness. I thought this one looked like it was made of stone fingers stretched into the sky.
The chocolate shops were tiny and noisy; they also served delectable hot chocolate with crisp, cinnamon biscuits, and they smelled like pure cocoa. It was the ultimate pamper session for the mouth. And when I say hot chocolate don't imagine chocolate milk, but a better, hotter, drinkable version of Nutella (and yes, it was better than Nutella).
I dove into the streets once again and I walked slower, savoring the city. I did not take any photos at all, I thought I just want to stay in the moment. Now I kind of wish I had taken pictures, since the memories from the trip are getting patchy. Tiny bits of beauty that stuck out to me. The humble Romanesque church. The fries I had on a bench behind the church. An empty, statue-filled park.
A Parisian man that grinned at me and asked if I was lost. He said was doing a PhD in philosophy here and he didn't miss Paris. I didn't miss Paris either. Then he invited me for a cup of coffee at his place, a man I had only just met and it didn't seem unnatural or creepy. I was simply glad that I would get a chance to practice my French. Later that afternoon, I sat in yet another cathedral bathing in the sound of the organ and pondered at how easy it is to go with the flow, and also how easily I could have been kidnapped.
That same night we were sipping beer right in front of one of the EU buildings. I would have felt like a rebel if I liked the taste of beer at least a bit. Then my friends made the mistake of letting me guide them back to the hotel. Let's just say we had a very pleasant walk in Brussels by night. And that it took a few hours and a few heated discussions, but we did find our way and ended up safely tucked into our beds before sunrise.
And the next day we had to leave. I didn't feel sad, I just wanted to go back. To wander again, to breathe and to have some more hot chocolate. That was Brussels to me. Even if it meant I ended up with no photos for Facebook.