My last entry described the activities available on each day of the week.  This post is a re-cap of what I actually did this week.
On Monday I was awakened by the sound of construction.  I suppose I'll get used to it someday and sleep through it.  It's not as loud as the call to prayer was in my bedroom in Sarampol, and I eventually slept through that. 
I taught  Gokhan and Turgay from 6:00 to 8:00.  Turgay had recently been to Saklikent, the ski resort Matthias and I had been looking for, so I got directions from him.  Then we discussed Valentine's Day.  Turgay said he bought his wife boots.  I asked how he knew they would fit, and he said "That's why we went shopping together."  In the previous class I'd taught them how to use phrases like "that's why", as well as "because".  I then asked Gokhan what he gave his wife, and he said "nothing". He explained that he doesn't believe in these commercialized holidays.  Okay, but what does your wife think?  Maybe she expects a gift.  "No, she doesn't expect.  All she wants is my love."  We all had a good laugh
at that.
During my explanation of  this week's language point  (how to use "although" "however" "nevertheless" and "in spite of") my phone rang.  I ignored it (it would never occur to me to answer a phone during class, although Gokhan does it all the time) but they both told me to answer it.  It was Matthias, who had survived a stressful day at work and wanted to go to dinner.  I reminded him I was teaching a class, and he said he'd pick me up after class.  Gokhan and Turgay wanted to know if he was my boyfriend.  This gave me the perfect transition back to our subject:  No,
although
we see each other often, we are not dating.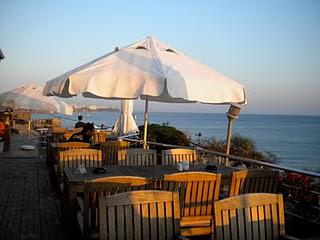 The terrace at Big Man.
We ended up at a restaurant called  
Big Man
  (?) at the beachpark.  It's a casual restaurant, but there was a violinist playing (poorly) and the Maitre D' asked if we had reservations.  We didn't.  I figured it must be busy because of Valentine's Day.  This was news to Matthias, of course.  (What single guy pays attention to Valentine's Day?)   In any case, we got a table and had a nice meal.  The menu included standard  international cuisine.  I took a chance on the grilled salmon, something I ate often in New York, but hadn't had since I've been here.  It was good, but it's funny how my diet is so different here and yet I don't really miss the food at home (with the exception of hamburgers and Chinese food).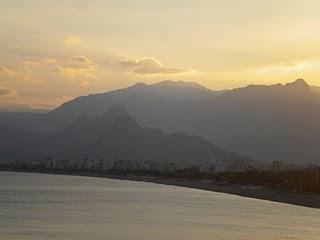 The view from Big Man's terrace.
On Tuesday my friend Refika dropped by.  She's a Turkish woman who lives in my building and speaks German.  I became friendly with Refika back in September when her daughter Denise came to visit.  Denise is an artist who grew up in Germany and lives in Munich.  I met Denise and Refika in the elevator of my building.  It's customary here to say good day or good evening when departing, even if no conversation has preceded it.   Since Refika and Denise had been speaking German, I said "Shoenen Tag noch"  instead of "iyi gunler".  They asked if I was German, and we started talking. We discovered we had a lot in common (opera singer, painter etc.) and they invited me to come for tea later that day.
Refika and Denise introduced me to the Turkish game of "OK", which is played with tiles numbered like playing cards that have to be matched by the same number in different colors or by consecutive numbers in the same color.  Kind of like poker, but you keep playing until someone has all her tiles matched up.   I've since noticed that this is the game played in those men-only tea houses I see everywhere.
We spent several days at the beach, and Denise invited me to visit her.  I wanted to go, but I just couldn't drag myself away from the beautiful weather here in November, and by January I was working.  We keep in touch via Facebook and Skype, and are hoping to meet up this summer in Hungary, where her father lives.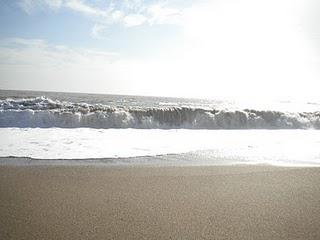 Wednesday  was a  beautiful day, so I did some out-door errands including paying my bills.  I pay my electric, water, internet and cable TV bills at a local bill-paying-center. (Theoretically I should be able to pay these bills directly through my bank, but because the electricity and water are in my landlord's name, this is problematic.
) 
I walked to the beach by way of one of the many parks with exercise equipment, did a bit of stretching on the contraptions, and pet a dog who needed his tummy rubbed.
In the evening I went to
Ayyas.
  ( "Ayyas" means  "drunk", which makes this meyhane one of the few aptly named drinking establishments here.)  I'd invited the Turkish law professor I'd met at last week's German event, and she e-mailed that she'd try to be at
Ayyas
at 7:00.  Since she didn't know any of the other people coming, I made sure I was there early.  I'd interpreted her message to mean that she would try to arrive around 7 but might be late.  Needless to say, she never showed up.  I guess what she meant was "I'm not coming but I don't want to say that so I'm saying I'll try to be there".  I'm assuming this because if she'd actually meant to say she was coming I would have expected a follow up e-mail with an explanation.  Then again, I'm not Turkish, so what do I know.  There were some nice stuffed peppers, and I got to see Buddy (the chocolate lab) and many of my friends, so I was glad to be there anyway.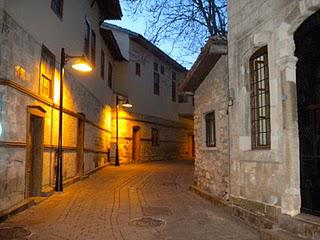 On the way to Ayyas.

On Thursday I once again walked to the gym hoping for belly dance class, which once again was canceled.  I tried to make up for the lack of aerobic exercise by spending some time on the stationary bicycle.  When I got home I called my friend Tatiana, who'd recently returned from a month visiting her family in Mexico.   We made plans to meet the following day.  I went to teach my 6:00 class, but when I got there Faruk (my boss) looked at me sheepishly and asked if I'd gotten the message that class was canceled.  Of course I hadn't.  This made the third time class was canceled and I hadn't been told in time to avoid the trip into town.  The last two times the students canceled at the last minute.  This time, Faruk tried to call me and left a message.  But there was no message.  He checked his phone and discovered he'd sent the text to another teacher.  So he drove me home and I watched my Turkish soap and skyped a friend back home.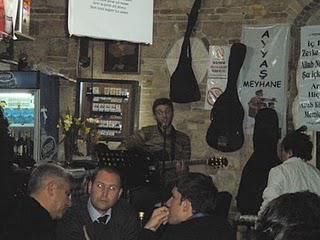 Ayyas.
On Friday it was sunny in the morning, so I had breakfast on the balcony.  Tatiana called and said she'd pick me up at 3:00, so I had time to go to the pazaar.  It was a good day in the 5 Lira bin: I picked up two pairs of velour stretch pants, a Tommy Hilfiger button down shirt, and a sheer Dolce & Gabbana blouse. ( Of course I almost didn't by the blouse, because it was Extra Large.  Not that it was too big for me;  I just didn't like the idea.  In what world is a size 6 an extra large?  I guess in the world of men who design for anorexics.  No wonder I never buy designer clothes. Okay, rant over.) 
I also bought more Kale, my new favorite "green and leafy" thing.  And fresh pumpkin! I love pumpkin, and missed having pumpkin pie on thanksgiving.  They sell it here in bags of large chunks.  I asked how to cook it and was told to bake it.  I used to make pumpkin pie at home with canned pumpkin. Turns out you can just throw the chunks in the oven and an hour later they're as soft as the stuff in the can. Who knew?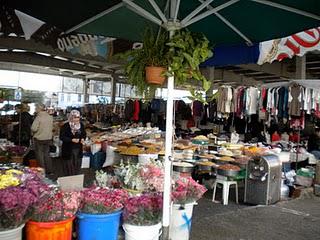 When I got home Tatiana called and said her errands are taking longer, so we rescheduled for Saturday. I prepared a simple but tasty meal with fresh pasta and kale, and then headed for the Symphony concert.  I was very glad I did.  they played Rachmaninoff's 2d piano concerto and Tchaikovsky's Symphony # 4. The orchestra sounded terrific on both pieces.  While their performances of Mozart and Beethoven a couple of weeks ago were competent, they seem to have better feel for this more romantic, expansive slavic expression.  Of course the additional string players improved on what was a bit of a tinny sound, but I must also credit the conductor, Ibrahim Yazice.  The pizzicato movement was a bit slow for my taste, but the rest of the Tchaikovsky was very exciting. ( I still can't help hearing the words we used as kids for the last movement: "Toscanini's
wife
had a
ba
-
by
")
I Saw Fritz at intermission and we made plans to work on some Mozart songs. He'd dug up a bunch of songs by obscure composers, but it's not necessary to come up with "interesting" programs here; whatever we perform will be new to most of our audience.  So I may as well take the opportunity to prepare some of the standard repertoire I haven't yet done.
When I got home I checked in on the computer and my parents skyped me. They're coming to visit in April so we're doing a lot of planning.
Does Dad need a jacket for any dinner restaurants?
 Undecided. Matthias says yes, Tatiana says no.
I woke in the middle of the night to an unbelievably loud storm.  Windows were rattling, the door to balcony was blown open and the balcony furniture had been blown into a heap in the corner.  I may have felt the building shake.  I think I fell back asleep around 5:00.
I was awakened Saturday morning by the sound of my phone ringing.  It's Irina, telling me my children's class is canceled because of the weather.  The storm was over, but it was still raining a bit.  In New York we had "snow days" when a big storm resulted in schools closing.  Here, all you need is a little rain and everyone stays home.  In this case, the cancellation was a fortunate turn of events, since it was past 10:00 AM and I should have been on my way to class already.  The alarm was supposed to go off at 9:00.   What happened?
I checked my phone and discovered I'd set the alarm for Sunday rather than Saturday.  Oops.  While exploring my phone I also discovered that the "Kim Aramis" messages from Turkcell I'd been ignoring were actually important.  Unlike all the other Turkcell messages (which are ads for more services), "Kim Aramis" (which means "who called", so I really should have noticed this before) tells you who called while your phone was off.   I'd never realized these calls were not included in the "missed calls" category on my phone.  Apparently you can only "miss" a call when your phone is on.  Good to know.
Tatiana called and said she'd pick me up at 1 and we'd take Berivan to gymnastics and go for coffee at Starbucks.  When we got there I realized I was hungry so we stopped at the food court where I procured a Tavuk Shish Durum (chicken kabob rolled in flat bread).  The downside of Turkish fast food is that it's not exactly fast.  The upside is, it's actually fresh food.  So after my impatient waiting I was rewarded with a tasty lunch.
At Starbucks I met Tatiana's Columbian friend, Christina, and her ten-year-old daughter.  It always surprises me how many Spanish-speaking friends Tatiana has found here.  She and Christina told me about a meeting for expat women which meets in Lara on the last Friday of every month.  That's  next Friday. But next Friday the Orchestra is playing Brahms!  I'll have to think about that.  I usually take advantage of any opportunity to meet new people, but this is Brahms Piano Concerto #1 and the first Symphony.
After Berivan's class we all went to a gathering at the University Espace Francophone. Another of  Tatiana's Spanish-speaking friends, Caroline, who is French, invited us for an afternoon of crepe making and eating.  I discovered my French language skills have deteriorated considerably. I can understand people, but I have a lot of trouble remembering words.  For example, I couldn't even remember how to say "for example". The first word that came to mind was Turkish, then came German, and then I was stuck. It is of course  simply "par example", just like English. Frustrating! I remember talking to Caroline when I first got here and I had much less trouble. Maybe there's  only a certain amount of RAM in my brain drive, and there's  no room for French with all this Turkish in it.
By the time I got home just before 6 it was raining again. Not like the night before, but yucky enough to not feel like hustling over to yoga class only to find it's canceled because no one else wanted to go out in the rain.  So I settled in for the evening. Checked the computer, i.e. two e-mail accounts, Twitter, Facebook, blog comments.  Remember when it was just checking e-mail?  This social networking thing can be very time consuming.  But the truth is, I'm glad for it in my current situation.  I like keeping in touch not only with friends, but with what's happening back home in current events political, artistic and popular.  Twitter is a nice snapshot of this.  Plus it can be very funny.
I started to check what was on TV, but actually nothing was.  Literally.  I'd forgotten the rule:  Big Storm = No Cable. Then I remembered I'd missed yesterday's episode of "Deniz Yildizi" while I was at the Symphony, so I found it online and watched it.  Will Mert walk again?  Will Banu leave Ozan for his best friend?  Stay tuned. (This is my Turkish language study, so stop smirking.)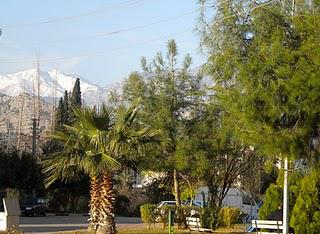 Walking home from class.
Sunday I taught the class that was rescheduled from Saturday. I've learned the kids like to color, so I gave them some drawings of fruits and vegetables to color, since those are the words they're learning now.  We'd finished body parts last week, but we still ended class with a rendition of  "Head, Shoulders, Knees and Toes".  I don't know any easy songs about food.  Anyone?
I walked back from class, putting on and removing my sweater as I alternated between sun and shade. At home I ate a salad and cooked the string been dish I'll be eating throughout the coming week. Checked the computer, and Mattias was online. We decided to continue our search for the best pizza in Antalya.
We went to
Shakespeare's
which, despite its English name, is listed as an Italian restaurant here. This means they have pizza and pasta. We had the eggplant and steak pizza. The eggplant and steak were fine, but the crust was too puffy for me. I preferred last week's entry,
Pepe Nero
, where the toppings were less impressive but the crust was thin and actually resembled that of pizza as I know it.  But they got our order wrong.  Although Mattias has been here longer than I have, these kinds of things which I've gotten used to continue to bother him.  I suppose next time it's back to  
My House
, where they're often out of what I want, but what I get is usually pretty good.