I have been settling into my eastern London neighborhood for about 3 weeks, with a new routine and determination. Since leaving my job in the financial sector, I now have more time devoted to my policy research and staying on track with my project. That being said, seeing how much reading and writing that I've accomplished in the last two weeks has given me a new determination to work on my studies–time flies very quickly after all — and there's no time to procrastinate.
Thus while changing jobs, starting up a new apartment, and even receiving my summer wardrobe via post from my mom in New York (which was washed and dried in 3 separate loads, plus a separate load of drying only, and a record 9 hours of ironing) I can say that I am officially settled in London.
Oh, but my poor house plant is dying.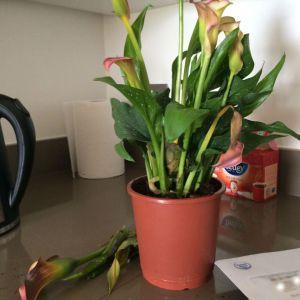 Anyway–can't cry over spilled flowers– I have been experimenting with "living chic" by exploring wine and appetizer plates. Each night, I created various small plates of cheeses, stuffed olives, pâté, or meats, with a glass of wine but after lousily playing a game of softball on Thursday, I miserably realized that I need to stop drinking. This is very alarming considering that I only had been drinking consistently for about two weeks! Thus, at my trip to Tesco's last night, I grudgingly bought two giant bottles of the store brand's finest sugary lemonade.
I must say that life is much quieter for me now. No roommates up at all hours of the night watching TV or random people gossiping on the couch. I will miss some of that white background noise, but I did gain a lot of privacy. Whether its not having to remember pants when I go into the kitchen or being able to invite someone over without making sure its OK first.
In fact last Saturday evening, I invited a male acquaintance over for tea after we attended a BBQ together. He politely refused. Well heck, inviting is the first step to reintegrating a social life. Or I could just get a puppy and say "fuck you, society" — more on that to come in future posts.
However, in an effort to know London better, I walked from Oxford Circus (central London) to Stratford International station (east London) last week. The featured collage are pictures of an old home at Bloomsbury Square garden, hipster bars in Shoreditch, ducks walking along the Hertford Union canal of Victoria park, over and through the Olympic stadium, finally reaching civilization again at Westfield mall, and the view from my balcony as I look at the growing city ahead. The 7.5 mile walk took about 3 hours to complete, and I'm totally hooked on this concept. As long as the weather stays reasonable, I'm willing to repeat the walking trend north-south, central-west, and any other direction. Seeing the changes in neighborhoods along with friendly drunk Brits hanging outside various pubs was a nice vibrant atmosphere in London.
Just thinking about it makes me excited! I'm not sure why it took me this long to want to explore the city. I guess since I'm no longer consumed with looking for work, looking for housing, etc…my mind can wander a bit elsewhere. Also, another reason to be happy is softball season! Although I played lousy on Thursday and we lost 11-12, the winning team voted me as one of the MVPs. Hhhmmm…its likely that MVP stands for something different in the UK than it does in the States.
So my first summer in London promises to be an interesting one. Especially now that I can shed the bulky cashmere sweaters and dress in lighter layers and have a bit of a social calendar. Or, who says I should even stay in London at all?
My fellow Brits, with June around the corner what are your favorite places to hit in London? Or what weekend getaway would you recommend to areas outside of London? Send me your suggestions @ReporterandGirl or post them on Facebook.