As if a twenty-mile walk around the Quantocks wasn't enough for one Easter weekend, I set off the very next day for an extra ten miles around Wiltshire! Left leg in discomfort; walking pole on my backpack just in case.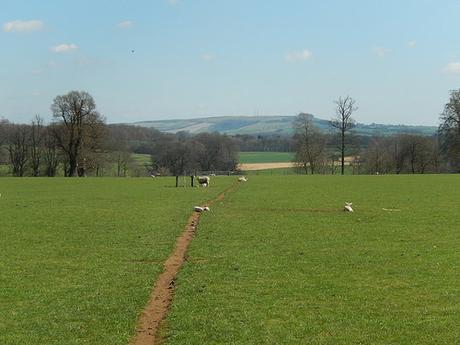 With the company of a friend, this walk had been on the radar for a period of weeks and so, as much as one side of my body was crying out for a cancellation, my head stuck straight to the schedule.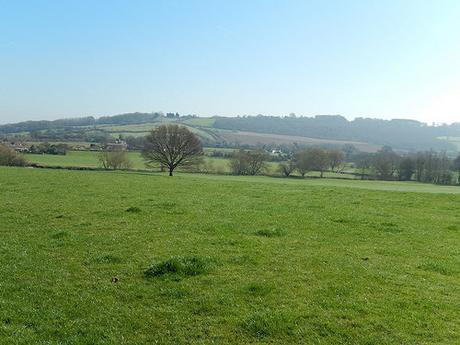 It took us a good hour to get to the National Trust car park, following the A420 straight across country and towards Chippenham. This was all with the aid of a SatNav, who couldn't do anything to prevent the backlog of traffic heading south in to Lacock.
I'd be surprised if I don't end up purchasing a year's subscription to the National Trust by the end of 2015. Their Love My Outdoors scheme (which basically gives you free parking) comes to an end this summer and the thought of paying an extra £3 to park at certain venues, on top of the admission fee, makes the annual membership fee seem ever more appealing.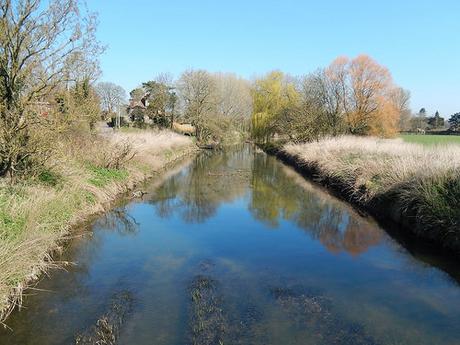 The River Avon – we meet again!
I could not believe how busy this place was. I've seen other National Trust locations during the summer but it was purely because it was a Bank Holiday Monday? Or were the masses yearning to glimpse behind the scenes of their beloved Downton Abbey?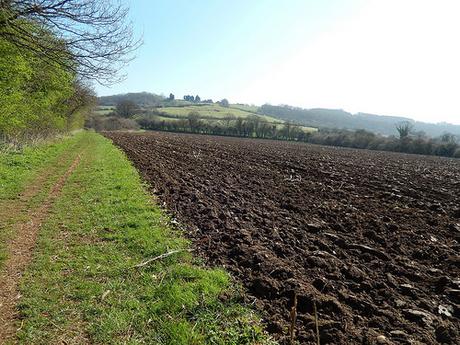 We set off from the car park, intending to complete the walk (which you can find for yourselves amongst Geoff Mullett's Walk West series) ahead of anything else. It was only late morning by the time we set off and yet, the main streets were already filled with tourists bustling about.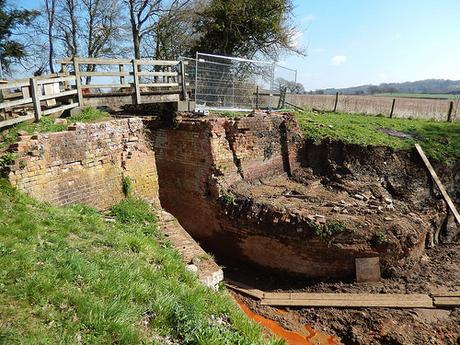 Soon, we were following the cycle path that runs beside the old Wiltshire and Berkshire Canal. You didn't really need to read the information boards to understand that the canal had been closed for over a Century… Some work was apparently under way to restore and repair certain aspects of the bridges and riverbanks as we passed. It was the most undisturbed cycle path I've walked to date – I think we were only disturbed twice and that was by the same cyclist, turning back on himself!
From here, I lead us too far and away from the route as outlined in the text. At first, I feared my concentration had waned as we sailed far and beyond an obvious 'gate' that should've emerged somewhere to our right… On our return leg, not one of us could find this feature and so, we took a bold walk over a bridge and, what do you know, the path from here-on married up with the text that was to follow.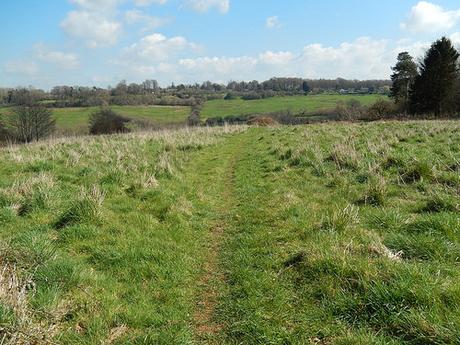 A short while after joining fields to the right of the canal, we found ourselves walking alongside two other pairs of walkers (and these were people of 'a typical rambler's age'…). I found myself almost on a completely unexpected walk-leading experience, as no-one else seemed to have all the answers to the questions of where the paths continued from here! Waymarking was absent but, between Geoff's text and two pairs of eyes, we made it and continued our march toward Bowood House.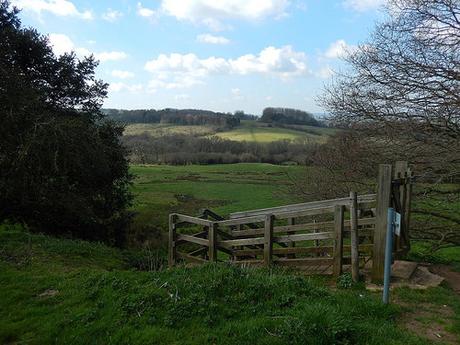 I hadn't thoroughly read ahead through the guide before setting off in the morning and so, we were both pleasantly surprised to learn that we were about to grace through the estate of Bowood House.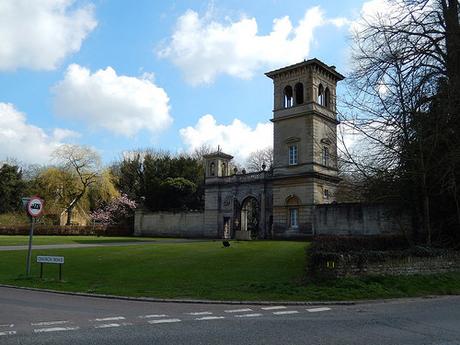 We made a stop for lunch shorty after, once greeted by the first sighting of a spare wooden bench adjacent to the estate's golf course. We weren't quite halfway around the route yet and I think this was the point at which I received my first sunburn of 2015!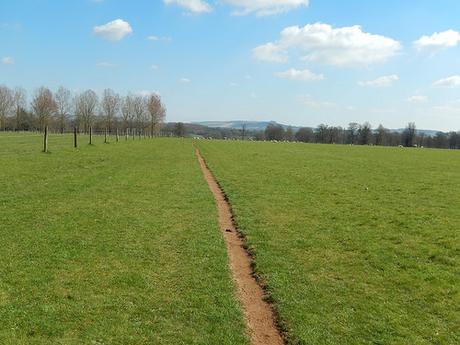 It has to be said that, among other more popular features, the grounds of Bowood House retain one of Wiltshire's finest examples of footpaths that are very well-maintain and perfectly clear to follow.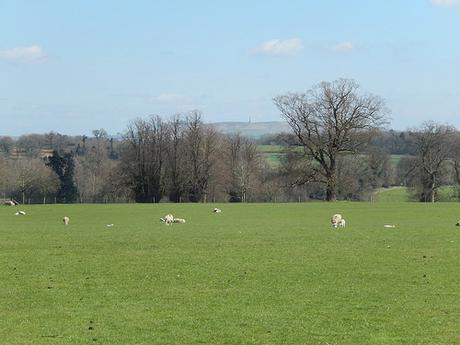 In the photo above, you can spot the Lansdowne Monument in Cherhill (which I visited in this month a year ago). I learned on this walk that the Lansdowne family have also been in ownership of Bowood House.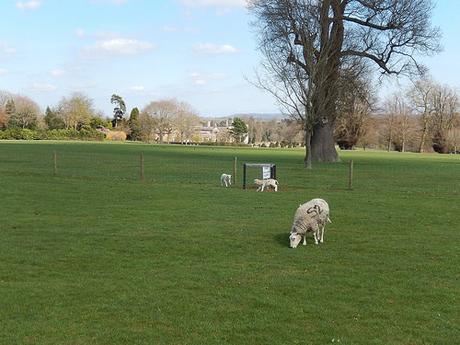 There appeared to be some Easter-themed event (perhaps an egg hunt?) taking place at the actual house, which remained some distance from the public right of way. Lots of kids seemed to be outside enjoying the spring sunshine.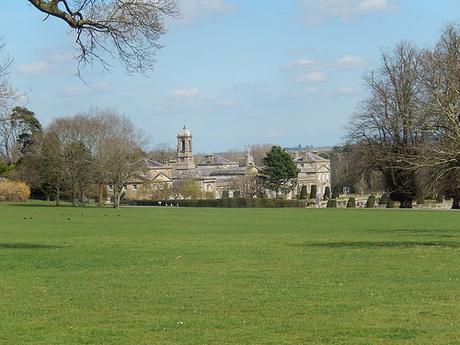 Passing the halfway point, I felt my leg wanting to concede defeat, as if the end could not come quickly enough. We followed the footpath around the estate for some distance and it was quite a delight, manoeuvring its way between a pair of lakes. One of my main regrets from this walk is that I didn't take more photos!
We were soon crossing one road and walking the miles of several others, on our return to the center of Lacock. Along the way, we ran in to succession of three fields with ankle-high crops growing all over – yet, with the public right of way undistinguished and yet apparently cutting straight across the centre; we were left with a choice…
Walk around the land owner's cared for crops or, exercise our right to roam and march straight on towards the respective stiles… I honestly do not know what the correct answer would've been but I've since read that landowners have a duty to ensure that these paths are kept clear of crops. We took the passive option to walk around the perimeter of each boundary (which I've also read is a form of trespassing).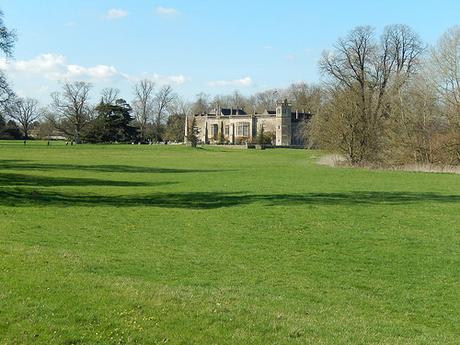 Returning to Lacock at around 16.00 and we decided to explore a little of the village before heading to the jam-packed main attraction belonging to the National Trust. Lacock Abbey can be viewed clearly from a road bridge – and, although I'm certainly not instructing you to do this; the wall here is exceedingly low… One could step over without having to pay an entrance fee… I'd be surprised if the odd dog walker doesn't, after closing time.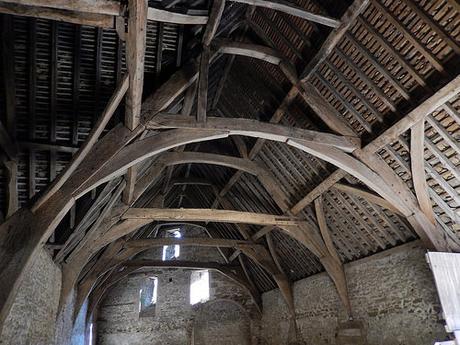 There's a lot to see within the compact village, if you like your pubs, tea shops and crafty goods. There's also the historic Tythe Barn (photo above), which is free to enter. Lacock Abbey also retains the Fox Talbot Mueseum within its grounds but, with only an hour left before the site was due to close for the day, we decided against paying for what admittedly have been a hurried experience.
Another time and I'll certainly look to make half a day of it!
This day ended on a rather sad note as I had to say an emotional farewell to my partner in crime who's about to jet off across the world for an unknown number of months. You're most likely not reading but you know I wish you will! You're one of the best friends I've ever had and perhaps you'll get to experience what it's like to be me, once you're on the other side of the planet with all those truly little people… ;-)
Thanks for reading.