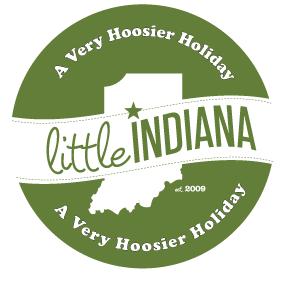 Welcome back to A Very Hoosier Holiday, a guest blogging extravaganza right here on little Indiana!
Anyone is welcome to participate as long as they follow one important rule: the post must pertain to winter or the holiday season. Prepare to read an awesome variety of seasonal postings over the month of December.
Melissa Stecher is making her little Indiana debut today with a batch of these adorable Christmas Tree Cupcakes!
As a working mom, she understands the importance of time-saving techniques and is out to prove that you don't have to sacrifice your creative flair just to save a minute.
A Very Hoosier Holiday: Christmas Tree Cupcakes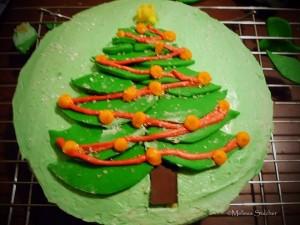 Christmas Tree Cupcakes
We also have mini Christmas tree cupcakes, super easy and cute to do.
Bake and cool cupcakes, I used 24 mini cakes. Frost smoothly with white icing, then you're ready to decorate!
I tinted about a cup of the white icing to make the green with food color. Place inside a sandwich size plastic bag, cut the tip off one of the bottom corners, and then you have a small flat surface for tree making!
Simply start on one edge of the cake and zig-zag back and forth getting bigger on the way down and across. I added a star and red ornaments for fun but just the trees are cute. I used a frosting bag and small round tip to make the ornaments and had red icing already in the fridge. Dab randomly for ornament placing.
I didn't have any star tips around so I used a leaf tip in my frosting bag, pulling straight up and twisting my wrist as I did the star. Not the best or prettiest but worked out okay for these little guys.
The other half of the batter from my mini cupcakes made a 9" round cake. With the green fondant I had left from Halloween I cut various size leaves and layered on the cake. Starting with the biggest leaves at the base of the cake layering and stacking my way up. Using the same bags from the cupcake trees I added the garland and star.
I used orange frosting and made ornaments around the cake. Instead of making a different color of icing I used one square of a chocolate bar for the base of the tree. Little cheats are great time and work savers sometimes, especially if you're a working mom like me.
Hope you enjoy!
About Melissa
Izzy is a whiz in the kitchen. Her favorite way to de-stress is to bake, bake, and bake some more! Her son likes to play the part of "taste tester."
Find pictures in Indiana on my Flickr photostream or on the new little Indiana Tumblr blog.
Just don't forget to tell 'em that  little Indiana sent you!
Don't miss a moment. Subscribe to little Indiana and receive instant updates to stay on top of everything "little."
little Indiana: Where to Stay, Play, and Eat in Small Towns in Indiana. Discovering Indiana's best small towns! Now get little Indiana on your Kindle.