Want to hear a secret? I never wanted a wedding.
There! I said it!
:P
Weddings are a waste, I thought. I'm 33, for cryin-out-loud. My fiance and I have already "lived in sin" for the past 3 years. Why don't we just go to Hawaii and get married on the beach? It'll be a wedding/honeymoon combo. Efficient, just how I like things.
But the universe had different plans for me.
Turns out, my fiance had wedding fever. He wasn't pinning ideas to Pinterest, but he did have a large network of family and friends with which he wanted to share this very-important-life-event.
However, I couldn't do this alone. Not a chance. Big-picture, conceptual ideas are my forte. I'm even great at planning a schedule and managing a budget. But figuring out the details and making it look good? That's where my bestie Linsi Brownson of Spark Collaborative came in.
Plus, what I didn't know at the time, and what she did know, was that I was going to need some major emotional support. Not only did Linsi enthusiastically take on the challenge of planning a high-standards, low-budget wedding, she saved my ass from meltdown at least 17 times in the two weeks before the wedding.
Anyway – we love a great challenge. And this one had our names written all over it.
Our initial concept incorporated all the things my husband and I love: the beach, songs from Quentin Tarantino movies, hearty Italian food and 60 of our best friends. Sadly, the initial expense tally blew our $7,000 wedding budget. We knew it would be a challenge to do a wedding for such a small sum, and, despite my background in project management and best attempts to cut costs, the numbers just weren't going to work.
The solution: move the wedding the Las Vegas, invite less people. So that's what we did.
Here's how the budget shook out:
The Dress: Custom – $400
If there was ever any pressure on me for this wedding, it was with the dress. One who works as a wardrobe consultant to others must have a great dress on her wedding. The big challenge was that I was looking for a simple gown and with sleeves. I wanted something that had a real, tailored dress feel – and not just a lot of decoration.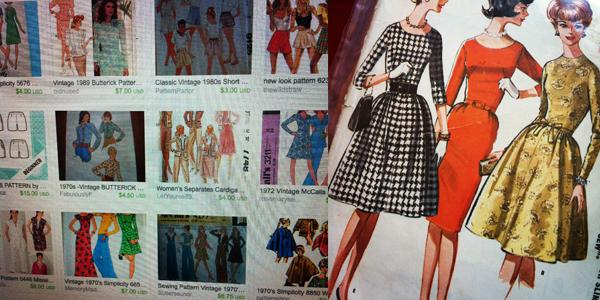 left: searching for a pattern on Etsy, right: the pattern I landed on
I found a swanky pattern on Etsy and the perfect fabric and materials, but the hard part was finding the seamstress to make it. Not many people make clothing from patterns for-hire (which is really a shame). Luckily, I found an amazing seamstress to collaborate on making my dress from a modified pattern.
Out of this total, my shoes were less than $50. Black satin pumps I found a week before.
His Attire: Men's Warehouse – $420
Big surprise: rented suits and tuxedos are super-cheesy. I couldn't find anything that would work, and I didn't want to settle for a boring black suit with a candy-colored vest. I wanted something that really communicated Jason's personality.
Lucky for us Men's Warehouse was running a 2-for-1 deal on suits. We got one job-interview suit and one shiny gray, ultra-thin lapel suit for the wedding. We paired it with a skinny white tie and some black slip-ons.
Very "Vinny Antonelli" from My Blue Heaven, it was perfect.
Ceremony Venue: A "Piazza" Suite, The Venetian – $700
Once we slashed our guest list to 25 (including the wedding party), I knew we didn't need a large space. I also knew that I did not want a long, drawn out ceremony. Bride comes down the aisle, we say the vows, light the eternity candle, kiss – DONE.
A hotel suite was perfect for this. I didn't have to rent any chairs and the room was mostly decorated; guests stood for the brief ceremony – it was like getting married in someone's very opulent living room.
We rented it for 2 nights and got 20% off for paying up front.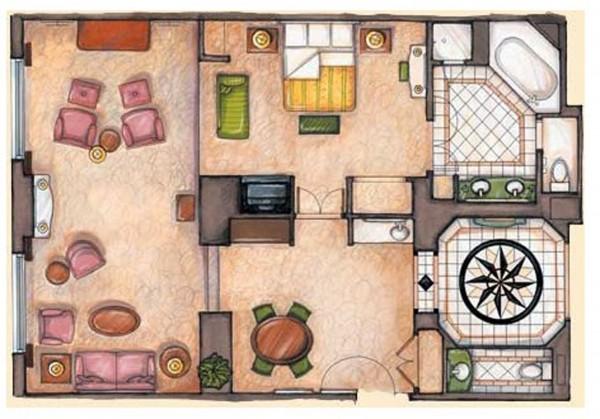 above: the Piazza suite at The Venetian
Reception Venue: The Canaletto – $2,400
The guest list was heavily-weighted toward the groom's side – who mostly hail from Northern New Jersey and Philadelphia. Not exactly the type of people you want to introduce to a complicated fusion meal.
We actually moved our wedding from The Bellagio to The Venetian because of this restaurant. We had a gorgeous private room and they made for us a fantastic meal; our guests had their choice of pasta, salmon, chicken or steak. Rave reviews from everyone, and the service was amazing!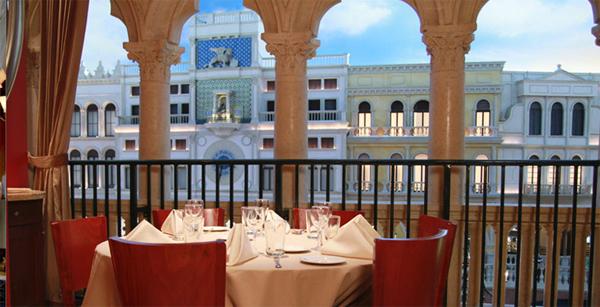 above: a private room at Canaletto
Seriously – bravo, Canaletto. You guys did an amazing job with our reception, and $45 per person fit right into our budget.
If you're from the East Coast, you may already know where I'm going with this. Inspired by the legendary "rainbow cookie" found in every deli in Jersey, this cake was a big hit with out guests. However, it's beauty wa
Ceremony and Reception Decor: Vintage Barware and Budget Flowers – $200
When I think wistfully and nostalgically about Las Vegas, I imagine something that looks a lot like the movie Casino. It's all cigars and pinky rings, heavy-bottomed glass and metal accents, smoke and mirrors. In one afternoon trip to a Goodwill store, Linsi and I collected nearly enough glass ashtrays, vases, metal trays and other glassware to do 5 menagerie table settings – plus a little left over for the hotel suite.
I have to admit that we didn't walk through the doors with that idea, but it was a no-brainer for Linsi once she saw row upon row of vintage glass. For someone with a bachelor's degree in interior design, I'm a horrible decorator. Linsi really made my wedding concept come alive with this idea.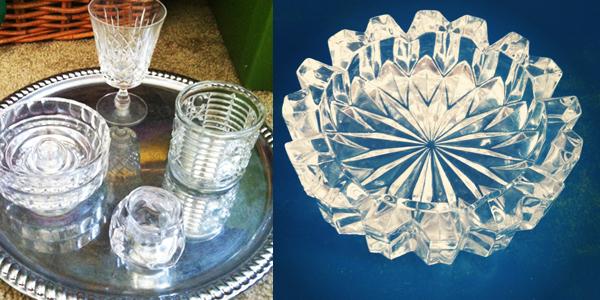 left: an early centerpiece mock-up, right: I fell in love with vintage ashtrays
With already $100 spent on hardgoods, that meant I only had $100 left for flowers. I know so many insanely-talented women who do flowers, but we just had to put our wedding money into other things.
Enter: Trader Joe's.
Okay, don't judge me – I'm pretty sure most of you are probably recoiling in horror at the idea of grocery store flowers. I had to make this work, and Trader Joe's was a better option than just a single bride's bouquet. For $85, I picked up about 18 bouquets of mixed flowers the day before the wedding. The remaining $15 I spent on floral tape, ribbon and pins.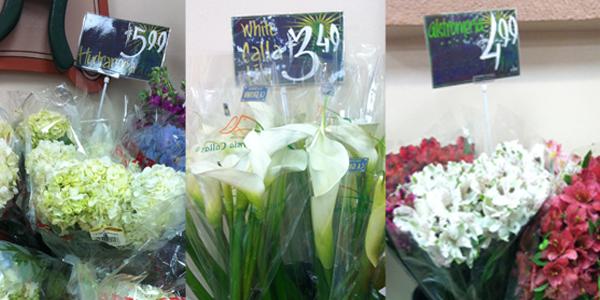 above: flowers from Trader Joe's – saving thousands was well worth the time & effort
The outcome was surprisingly good. And I assembled 1 bride's bouquet, 2 bridesmaids bouquets, 3 corsages, 3 boutineers and 1 reception table arrangement like a freaking lunatic at 5:00 am the morning of my wedding. Linsi finished the last 5 later that day.
I have to confess, as I was making my husband's boutineer, I couldn't help but imagine the bachelor party hijinks from the night before. So, for a little revenge, I made him the most giant, ridiculous boutineer.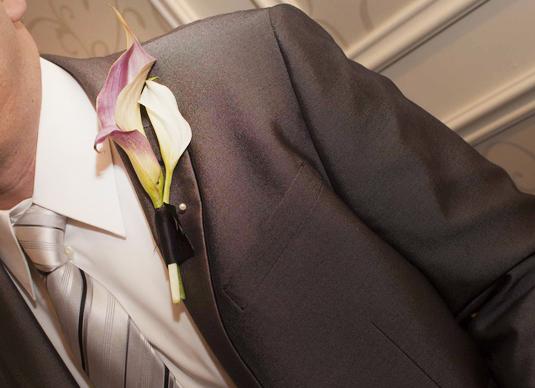 above: a bride's revenge – muah-ha-ha
Other expenses:
Cake: almond sponge cake, chocolate ganache, delicious – $160 (delivered)
Hotel rooms for the 'rents ('cause we're nice like that) – $637 at The Paris
Hair & Makeup – $700 (big expense, totally worth it)
Travel costs – $1,200
Total cost: $6,800
To see how it all came together, tune in next week for
A Very Clever Wedding: Part Two …