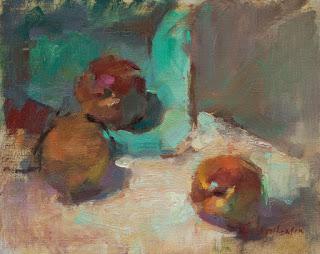 Peaches
11 x 14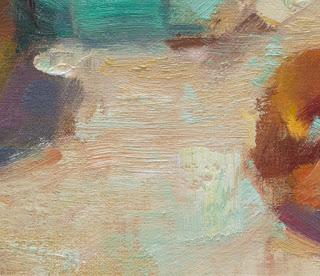 the snotty white
I was watching
Thomas Kitts
' excellent video demo about using Flake White on Facebook the other day (actually, it's embedded on August 10th on his timeline if you want to spend a fascinating few hours) and it got me thinking about whites again.  Lazily, I've been mainly using titanium white, usually straight from the tube, but there are alternatives out there that can have a huge impact on your painting.  They're worth exploring.
First, a quick summary of the main whites out there:
Flake white:
made with lead, this white paint comes in a variety consistencies, some of which are very stringy and thick. This is a translucent, warm white which would have been used by everyone until the 1800's when zinc came along.  Rembrandt and Van Gogh used this one to its fullest capacity, creating impasto swirls and drizzles.  It's a lean white, and very strong.  I love its look, but am less enthusiastic about adding more lead to the world in the form of paint covered rags and paint sludge.
Zinc white:
A cool, translucent white that dries to a brittle film.  This one is not a good choice for canvas but can be used in a limited amount on rigid supports.  I don't use it because I use a lot of white in my work and need it to be as archival as possible.  Zinc isn't that.
Titanium white:
A cool, opaque white invented in the 1920's.  This is most commonly on palettes today because of its brightness and ability to cover anything underneath it.  That last feature is also a drawback because subtle effects like scumbles and velaturas are not easy to achieve without adding a lot of medium to titanium, and it can make colours chalky in a hurry.  A rule that I always follow when adding t. white is to never let white be the last color I add to a mix.
There are other whites but they're all based on these 3.  Many titanium whites are mixed with some zinc in order to achieve certain paint film/drying qualities.   To read about these to a wonderfully geeky extent, check out
Pigments Through the Ages
.  It's satisfying and informative.
Then there are the fast drying whites (alkyds are added), and the whites that I used in the still life above: flake white mimics.  This little painting was done with Gamblin's Flake White Replacement. Inspired by Kitts, I used a largely historical range of pigments and a low tinting strength white.  My palette was mainly earth tones like Indian Red, Venetian red, yellow ochre, and ivory black, with the addition of Old Holland emerald green (a crazy indulgence in an art shop long ago).
The FW Replacement acted much as lead white does but without the toxicity.  It's been modified to give it the ropey consistency and has a warm translucence.  I've got some experience using lead white, and I don't find this too different for my purposes.  I've provided a detail of the paint surface so you can see the stringy effect that you can achieve.  
Winsor Newton makes a flake mimic as well: Flake White Hue, which is not as ropy, though it is translucent.  It's likely that other companies have mimics as well, but I haven't looked for them.
It was fun to paint a piece exclusively with FWR, but I don't often use it from start to finish in a painting; I like the brilliant punch of titanium to add finishing highlights.  However, I don't usually like titanium's smooth, buttery consistency straight out of the tube, so, when I'm not being extremely lazy, I squeeze out big blobs of it onto a piece of cardboard to absorb excess oil oil and make it a bit stiffer and more textural.   Because titanium dries very slowly, you can leave it overnight or longer to absorb a lot of excess oil.  It won't become ropey, but it will sit up on the surface much better.
To read more about whites, check out the technical information sections of manufacturer's sites.  Gamblin has a nice bit on whites
here.
Happy painting!