Post Sponsored by &Pictures
Valentine's Day is coming up soon, and I am scrambling for little gifts for all my loved ones. I was wondering what to surprise my totally non-materialistic mom with when the folks from & Pictures came up with an offer where I get to send a lunch-box to a loved one on Valentine's Day.
A lunch-box? What kind of Valentine's day present is that? Only the best kind, after all they do say that the way to a man's heart is through the stomach, and what works for men should presumably work for moms too?
The main reason for the lunchbox as a present idea is that the movie The Lunchbox starring Nimrat Kaur and Irrfan Khan is premiering on Valentine's Day on at 8 PM on &pictures, and I am going to make it a point to see this picture.
And why am I sending a lunch box to my mom? Simply because she stays far away in another city, and we never meet as often as we like. And I'd like to give her one day's break from the usual routine of home food, and give her something a little different which she would never think of cooking at home. And to thank her in a very small way for the numerous lunch boxes she has packed and sent for me throughout my growing years.
I selected the items for the lunch box to make sure that it will be stuff she likes. She loves Italian food but doesn't make it at home, so choosing the menu for the lunch-box was a no-brainer. I selected a simple pasta in red sauce, and a chocolate pastry as dessert. This lunch-box will be delivered to her on Valentine's Day and I so wish I was there to see her face when she gets this surprise (I only hope she doesn't read my blog before that).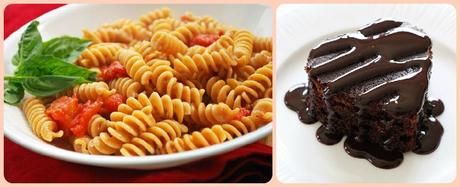 My Valentine's Day Lunchbox Surprise
Along with the lunch-box is a short and sweet note (we don't really do long, rambling, and sentimental around here). I simply wish her for Valentine's Day and thank her for everything she's done for me.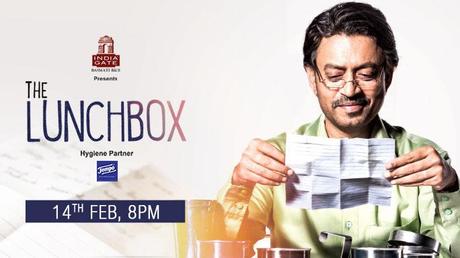 The Lunchbox premieres on Feb 14th – the perfect movie to watch on Valentine's Day
Don't forget to watch or record The Lunchbox on Valentine's Day at 8 PM on &pictures. I've heard it's an awesome movie and am really looking forward to watching it. It's one of the more sensible Bollywood movies out there, and I am looking forward to a really nice mature love story. Have you seen this movie? What's your take on it?
What are your plans for Valentine's Day? Are you gifting something special to a loved one?