A full growler, three bombers, 16 tall cans, six beer glasses, a variety six pack of Michigan brews. All sitting in the back of my car. These are the mementos from my trip to Michigan with my roommate, Amanda. Our journey to Holland and Grand Rapids provided us with access to some of the best craft and micro breweries in the country, and we happily indulged.
Not to give the wrong impression or anything, we did more than enjoy some wonderful beer. In fact, we got to see a lot in Western Michigan, and, despite the cold and piles of snow, I definitely intend to return.
We left Chicago early in the morning to avoid traffic, and made the three hour drive to Holland, Michigan, just on the other side of Lake Michigan. You immediately feel the quaintness of this small city, with its historic downtown and strong Dutch influence, a complete contrast from Chicago. We both needed some caffeine, so we found a parking spot (quite easily) on 8th street, the main stretch in downtown, and stopped in at
Lemonjello's Coffee
.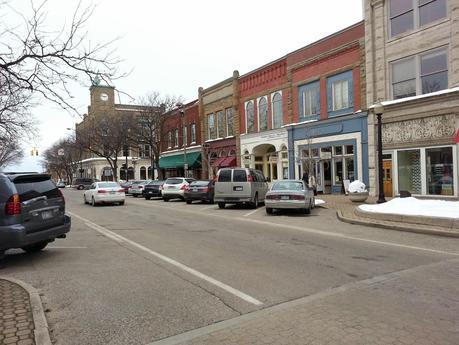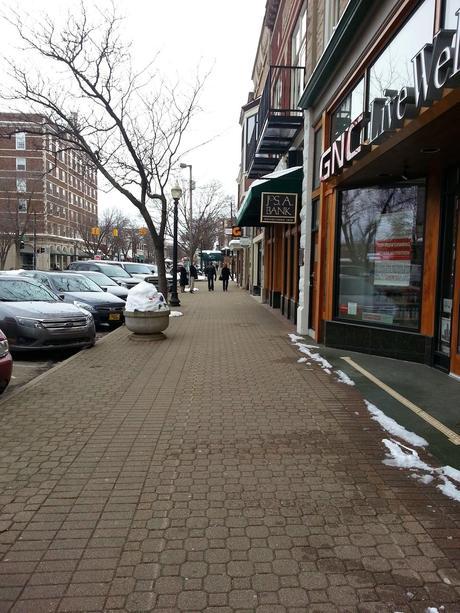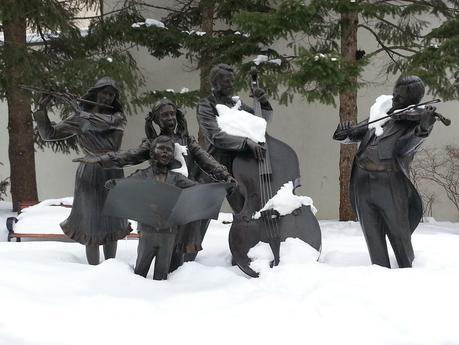 After relaxing in the coffee shop for a little while, we made our way over to the Holland Visitors Bureau to meet with some representatives there to get more information on the city and all the things visitors can do here. We munched on a delicious lunch at  
84 East Foods & Spirits
, while chatting about everything Holland has to offer. February isn't the best time to visit, only because many of the major attractions are closed until spring. However, there are many things to experience in the winter, as well as the warmer summer months. It took an hour lunch to go through it all with us, so I'll give you the cliff notes version.
In fall/winter:
Shopping on 8th street. The sidewalks and streets are heated for snow-free walking, and there are a number of locally owned businesses where you can find one-of-a-kind Holland artifacts and food. Stop into the famous Peanut Store, opened in 1902, and savor candies, roasted nuts and Fabiano's famous nutty paddle pops.
Visit the city's two distilleries: New Holland (also great beers!) and Coppercraft.
A wide variety of winter festivals and events, including Holiday Open House, Santa's Shoppe, Parade of Lights and Shopping Jam. And don't miss Sinterklaas Eve, the Dutch folk celebration centered around Sinterklaas or St. Nicholas.
Painting and candle making at places like Candle-ology and Carolyn Stich Studio.
In spring/summer:
Tulip Time, the kickoff to the summer season and one of the most popular events in the city.
Dutch Village, a theme park modeled after the towns of The Netherlands. Pick up a pair of personalized wooden shoes, traditional Dutch delftware and a bag of just-can't-stop-eating-them kruidnootjes (tiny gingerbread cookies covered in chocolate). Opens April 26, 2014.
Windmill Island Gardens, home of the DeZwaan Windmill, the only authentic Dutch windmill operating in the U.S.
Boat cruises on Lake Michigan and Lake Macatawa.
Dune riding in nearby Saugatauk.
Thursday night street performer series all summer long.
The low-rider show, a vintage cruise along 8th street and the all-European "Euro Hangar" show at Park Township Airport.
Holland State Park and Big Red, the most photographed lighthouse in Michigan
Honestly, I could go on. There's so much to do in Holland. I know that's very broad, but the list will continue for a while if I keep going.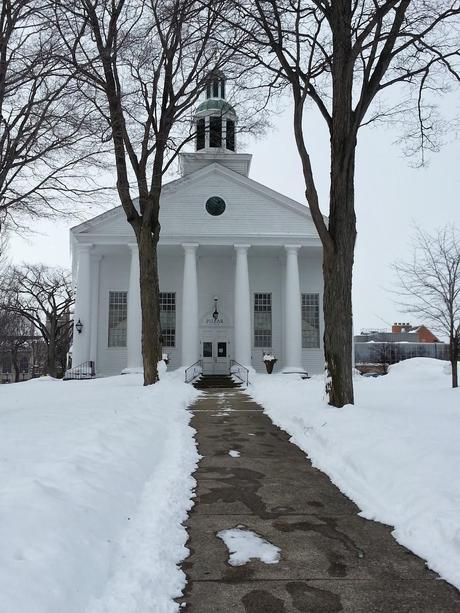 After lunch, we checked into our hotel, Haworth Inn, which is right on the campus of Hope College. I had a couple meetings with representatives from Tulip Time and Dutch Village, to discuss the events and attractions for my freelance article. These folks definitely made me want to come back to Holland once the snow melts, so I can experience these sites in all their glory.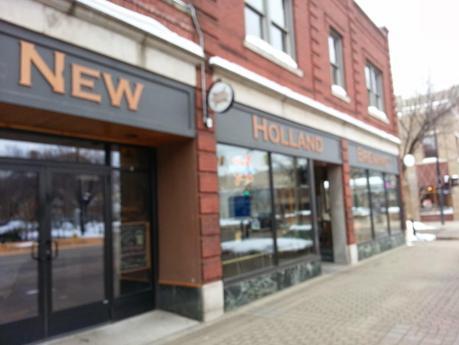 A quick stop back at the hotel to grab Amanda, and then we walked over to
Warner Vineyards
, a wine shop featuring local vinos to sample. For $5, you get five tastings, but we got two extras, cause we're so pretty (according to guy working there). We liked pretty much everything we tried, and I ended up buying a bottle. Then we headed over to New Holland Brewing, where we had a delicious cheese board and three different beers, each. We picked the one we liked the most and bought a growler of it (first souvenir).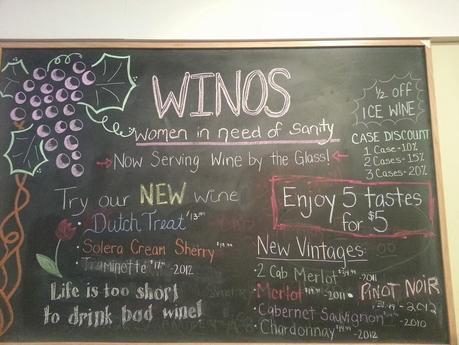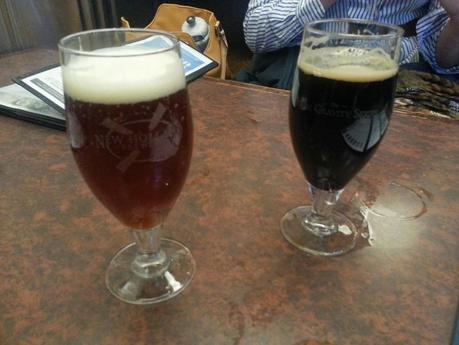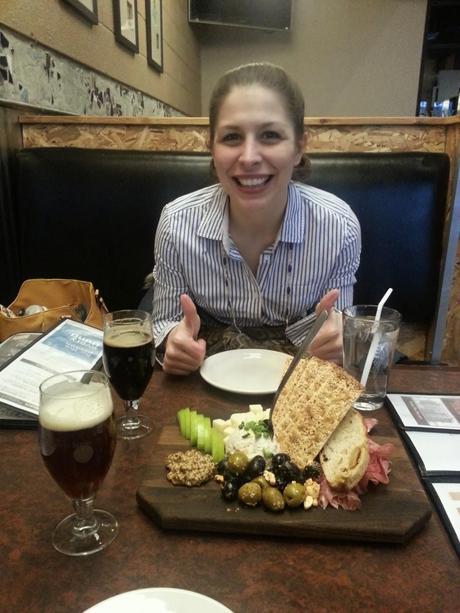 The next morning, we woke up early and checked out the college fitness center, because we're crazy like that. After our workout, I had one more meeting at Windmill Island. The windmill is incredible, even covered in snow. The woman I met with showed me a promotional video for the attraction, and it would be absolutely gorgeous to see in the summer, especially with the rainbow of tulips growing in the open field next to it. I'm also curious to see it work, as when it operates, it creates flour that is distributed to the whole city.
We checked out of the hotel, and made the quick 30-minute drive to Grand Rapids, where we met a representative from the CVB at the
Frederik Meijer Gardens & Sculpture Park
. This is a leading cultural destination in the Midwest, and features 132 acres of indoor and outdoor gardens, a significant sculpture collections and annual horticulture exhibitions. We ate lunch in the Taste of the Gardens Cafe, which has a lovely barley and berry salad and a warming tomato and artichoke soup. We chatted briefly about all the great attractions in Grand Rapids, and once again, the list goes on and on:
Gerald R. Ford Museum
The Quilt of Belonging, a collaborative textile art project consisting of 263 blocks that represent all Canada's main aboriginal groupings and every world nation.
ArtPrize, a citywide art event where the public gets to vote for their favorite pieces on display.
The Beer Trail was what interested Amanda and I the most. As lovers of craft beer, we were eager to try a few of the best local brewers. After lunch, we walked around the indoor gardens, since the outdoor sites were tough to experience in all the snow. We then made our way to the hotel and unloaded all our luggage and relaxed for a little while. By 3pm, we were jonesing for some beer.
Founders Brewery
was the first stop on our trail. I ordered the Party Pils and Amanda got the Smoked Porter. We had a nice conversation with the bartenders to learn more about what we should see in Grand Rapids. Obviously, they suggested everything beer related, but it was definitely insightful and we already have a beer fest in April that we plan to go back for. Then, we headed to
HopCat
, voted the best brewpub in Grand Rapids. I ordered one of the house brews and Amanda picked another Michigan beer, and we had to have an order of "crack fries," which are as addicting as they sound. Again, we chatted with locals about what makes Grand Rapids so great, and once again, the beer was mentioned on many occasions. We started to sense a trend.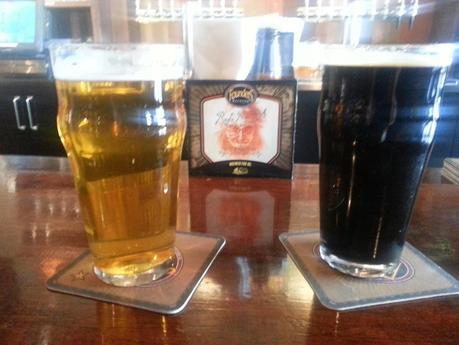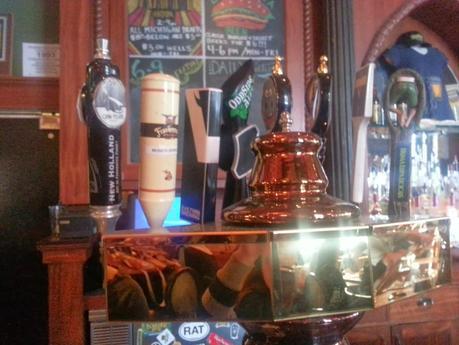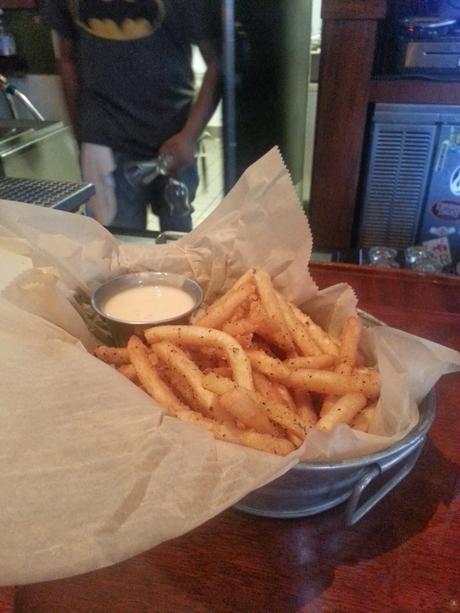 Brewery Vivant
was the next stop, and it was by far our favorite. Built in an old chapel and funeral home, Vivant had a quality about it that was so different from any place I'd been before. It was extremely welcoming, had delicious food and some of the best beers I've tried in a while. We met some fun and friendly individuals who were happy to boast about their city. After a quick drive to the train station to drop off one of our new-found friends, we headed to
Harmony Brewing
for our final round. This was probably our least favorite, despite great beer and a scrumptious caramel-covered pretzel. It was more like a restaurant and since it was Valentine's Day, there were a number of couples all around us, a less than desirable scenario.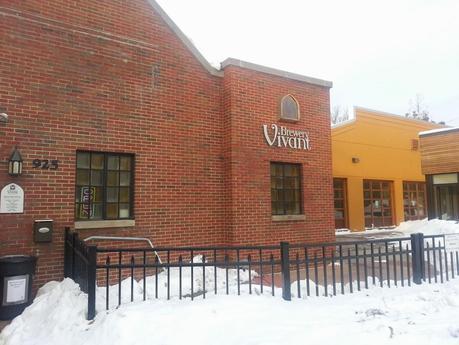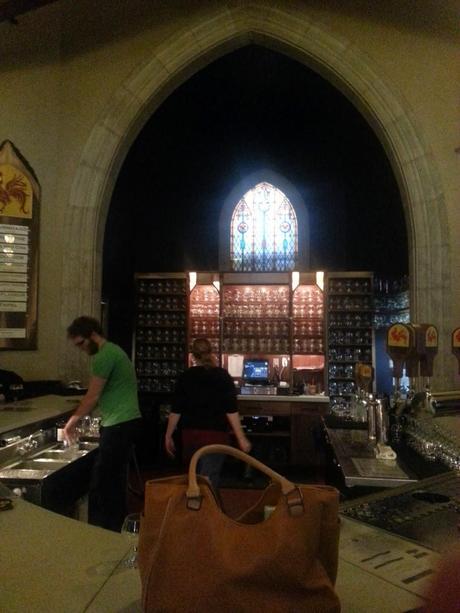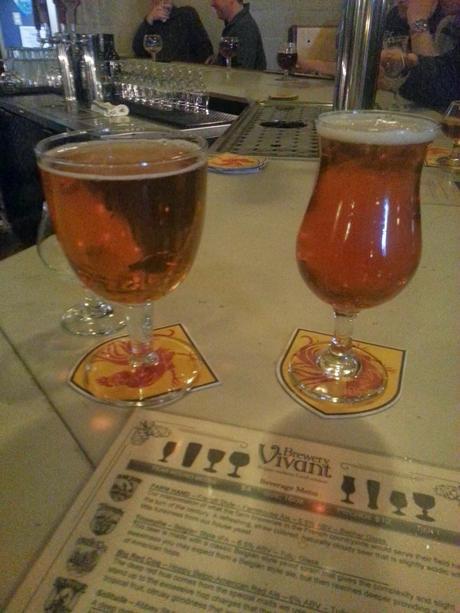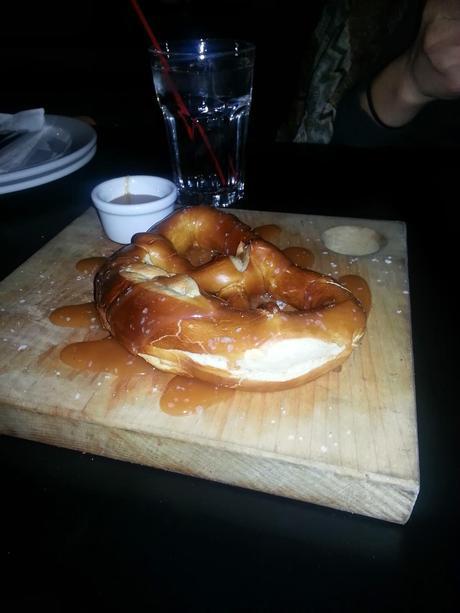 When we got back to the hotel, we found a six pack of different Michigan beers and a couple boxes of candy from a local store. It was a gift from the hotel manager. Such a nice gesture, and one that definitely makes me want to come back to Grand Rapids, on top of everything else I experienced there.
On the last day of the trip, we grabbed a quick breakfast at the hotel before checking out. We headed back to Brewery Vivant to pick up some beers to take back to Chicago, as well as some new beer glasses. We then went to the Downtown Market for lunch. There were a number of different vendors and cuisines, and it was difficult deciding which one to go for. We decided on a healthy Thai option, which was very good. Then we hit the road yet again and headed home.
This was my first trip to Michigan, and I am happy to report that it will not be the last. Amanda and I had a blast, and I will definitely be planning another getaway with her sometime soon. Even though our adventure had a heavy beer theme, trust me when I say that this area of Michigan appeals to more than just the beer fans and winos of the world. It caters to nature lovers, gardeners, history buffs, families, art lovers and recreational enthusiasts. I highly recommend a trip here, even just for a weekend. I already have two more trips in mind for warmer months, and I look forward to the adventures that await.