Social media presence for a firm, product, brand, celebrity, marketer or company is very vital today in order to reach out to customers and audiences and to continuously connect with the larger world. However, there are different popular social media accounts like LinkedIn, Twitter, Facebook, Pinterest and others and managing all these accounts at one time is a problem. A is a website where one can update, follow and keep track of different social media accounts at one time on a single dashboard or webpage. The following are some of the uses of such a social media management tool, "Esocialwiz" for handling social media marketing and juggling different social media accounts at one place.
List Of Social Media Management Tool
List Of Marketing Tools, You should try in 2017
Word Management Tool For 2017
Top 10 Small Business Tool
How to Use Facebook Tool For Marketing in 2017
Email Tracking Tool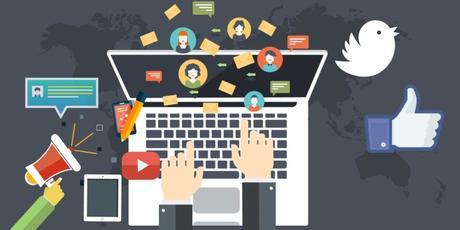 Uses of Social Media Marketing Tool
Most organisations or even individuals have at least 3-4 and sometimes even more social media accounts. A social media management tool has a dashboard which showcases different connected social media accounts in a user friendly and clear interface that is easy to access and update.
One can, not just track the incoming updates on social media accounts but also directly update messages and information on these social media accounts in one place.
For example, if a new product is launched simultaneously on different social media accounts by the company, the company can track the response on different accounts at one place, interact with audiences, join in on conversations regarding the product, reply to queries and also handle multiple social media accounts in real time.
As all incoming and outgoing updates on multiple social media accounts can be handled in one place, it makes the whole process of social media marketing more professional, cost effective and most importantly convenient especially for organisations with a regular and large media presence.
Esocialwiz
A top social media management tool online is Esocialwiz. This is a great choice when it comes to selecting a social media management tool online because of its vast variety of features and a very streamlined and clean user interface to handle a large number of social media accounts like Twitter, Google+, Facebook and Pinterest etc.
Benefits & Features of Esocialwiz
There is no restriction on usage or on the number of linked accounts or in-app purchases on this social media management tool. Viral videos can be posted on Youtube and users can research topics to post on social media using Esocialwiz.
Esocialwiz is a great tool to use for following different social media accounts at one time. This means that by using the social streams menu on the website any individual can follow the regular incoming feed on different social media sites at one place and remain in the know about friends, family and news through this site.
Visual Composer is another key feature of Esocialwiz. This feature helps social media marketer create and design images and posts directly on the Esocialwiz website before posting it online on different accounts through Esocialwiz itself. This means that creating, editing, designing and posting an image can be done using just one website- Esocialwiz. This makes it a useful social media management tool.
The in-built Visual Composer has 1 million free stock photos that can be used in posts to share on different social media sites. In comparison to other social media management tools, this feature by Esocialwiz helps users to create and edit posts in one place.
The Dashboard has a very clear and efficient user interface making Esocialwiz a useful social media marketing tool. On the right sidebar there is a list of all connected social media accounts. The Dashboard also has a "scheduled content" section where all the scheduled content of different accounts is posted with the time of its "share" and also edit and cancel icons for any changes to be made to scheduled content.
There are unlimited social media accounts that can be managed on one Dashboard on Esocialwiz making social media management of different accounts very easy. Multiple Facebook and multiple Twitter accounts can be managed on one Dashboard and recently Esocialwiz has added social media accounts like Whatsapp and Instagram to this, making it a great choice for social media marketing.
The Dashboard also provides a screenshot of the statistics of a social media post so that we can view statistics and metrics of how well the shared "link" has performed on social media.
As mentioned above Esocialwiz comes with a Scheduler. This means that posts can be lined up on different social media accounts on the Scheduler with the exact time you want the posts to be shared on different accounts. There is a way to edit or remove these links or posts before sharing them on social media by simply accessing the "Future Tabs" option where these can be edited or removed.
Let's check out the clean interface to understand Esocialwiz tool quickly.
Dashboard
The above screenshot is from dashboard where you guys can connect all your social media accounts together and sechdule the content. You can edit and cancel all sechduled content anytime.
The Scheduler
The above screen is about the sechdular from Esocialwiz, The Social Media Management Tool. Once you get logged in your dashboard you have go ahead step by step via given instructions,
Visual Composer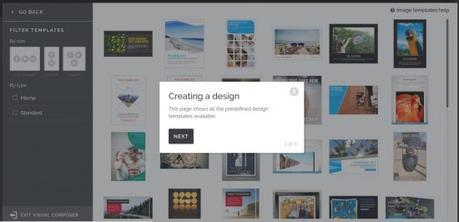 Visual composer in Esocialwiz is the one of the best and most interesting featur, You can create visual composer from different sizes of images and templates in Esocialwiz. There is no need to use any other graphic designer software and tools. Now upload it and follow up the steps.
Social Streams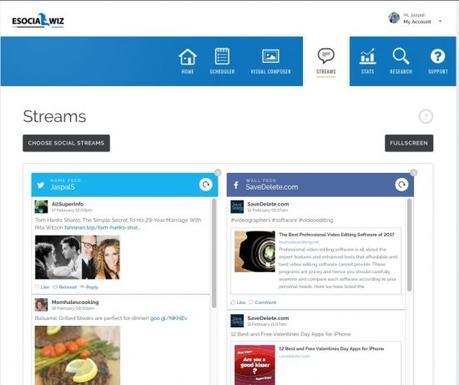 Do you wanna check out all your social media feed then social stream in Esocialwiz is the best feature again. You can easily track what's good and what not so good in your social media account from Esocialwiz.
Conclusion
Social media management tools are very useful and are an efficient way to handle multiple social media accounts for individuals and organisation. Esocialwiz has great features and is a top choice when it comes to social media management tools.
Did you like this article?
1. Please share it with your network, we'd really appreciate it!
2. Would you like to write for Computer Geek Blog?
3. Keep subscribe us and follow us on Facebook and twitter for more tips & ideas about new technology.

Savita Singh is the author of computergeekblog, She has a superlative knowledge of Graphic and Web designing. She is a part time and award winning tech blogger who loves to write about latest technology, social media and web design. Her blog focuses on creative things of designing and tech, providing professional opinions on designing products, performances and a variety of business.