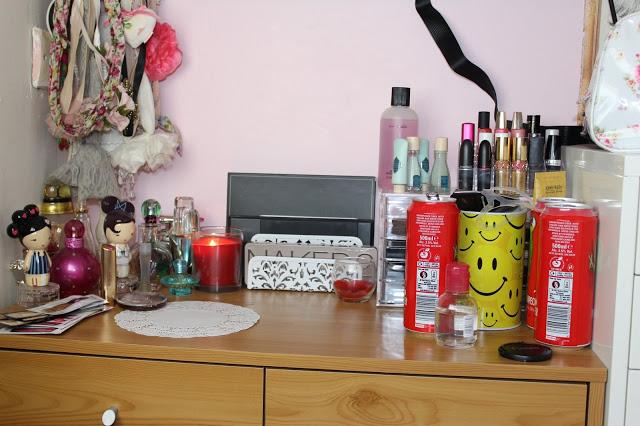 Hey guys! So above on the LEFT HAND SIDE is where I took photos for my previous blog post all about the Deborah Milano make up I was sent and the RIGHT HAND SIDE is the side you don't see in photos! 
I wasn't even planning on doing a blog post on this but I got a text so moved to get my phone and looked back and couldn't help but laugh that I had a nice pretty side with a candle burning and all my perfumes in the background etc. And on the other side was three cans of Woodpecker (the true Boro girl inside me showing through).
I just think this photo shows that although us beauty bloggers and youtubers like to look all organised and have pretty backgrounds we are just normal people who have messy rooms and are guilty of moving things out of the cameras view to make us look more presentable! (I definitely am!)
I hope this photo makes you LOL just as much as it made me as it's a true representation of me; the Boro girl and the girl obsessed with make up hahaha!
Do you ever move things out of the way of the camera? Got any blogging secrets that you do to make things look prettier? Let me know below!
Remember, honesty is key.