I wasn't going to write this week. Couldn't really separate one turn of events from another. I suppose that, now I that I am well into my third-term, (my mother is 97 this year and definitely reaching the end of her fourth), past events develop a blurriness at the edges. Dates and times become less well defined but some events stick clearly in your mind. They are indelibly imprinted on your memory, in clear photographic detail.
In the early 1980's I worked for several companies, including The House of Carmen, demonstrating their products  in  large department stores around the UK. I enjoyed the work and did very well, enjoying the company of regular store staff but also the change and challenge of each new location. My first assignment was pre-Christmas product promotion at Lewis's store in Liverpool.   One day the store was packed with shoppers when a bomb alert was sounded. I followed training procedures and took the escalator to the ground floor but on the way down, spotted a young boy around 9 or ten, taking the escalator up to the toy department.
Instinctively, I got to the bottom, went back up and collected him, then walked the outside of the building holding his hand until, eventually we located his mother. I was 22 years old. The IRA had an on-going campaign of bombing on the UK mainland and when I think about the evacuation procedure that day, I realize that if a bomb had gone off, most of the people who left the building would have been killed. The modus operandi at the time was to stuff bombs into dustbins or cars.  An alert often triggered the evacuation and then the bomb was rimed to explode as people crowded out.  Perhaps the boy and I might have survived.
Two weeks later, I began a four week stint at Boots 1600 store in The Arndale Centre. In 1983 I worked for a week at the Conference Centre in Brighton. It was the same year that an attempt was made on the heart of Government during the Conservative Party Conference: A bomb in the Grand Hotel. The event sent shock waves through our Nation. Then in 1996 the Arndale Centre was virtually demolished by IRA bombs.  Cities and major conference centres are always the most desirable places for acts of terrorism.  It is easier to find a needle in a haystack than to spot someone different in a cosmopolitan environment. Although, my parent's village pub was also an IRA bomb plot target because of its proximity to an active army barracks.
Our own security forces, police and intelligence services have averted many bomb plots in recent years. They are constantly changing their procedures and tactics. Security at airports, railway stations  and stadium events, perhaps covert, has never been stronger. They are doing a great job, despite cuts in Police numbers. The turn of events that has changed the effectiveness of the current wave of terrorism, has been is simplicity. A high powered vehicle is stolen, or hired by an assailant who drives at a crowd of people, armed with only a large knife and in ten minutes, changes 'business as usual' into mayhem, murder and madness.
This type of terrorism is almost impossible to prevent. So I ask, during troubled times, how can we protect ourselves? How can we protect our cities and events from terror attacks? I am certain that we must not surrender our way of life to this extremist pressure. We live in a wonderful country, where we are free to express our dissent by peaceful protest, petition and in person to our MP. Those freedoms have been hard won over centuries. Those who challenge our freedoms, by acts of terrorism against our freely elected representatives, should be treated as traitors. There is a gate in our great city that once bore their severed heads.
Yesterday, many of the victims of the blind fury that drives such attacks, were young people, some children. Let's stop treating terrorists differently and assigning them kudos that they do not deserve. They are murderers, criminals and bad people. There is no 'just cause' that mows down innocent children. There is no 'just cause' that uses a moving vehicle as a battering ram with human flesh as a target. It is time to tell those who plan such acts that we do not acknowledge their terrorist status. We need to let them know that we are do not recognise their 'cause'. If they disagree with our way of life, if they were born in our country, they need to be taught that they have a grievance platform. We all do. It is called democracy. It is our greatest asset, our treasure, it is who we are. And I for one am very proud of who we are.
The poem below is partly my own work but also a tribute to the power of written word. The original version was written by William Wordsworth, whilst standing on Westminster Bridge on 3rd September 1803. His poem expresses many feelings about the city, about that day but also about the nature of the country in which he was born. Apart from the wonderful view of London, Big Ben and The Palace of Westminster, 'Upon Westminster Bridge' may itself, be the reason that many tourists make a pilgrimage to that same spot. It is with great sadness, that I present my own 'mashed up' version today.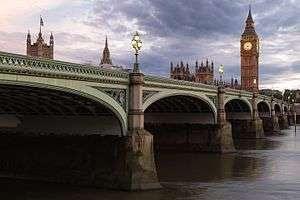 Upon Westminster Bridge
March 21, 2017 (with deference to William Wordsworth, Sept 3 1803)
Hell has not anything to show so foul,
Void would they be of soul who could pass by
A sight so tragic in its circumstance:
This city now doth like a garment wear.
The madness of this carnage: frantic, raw,
As innocents abroad, lie murdered, maimed.
Strewn broken bodies, look to the sky 
All wrapped in blood-soaked, sirens' wail.
Never did dark shadows deftly seep,
Into our courtyards of democracy.
Ne'er saw I, never felt, a shock so deep!.
The river flows against an unjust will.
The mother of all parliaments with never sleep
And all our mighty heart is beating still.
Adele V Robinson
(In tribute to the bravery of PC Keith Palmer and the valour of MP Tobias Ellwood).
Thank you for reading.  Adele
Email This
BlogThis!
Share to Twitter
Share to Facebook
Reactions: