Hey Eric & Sookie Lovers!
Here's a review of True Blood Episode 2, we think you'll LOVE!

TV.com has reviewed the second episode of True Blood, "You Smell Like Dinner"!
Here's a sneak peak!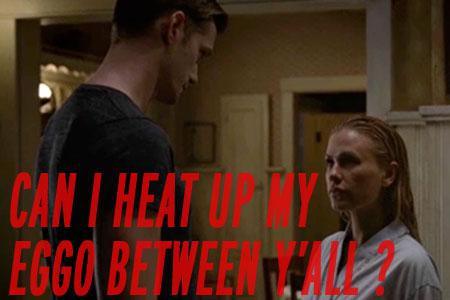 We found Sookie and Eric exactly as we had left them, sparring. I was pretty impressed by their banter. It sizzled, it crackled, it sparkled, like diamonds wrapped in bacon.
We happen to agree…they have tremendous chemistry! Glad to see someone else noticing what we've known all along!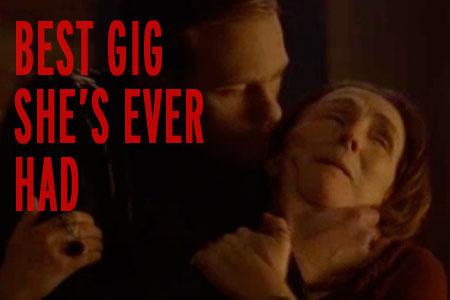 The talk turns to when Eric attacks Marnie at the witches' coven. Nothing much to say here – other than to show you the picture they posted! LOL Yeah, we're pretty sure she can't complain about being taken into Eric's big strong arms and having his mouth on her neck either!

What a vast difference from her Harry Potter days.
The room filled with wind and Eric kind of spaced out. Like, really spaced out. Like, proceeded to take off his shirt and walk down a highway spaced out, which is where Sookie found him at the end of the episode.
Those of you who are familiar with the Sookie Stackhouse books are probably pumping your fists in the air (and hopefully not giving away any spoilers in the comments). This development is torn from their pages, and while the show usually diverges quite dramatically, I think it's clear we will be seeing a lot more Eric-and-Sookie development. Naked development, hopefully.
Now, here's the pic they used for the above! I wonder if they're Eric lovers?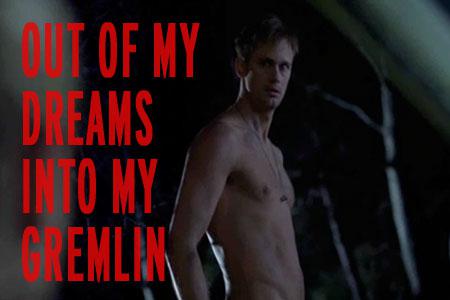 They follow up their review with this little bit about Eric & Sookie!
QUESTIONS:… Would you accept a microwave from Eric Northman if it meant he could sleep in your crawlspace?

… Is there a "fairy Sookie" or has she always been uppity?
You can read TV.com's entire review

here

! Plus, check out more great photos they posted! (There's a great one of Bill with the words, "OY GuVnah!")
Share your thoughts on this review below!