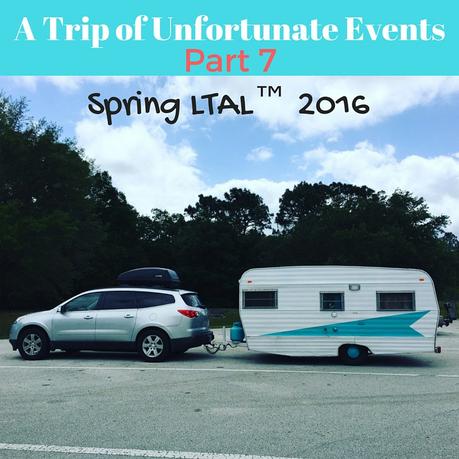 I made it to Eileen's house and things are starting to really fall apart on this Trip of Unfortunate Events now. After getting in and hanging out with Eileen for a while, I finally head to bed. I log in to check some banking things and realize that my account balances are NOT what I was expecting. I click into them to discover that charges were made on my personal account AND by business account that I did not make. Great! WTH? I call my bank's 24-hour fraud department immediately. After spending an hour on the phone, we have cancelled both account cards and I was told I could go into a branch nearby tomorrow and get new temporary cards.
Thankfully, I bank with a well known bank with branches all over the country. This really helps when traveling. I found a bank just a few blocks away and went in to speak to an account specialist. Unfortunately, they cannot see all the details of the fraudulent transactions because they had not cleared. I expressed my concerns regarding the fact that it hit BOTH my bank accounts. I cannot think of anywhere I stopped and used both cards at the same time. I asked if they were sure that my accounts had not been compromised and this was just a card issue? I have both cards with me and were never without them. And the charges claim they took place on the west coast of Florida. Oh, and no, my family didn't make these charges either. The bank assured me that my accounts were NOT compromised and it was just card charges. They issued me temporary cards and were mailing new cards to my home address. Charges were reversed. All good again.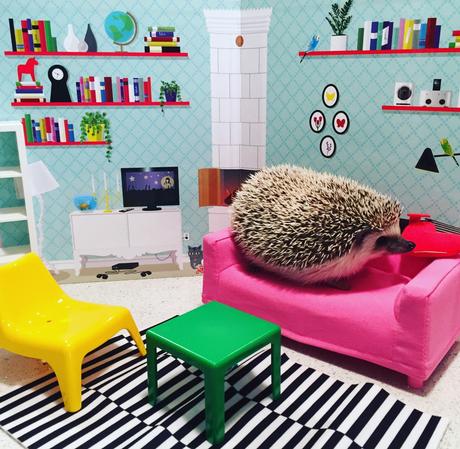 I spend the next few days hanging out with Eileen. We even went shopping at IKEA where Toto got some great furniture and a cute background display. We strolled through Michaels Craft Store and just had a great time chatting about our adventures and planning some future projects.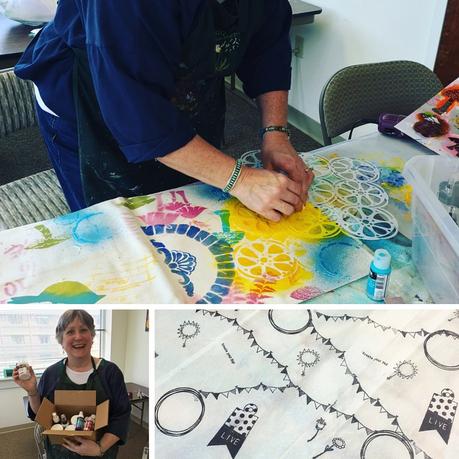 I also spent some time teaching at Angela's Happy Stamper. We created some great prints with DecoArt Paints, stencils with The Crafter's Workshop, albums and aprons by Canvas Corp and great stamps from my friends Susan Weckesser and Yvonne Blair!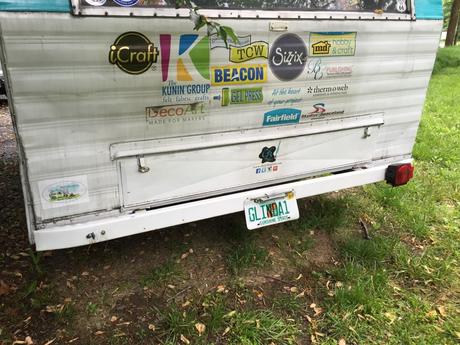 After teaching, I head back to Eileen's house and as I'm pulling into her driveway, Glinda drags her bottom just a bit as we go up into the driveway and the left taillight was COMPLETELY ripped off the trailer, torn wires, broken taillight etc. Thankfully, Eileen's dear hubby crawled underneath and installed a new light and rewired it for me. Thank you so much!
It's now time to head to my last stops in North Carolina, so I head out and start driving south, still heading closer to home. As I leave Eileen's, I decide to go ahead and have my oil changed and let them check the transmission fluid and do a quick diagnostic because the car is still driving real jerky. It's starting to feel like a transmission issue. I pull into Jiffy Lube for a quick check. What I thought would be a quick $30 oil change ended up being a $116 stop once they tell me that a parking light is out on the car and my car takes an upgraded oil as well as the fact that my air filter is disintegrating and MUST be replaced. Fine, just do it. It was a quick fix and as I start to pay, my brand new temporary card is DENIED. (notice I'm using more all caps in this story? - lol ). WTH? Whip out the only other card I have with me, pay for quick service change (PS. they found nothing wrong with transmission fluids or diagnostic tests) and head over to another bank branch nearby.
Find out at the next bank that my account has extra charges again and now I'm in the red in that account. WTH? $%$&$ I just want to get home. How can this happen? It looks like a check was cashed on my account. Charges were reversed and now they've added extra security that no one can cash anything on my account or withdraw money without 2 forms of ID and alerts are posted all over my accounts. They still can't tell me much about the charges because they have not cleared. At this point, the local branches cannot help much more but are assigning my account to a specialist that will need to call me. Again, I'm assured I don't need to close account yet and my account is not compromised.
I head on out to North Carolina where I'll be staying with my friend Mary Ruth from Dorothy's Stamps N Scraps. There is nothing like relaxing with good friends and getting the chance for a few laughs. I got a good night's sleep and had all the next day to rest and get caught up on some office work. I finally talk to the bank to discover that my account now reads -$888,888.88 Bwahhhaaaahhaaaa....I've never even had $8,000 at one time in that account, much less $888,888.88. You have GOT to be kidding me? WTH? $%$&$ is not even what I'm saying anymore. We freeze my accounts and I want to talk to an accounts Manager now! I just need access to enough money to get home at this point. Where is the next nearest bank? I want to close my accounts and open new ones. Now, let me say that I've banked with this bank for many many years, and this was the first time I've had any issues, but good grief, can we get this stopped?
Accounts are frozen until I can get to another branch and try to talk to someone in person. In the meantime, I need to teach a class. Regroup and get my head on straight.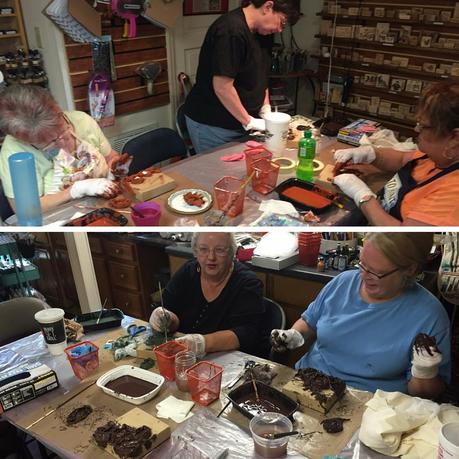 I honestly have a great time teaching and playing with Powertex and get a few hours to forget all the crap going on with my banks, trailer, car, etc. I love these ladies! They are so sweet and love how they welcome me and make me feel like part of the family. There is something about southern hospitality!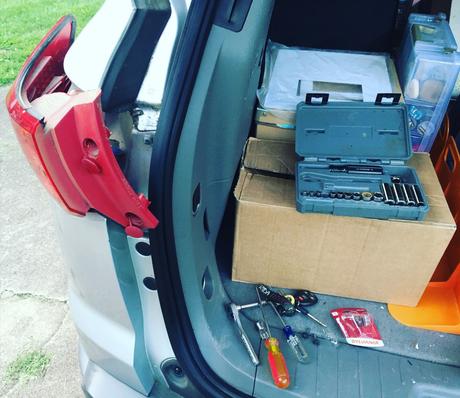 No, I leave Dorothy's and head back to Mary Ruth's house after this class, and as I turn left, my freakin' taill ight starts blinking double time. Wait....didn't I have all these issues on the right side in Connecticut during Part 3 of my Trip of Unfortunate Events? I head back to the house and look under the car. Nothing seems out of sorts, so I'm going to guess that this time it really is a blown tail light on the car. I left Glinda at the scrapbook store, which means all my tools are there too. However, Mary Ruth's hubby has some tools and I remember how to change a tail light now from what I learned in Connecticut. I can do this and Keith does help. Whew! Just a blown bulb and all works after replacing bulb and thankfully it didn't cost me any more money because I still had the bulb from purchase in Connecticut.
Next day I find a bank about 30 minutes south only to find out that if I try to open new accounts in a different state than my home state, then every time I try to make an in-person deposit, I'll have to get special out of state deposit slips. This is a PIA, so we just make sure all accounts are frozen and I'll deal with it when I get home. I show my two forms of ID and take out enough cash to get through the next week and get home.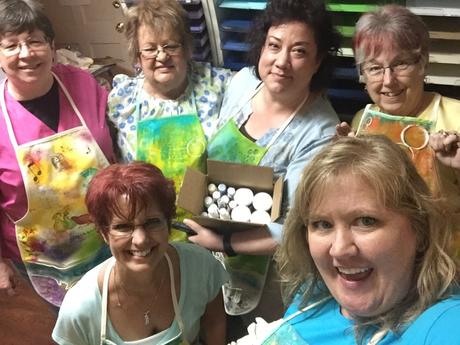 I teach a fun Altered Apron Class at Dorothy's Stamps N Scraps next day. Look at these fun aprons and happy faces! Don't pay attention to the fact that I still don't know where to look when taing a selfie. LOL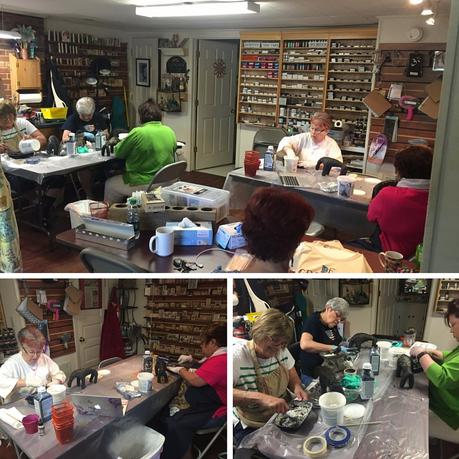 I teach my final class at Dorothy's Stamps N Scraps as we learn how to create a bison using Powertex. This was an all day class, but was so fun. It's really hard to get great pictures when your hands are covered in Powertex or paints of any sorts.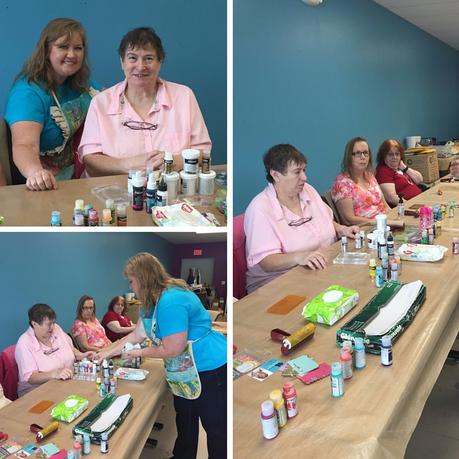 The next day, Mary Ruth rides with me to teach a class at Betty's Creative Studio. We are not even sure if we are going to make it. My car is now surging really bad and shaking terribly. But, I just want to get home. I know I should have taken it to a service station, but I didn't want to hang out any longer and I wanted to go home. It's got me this far, right? (stupid, but ...)
We arrived at Betty's and I taught a really fun Gel Print class. This was a special class too because I had a friend that came to take my class here in North Carolina who took one of my very first ever travel teaching classes in Winslow, Maine a few years back. Lynn Milewski attended one of my first classes when I was teaching with Tattered Angels. She and I have kept in touch all these years. I'm terrible at sending holiday cards, but Lynn has sent me a holiday card every single year and we've kept in touch online. She just recently moved to North Carolina and signed up for a class right away at Betty's when she heard I was coming to teach. I had another DecoArt giveaway package and when I asked Betty who the first person that registered for my class was, she told me it was Lynn. Again, just perfect! I am so glad Lynn won this prize package and now has new paints to play with. She was so excited too. Thank you, DecoArt for all the support and giveaway packages on this trip.
I'm heading home. Just two more days. Come back tomorrow for my last installment of this Trip of Unfortunate Events.