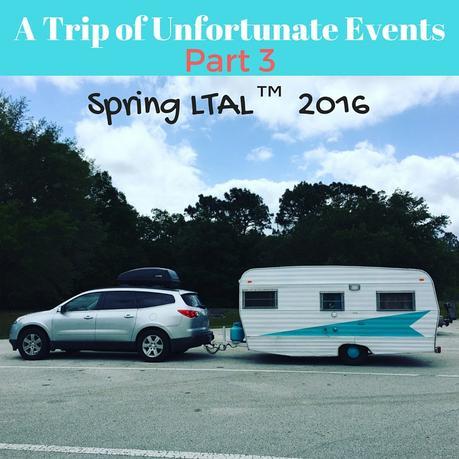 So far in Part 1 and Part 2, this doesn't really seem like the Trip of Unfortunate Events, right? I've only had a few teeny incidents and a few great visits along the way.
As I leave New York, I'm excited that I'll get to Maine a day early in order to get caught up on some laundry and spend time with my friend, Katie, before heading to Canada. I'm driving through the beautiful state of Connecticut when I pull over at a rest stop for a quick bathroom break and a chance to stretch my legs. I've learned to make stops and park farther out so I can walk and stretch. Driving for hours at a time are tough on aging hips and back.
As I turn my right blinker to pull over, my blinker starts blinking a double-time speed. WTH? That hasn't happened before. So, I pull into rest stop and stop. I start to get out of the car and I can't get the keys out of the ignition. Car is in Park. Ignition is turned off. Keys will NOT come out. Oh well, I've really got to pee! I lock the car and run into rest area. (I keep a spare set of keys on these trips...you never know) All the while I'm in there, I'm starting to panic wondering if it is really all the way in Park? Is my car and trailer now rolling off somewhere into the freeway? I hurry up and head back out to find it still in same place. Whew! Try to check out the car, but I really don't have a clue what I'm doing. Right rear blinkers are not working. (Oh no, I am now wondering if that little crunch jackknifing did more damage than I thought). I do a little Google search with symptoms, and it might just be a blown tail light. I start the car back up and go to the next exit. Find another handy parts store and talk to the assistants there. They agree that it sounds like a tail light is blown. They tell me that is an easy fix and will teach me how easy it is to do. I buy a set of replacement bulbs for my car and they head out with me. They show me how to remove the tail light cover and replace the bulb. We put it all back together and give it a try. Nope, didn't fix it. "Well, that is odd", they exclaim and they've never heard of keys not coming out of ignition if it's in park. I need to take the car to a real service station. Wait, wasn't it Connecticut where I broke down last year? I've got to avoid Connecticut next trip.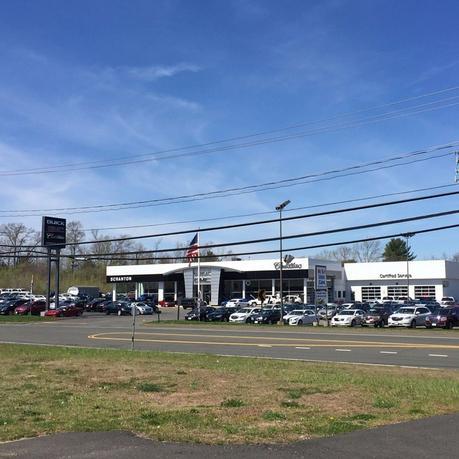 Just down the road was Scranton Buick GMC Dealership and it was early enough in the day that the service department was still open. Glinda and I head that way and pull up to the service department. They have me pull right into the big bay with Glinda in tow. Of course I get a few looks and comments as I'm pulling in with my vintage travel trailer a long way from home. The service department was super nice though and said it would take a little while for them to run some diagnostics and I'd need to wait in the waiting room. Now, I need to ask if they don't mind if I bring in my pet since I'm traveling. When I explain that I have a hedgehog, they are not sure what to think, but are now really curious and assure me it will be no problem to bring him in. When I come back in with Toto, they have called everyone from all departments to come see the crazy girl with the vintage trailer and the hedgehog pet. I'm serious, it was sales people, office staff, mechanics and more. LOL Many wanted to hold him and some were even taking Snapchat photos with him. I was voted the strangest customer they have had in the service department.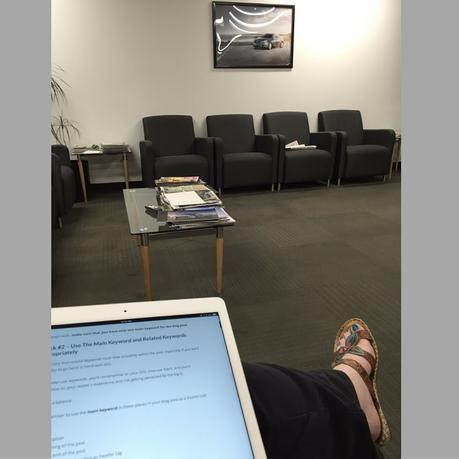 It helped to lighten my nervousness of the situation and we go to hang out in the waiting area. Just as I'm starting to think positive, and take this quick photo to share, they come out and give me the good and bad news. It's going to be more expenses than I had planned, but fortunately, they tell me my car is still under extended warranty, but just barely. I only have 2000 miles left on this warranty. I was so surprised as my local dealership here had told me for a prior repair that I had no more coverage. My fault for not being more aware, but I will deal with local dealership when I get back home. For now, I'm going to have to stay overnight. Fuse relay has burned out in my car and will need to be ordered and won't be in until tomorrow. Now I start getting nervous. This is Wednesday and I need to be in New Brunswick, Canada by Friday afternoon. I share this concern, and the staff tries to comfort me that they will get me out in time. They offer me a ride to a nearby hotel. Thankfully, I found a nearby Marriott Residence Inn who allows pets!
Sure enough, by lunch the next day, they call me and my car is ready to go. They come get me and Toto and I thank them profusely. Everyone comes to say goodbye to Toto and we are back on the road. Disaster averted.
Until... 20 miles north on the freeway and I turn off to refuel only to have the EXACT SAME THING HAPPEN AGAIN. Guess what, now I'm crying. I call the dealership back and they calmly ask me to please bring it back in. They again assure me they will get me back on the road and to Canada on time. I drive back to dealership. Toto and I go back into waiting room. After some time, they come back in and tell me they found the initial problem and have fixed it. Apparently, when my hitch was installed (now 1.5 years ago), the wiring was placed too close to the exhaust and it has slowly been burning through the wires when the car gets hot. Wow, this took a while, and thank goodness it wasn't worse. These guys were AWESOME. They fixed the fuse relay again as well as completely rewired my hitch wiring and this time tied it off far away from exhaust to ensure this won't happen again. While they were there, they even replaced some tire sensors under the warranty and didn't charge me any additional fees. (amazing because I'm sure rewiring trailer hitch was not under my warranty). I am ever grateful. Scranton Motors provided better service and care than I have ever experienced. Guess I won't avoid Connecticut after all.
I call Eileen and Lorine and let them know I'm back on the road. Eileen tells me it's snowing in Maine. Great! See what I mean about the weather?
Back on the road we go and we make it to Maine for a night's sleep before heading out early Friday morning to meet Eileen Hull and Lorine Mason for our trip to Canada to visit Debra Quartermain for our first ever Quartermain Creative Retreat.
We still have a lot of trip to go! This is only the first week. I've got 5 more to go before I'm back home. Stay tuned for more...